AnandTech Storage Bench - Light
Our Light storage test has relatively more sequential accesses and lower queue depths than The Destroyer or the Heavy test, and it's by far the shortest test overall. It's based largely on applications that aren't highly dependent on storage performance, so this is a test more of application launch times and file load times. This test can be seen as the sum of all the little delays in daily usage, but with the idle times trimmed to 25ms it takes less than half an hour to run. Details of the Light test can be found here. As with the ATSB Heavy test, this test is run with the drive both freshly erased and empty, and after filling the drive with sequential writes.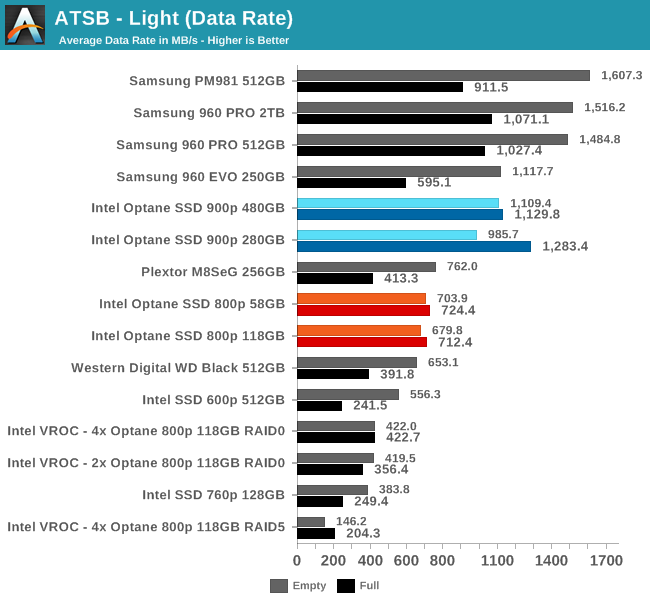 The Light test allows the flash-based SSDs to make the most of their write caching throughout the test, so even the 900p is surpassed by the Samsung NVMe SSDs while the 800p ranks with the budget NVMe drives. When the drives are full and the flash-based SSDs get bogged down with garbage collection, the 900p comes out ahead but the 800p still trails behind the Samsung 960 PRO. The VROC configuration look especially poor in terms of average data rate, and the RAID-5 performance is surprisingly low.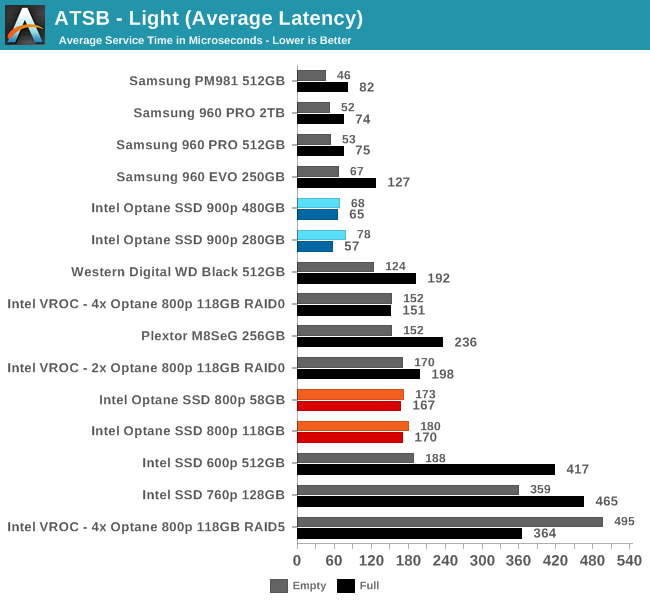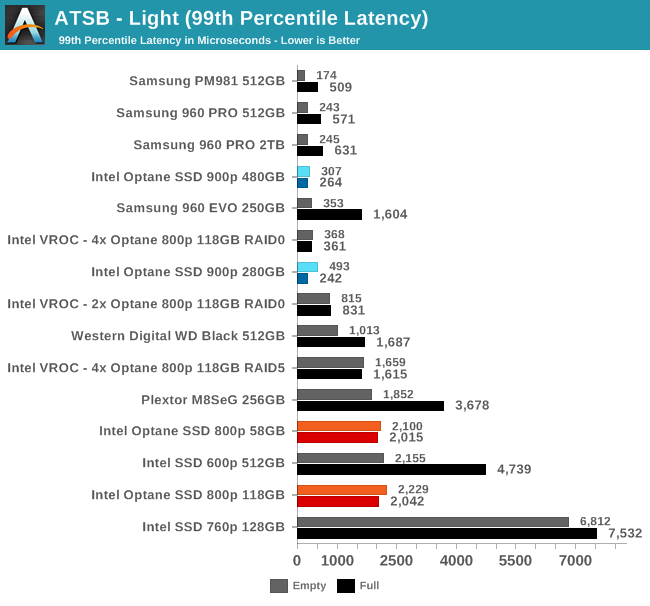 The Optane SSD 800p scores in the middle tier of SSDs for average latency on the Light test, and VROC RAID is no help here. VROC does help with the 99th percentile latencies, but without it the 800p looks like a low-end drive that merely doesn't have garbage collection problems.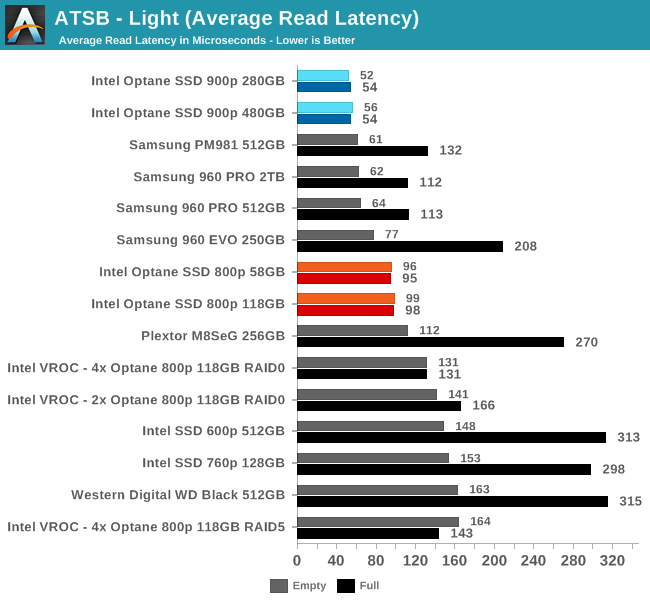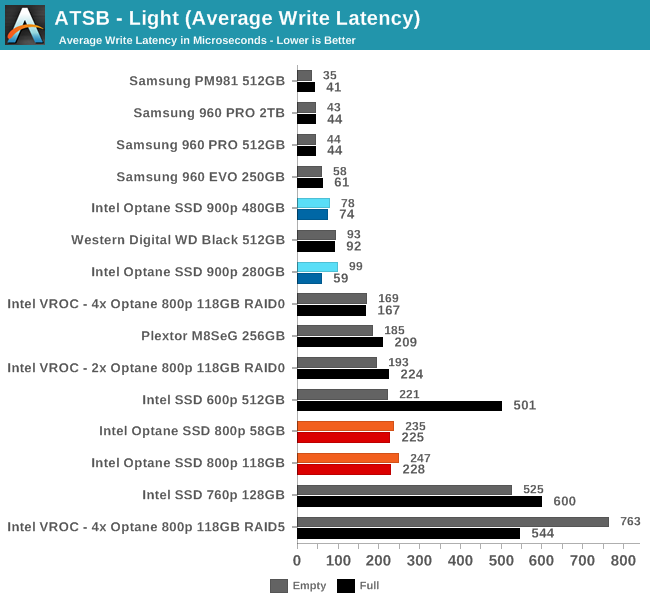 The average read latencies from the 800p are almost twice as high as those from the 900p, and VROC's overhead only makes it worse. The average write latencies of the 900p aren't as good as the best flash-based SSDs, and the write latency of the 800p is well over twice that of the 900p.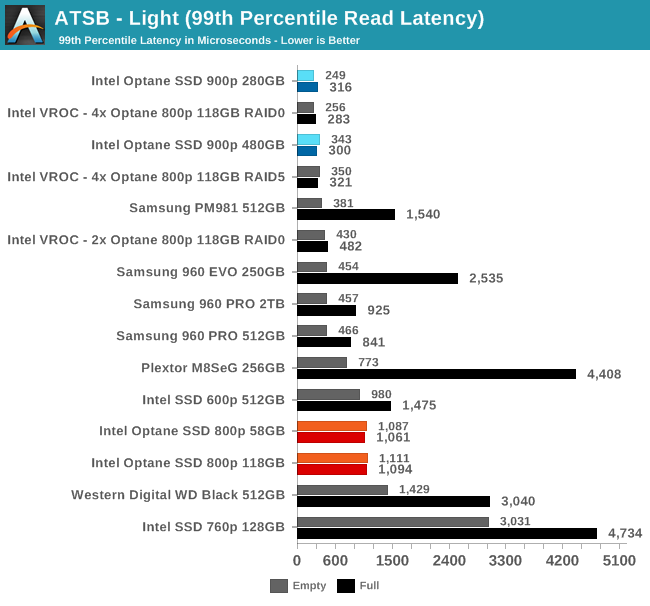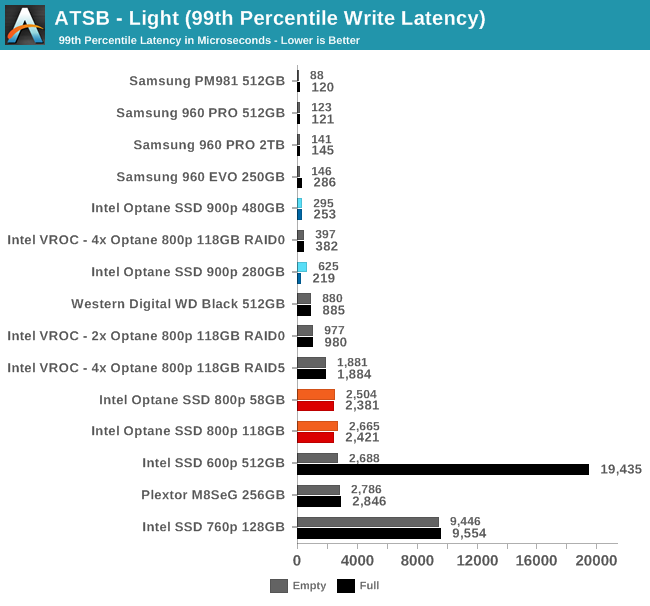 The 99th percentile latency scores from the 800p are not great, but at least the drives perform just as well when full. Small flash-based drives are the most heavily affected when constant garbage collection becomes necessary.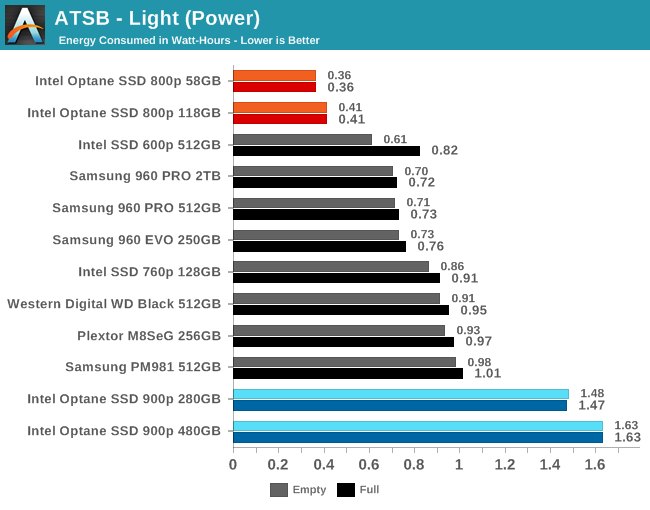 The Light test is a fairly short run with any of these drives, but the 800p still manages to return extremely good power usage numbers that are well ahead of any flash-based NVMe SSD.