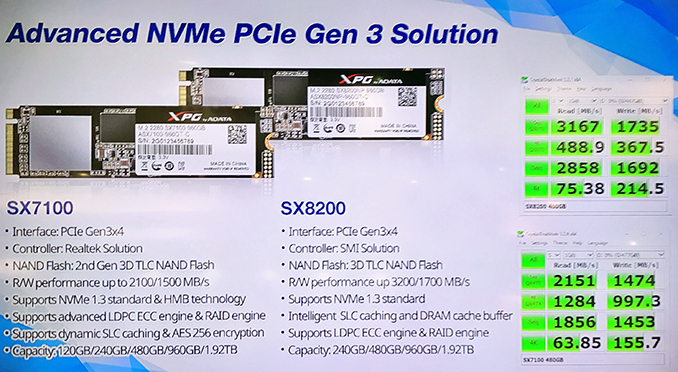 While the number of companies participating in the SSD market is booming, ADATA ended up being only large SSD vendor that adopted Realtek's first-generation RST5760 SSD controller for its entry-level drives. Fittingly, at Computex the company revealed that it is working on a new Realtek-based storage device, this time based on the next-generation Realtek RTS5763DL controller that promises considerably higher performance.
ADATA's upcoming XPG SX7100 family of SSDs powered by the RTS5763DL will rely on 3D TLC NAND flash memory, so nothing too exotic here. The manufacturer expects to ship these drives in 120 GB, 240 GB, 480 GB, 960 GB, and 1.92 TB configurations, targeting gaming PCs that require various amounts of flash storage. The XPG SX7100 SSDs will be NVMe 1.3 compatible, will support a robust LDPC-based ECC and RAID engines, dynamic SLC caching, and AES256 encryption.
When it comes to performance, the XPG SX7100 is slated beat its immediate predecessor (the SX7000) by a significant margin and will outperform the previous-generation Realtek-based SSD (the SX6000) by two times. ADATA expects higher-capacity flavors of the XPG SX7100 to offer up to 2100 MB/s sequential read speeds as well as up to 1500 MB/s sequential write speeds (when pSLC is enabled).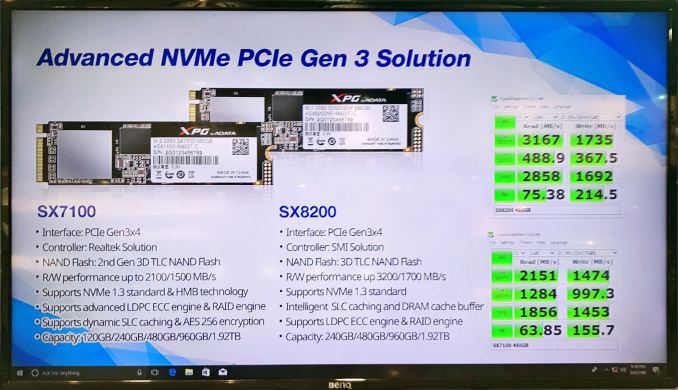 ADATA did not show its XPG SX7100 live at Computex, but only published a presentation slide (which incorrectly depicted an RTS5763DL-based SSD since the controller does not have a metallic heat spreader) with performance numbers from Realtek. Therefore, it is unclear whether the drives are in an early stage of development, or have already proceeded to prototyping and testing. Though regardless of the current situation, given the fact that ADATA was the only significant adopter of the RTS5760, it is highly likely that it has a close relationship with Realtek and will be able to offer its RTS5763DL-based drives ahead of the competition.
Related Reading:
Want to keep up to date with all of our Computex 2018 Coverage?

Laptops

Hardware

Chips
Follow AnandTech's breaking news here!