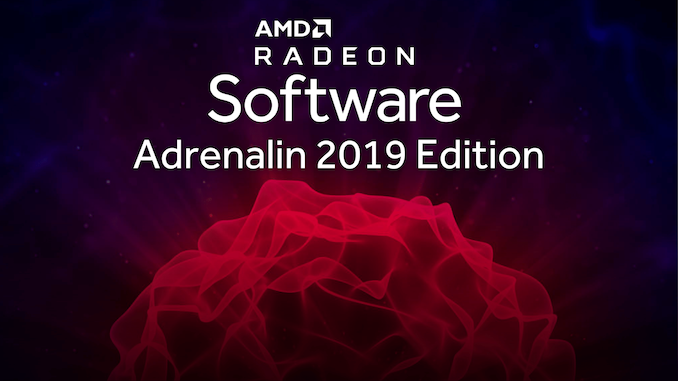 As 2018 winds down, once again it's time for AMD's annual major feature update for their graphics drivers, Radeon Software. Going by the unassuming title of 'Radeon Software Adrenalin 2019 Edition', today's release is more of an evolution on last year's Adrenalin Edition, bringing improvements and further integrations with AMD Link and Radeon Overlay. The headlining feature is the new capability to game stream to a mobile device or VR headset, powered by ReLive and AMD Link. AMD is also addressing highly-demanded user requests as collected on their feature voting and feedback page, now checkmarking 7 out of the top 10 requests.
Additionally, Adrenalin 2019 Edition 18.12.2 also brings WattMan overclocking/undervolting profile presets, WattMan controls in AMD Link and Radeon Overlay, ReLive improvements for streamers, and 'Radeon Advisors', the latter which are new game/settings optimization tools for entry-level users.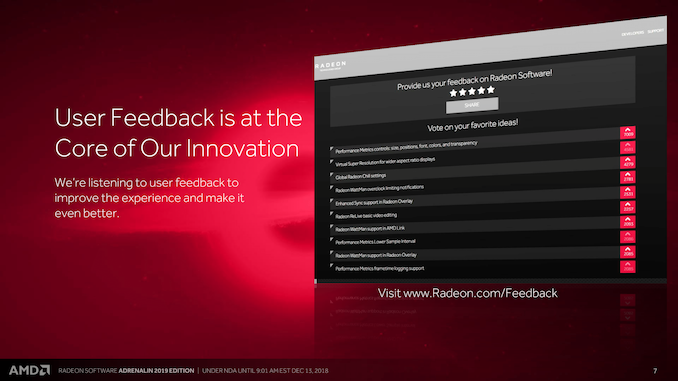 For those just catching up, AMD's cadence of an annual 'big bang' driver update started back in 2014 with Catalyst Omega, following up with the introduction of Radeon Software in 2015 and its inaugural Crimson Edition, and subsequent yearly updates with Crimson ReLive Edition in 2016 and Adrenalin Edition in 2017.
This contemporary approach has hotfixes and performance updates occur throughout the year, punctuated by large feature updates and overhauls, with an overall emphasis on user experience (UX) and quality assurance.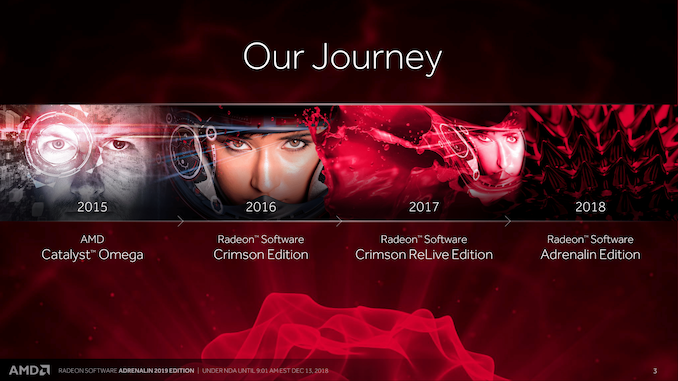 The consistency of the UX is clearer with the latest discrete GPUs, but the same couldn't be said of AMD's APU offerings. On that note, recent complaints on the status of outdated Ryzen Mobile drivers led AMD to release a statement on the matter. Adrenalin 2019 Edition doesn't bring any changes on that front, and AMD has nothing to add to their original statement.
The new developments are however far from being irrelevant, as these annual feature updates, better zero-day game support, and cited stability metrics began as a move to stave off from the reputation of older AMD/ATI drivers. More directly, a consistent UX presumably also incorporates mobile APUs as well, especially since OEM vendors would have little interest in being involved in that aspect. A meaningful percentage of mainstream users will continue to have their experience with AMD drivers solely dictated by OEMs and without the ability to leverage AMD's improvements in their driver development strategy.
Elsewhere, there's no official updates on Radeon support for hardware-accelerated DirectX Raytracing, but with NVIDIA's recent launch of Turing-based GeForce RTX series, it's a topical theme.
Looking forward, there will be increased competition in the GPU space, and a lot of AMD's incumbent advantages will be in software/driver maturity as well as feature support. With Adrenalin and now the Adrenalin 2019 Edition, there's been a good deal of increased emphasis on streaming/social uses and mobile devices, and over the coming pages we'll be taking a look at the specifics of each of the new features.