System Performance
Lenovo offers both Core i5-8250U, and Core i7-8550U options on the Yoga C930, and both are quad-core Kaby Lake Refresh U series SoCs. As with most review units, Lenovo has sent us the Core i7 model to test out. It's outfitted with 12 GB of DDR4-2400 in dual-channel configuration as well.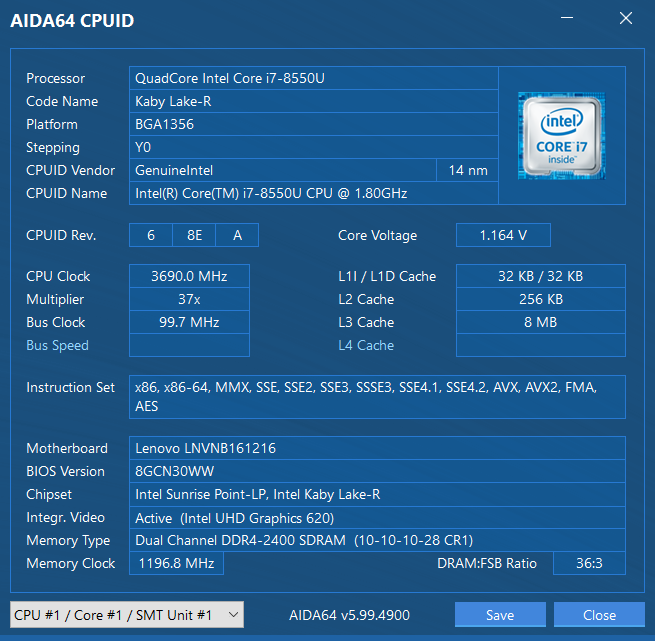 The Core i7-8550U caps out at 4 GHz maximum, with a nominal TDP of 15 Watts, but for shorter workloads, the Kaby Lake Refresh can usually draw quite a bit more than that, depending on how the OEM has the power level states configured.
We ran the Yoga C930 through our standard Ultrabook suite of tests, and comparisons will be against similar devices on the market. If you'd like to compare the performance against any other laptop we've tested, please check out our online Bench.
PCMark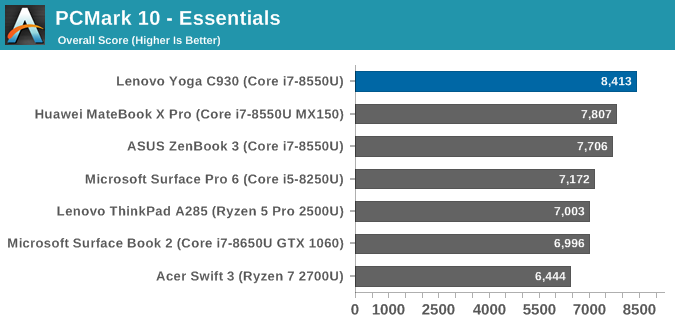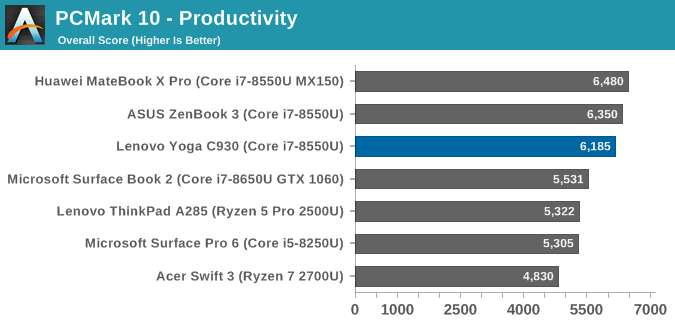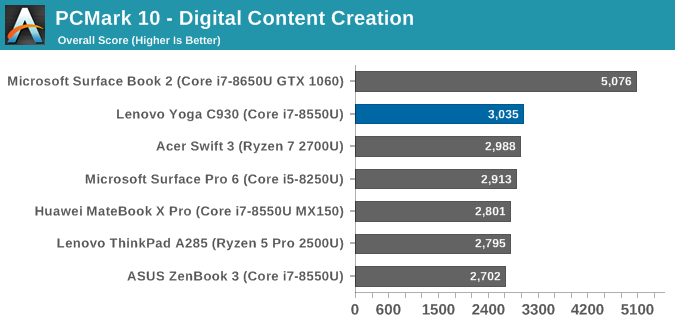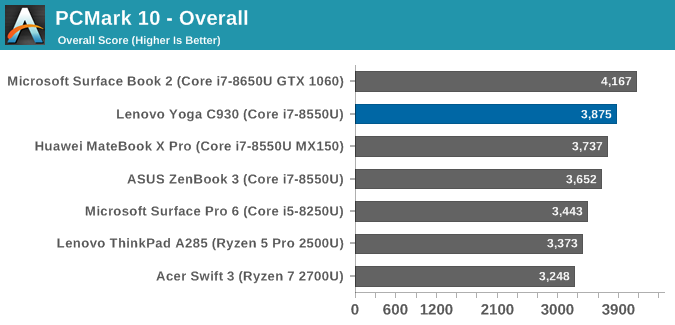 PCMark 10 is a comprehensive system test offering several workloads to stress different aspects of a system. The Lenovo Yoga C930 aces these tests, offering some of the highest performance of any Ultrabook without a discrete GPU we've seen.
Cinebench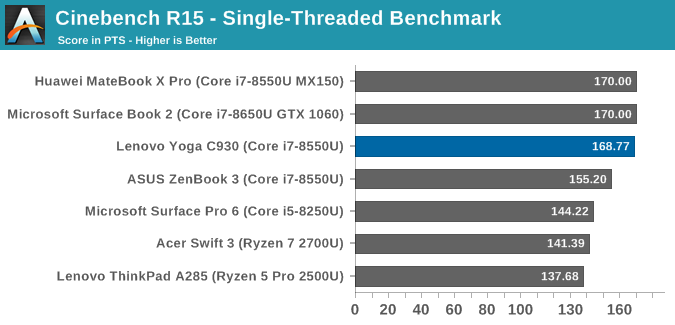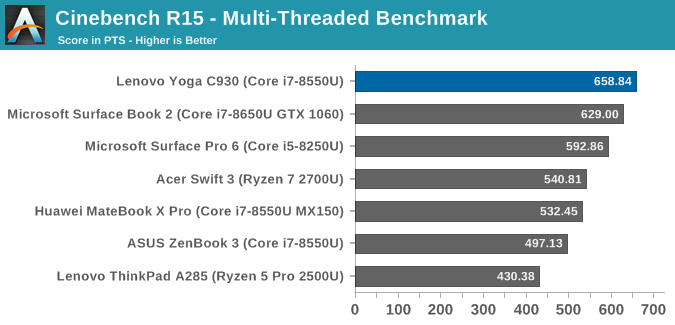 Cinebench is a purely CPU based test, and it offers both single-threaded and multi-threaded workloads. Clearly Lenovo has done a nice job on cooling, because once again the Yoga C930 is near the top against other U series laptops.
x264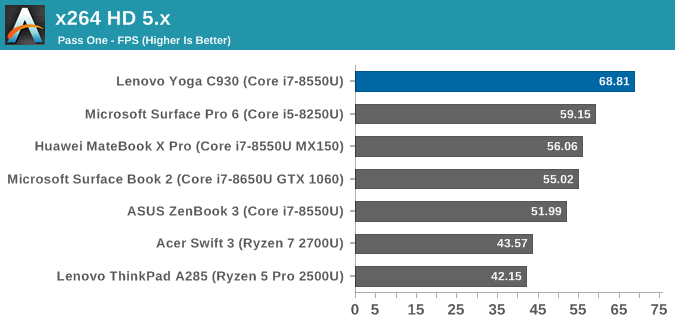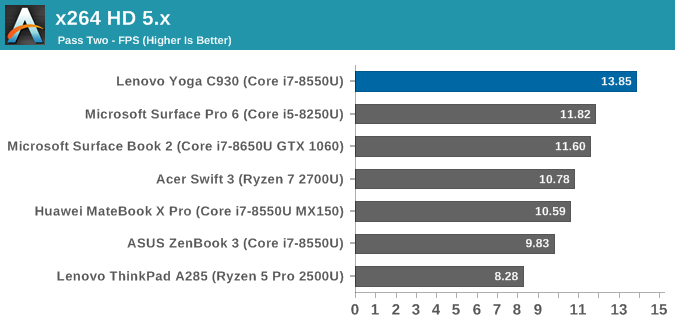 This test uses the CPU to encode video, and it performs well with more cores and more threads. This test is also quite lengthy, meaning you're more likely to run into thermal limits than shorter tests. The Yoga C930 is once again at the top, and by a wide margin here. It's clearly able to deliver higher power levels without throttling, which we'll dig into later in the review.
Web Tests
Web tests are important but are impacted immensely by the underlying web browser and its scripting engine. We run all of our web tests in Microsoft Edge, although it is updated several times per year as well, so these results are a snapshot in time.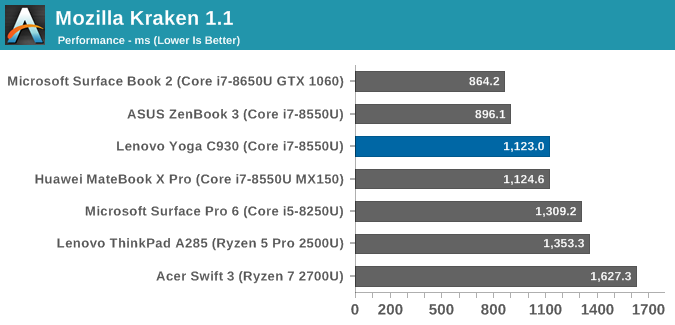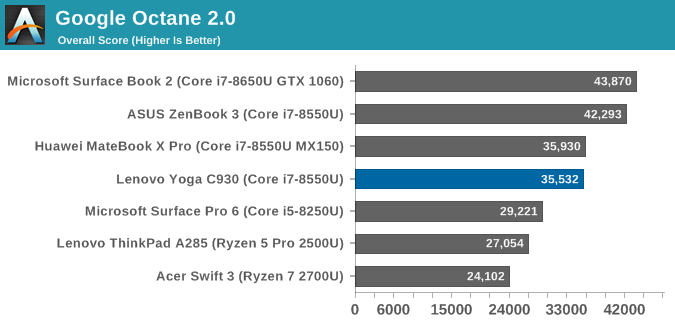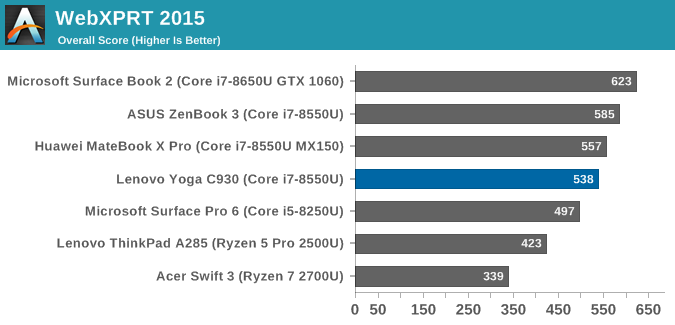 Although not quite a the top of these charts, the Yoga C930 still performs admirably. In general use, most web workloads should not be too taxing on this device.
System Performance Summary
We'll dig into this later on, but Lenovo has provided a laptop that is a class leader in performance, and is able to maintain higher power levels for longer, allowing the Yoga C930 to pull ahead of the competition when the CPU is being stressed heavily.