The first major hardware update to Intel's consumer Optane M.2 drives is coming soon, with the Optane Memory M15 drive intended for caching use. Compared to the original Optane Memory and the Optane Memory M10, the M15 updates the controller to widen the PCIe link from two lanes to four lanes, enabling significant performance increases. The maximum throughput will still be lower than what high-end NAND flash based SSDs can achieve at high queue depths, but the Optane Memory M15 doesn't sacrifice any of its unbeatable latency at low queue depths in order to increase throughput compared to its predecessors.
Earlier leaks had indicated that the M15 (codenamed Carson Beach) would add a 128GB capacity, but so far Intel is only announcing the same three capacities offered by the Optane Memory M10: 16GB, 32GB and 64GB. The Optane M10's hardware is also sold as the Optane SSD 800P, and that product line does include a 128GB/118GB model. The upcoming Optane SSD 815P that will similarly share a hardware platform with the Optane Memory M15 is expected to continue offering both 58GB and 118GB usable capacities.
Intel Optane Memory Specifications
Model
Optane Memory M15
Optane Memory M10
Form Factor
M.2 2280 M key
M.2 2280 B+M key
Interface
PCIe 3.0 x4
PCIe 3.0 x2
Protocol
NVMe 1.1
NVMe 1.1
Capacities
16 GB, 32 GB, 64 GB
16 GB, 32 GB, 64 GB
Memory
128Gb 20nm Intel 3D XPoint
128Gb 20nm Intel 3D XPoint
Sequential Read
up to 2000 MB/s
up to 1450 MB/s
Sequential Write
up to 900 MB/s
up to 640 MB/s
Random Read (QD4)
up to 450k IOPS
up to 250k IOPS
Random Write (QD4)
up to 220k IOPS
up to 140k IOPS
Read Latency (QD1)
6.75 µs
6.75 µs
Write Latency (QD1)
12 µs
18µs
Max Active Power
5.5 W
3.5 W
Idle Power
<5 mW
11 mW
Endurance
365 TB
365 TB
Warranty
5 years
5 years
Launch Date
~July 2019
March 2018
Doubling the width of the PCIe interface doesn't provide a doubling of any of the performance metrics Intel specifies for the M15, but random read throughput does increase by 80%. Maximum power draw has increased from 3.5 W to 5.5 W, but idle power has been cut in half and should now be competitive with most flash-based NVMe SSDs.
Intel's PR photos of the Optane Memory M15 show very little change to the layout of the board, and in particular the controller doesn't seem to be any larger than the original PCIe x2 version. Adding two more PCIe lanes without increasing the controller package size isn't too hard, but given how small the controller still is, we're pretty sure that the interface between the controller and the 3D XPoint media isn't any wider.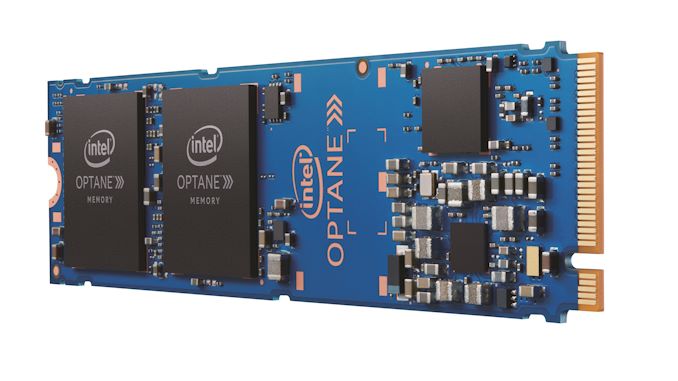 Officially, the Optane Memory M15 still requires a Kaby Lake or newer platform, so it has broader compatibility than the Optane Memory H10 that requires a Coffee Lake or newer system to support its two drives on one card design. The driver requirement has been bumped from Intel RST version 15.7 or newer up to RST version 17 or newer. However, the processor and driver requirements only apply to using Intel's Optane Memory caching software for Windows; without it the M15 is another standard M.2 NVMe SSD that's unusually small and fast compared to flash-based NVMe SSDs.
The Optane Memory M15 will be available for purchase starting around the middle of Q3, so we're hoping to receive a review sample within a month or so. Pricing has not yet been announced. Leaked roadmaps showed that Intel had previously planned to launch the M15, the Optane Memory H10 and the still unofficial Optane SSD 815P all at the beginning of 2019. The H10 was officially launched in April and is now available as an OEM-only part in some new notebooks.
Want to keep up to date with all of our Computex 2019 Coverage?

Laptops

Hardware

Chips
Follow AnandTech's breaking news here!