Conclusion
The SATA SSD market is fairly mature, and in many respects our performance testing boils down to confirming that the bottleneck for a particular workload is the SATA link itself rather than the drive. For the most part, the Kingston DC500 SSDs check the necessary boxes, saturating the SATA interface for reads (random or sequential) and coming pretty close for sequential writes. Differentiating the DC500R and DC500M from other enterprise SATA SSDs requires digging a bit deeper.
The Kingston drives inherit a recurring problem we've noticed with Phison-based drives – sub-par sequential IO performance at QD1 – but they are competitive once queue depths climb a bit. Our tests of pure random writes turned out much better than expected for both Kingston drives, though the degree to which the DC500R beat its specifications was variable. Unfortunately, this good performance didn't carry over to the mixed read/write tests, where the Kingston drives merely matched the Samsung competition at best. The Aerospike Certification Tool showed that the Kingston drives both had much worse latency QoS than the Samsung SATA drives for a mixed workload that's a bit more write-heavy than the target market for these drives.
But these performance disparities are all dwarfed by the power efficiency gap between the Kingston DC500s and Samsung's SATA SSDs. Samsung's drives consistently use less power than the Kingston drives, and usually deliver equal or better performance. On some tests one or both of the Kingston drives match the efficiency of the Samsung entry-level NVMe SSD, but Samsung's SATA platform simply has unbeatable efficiency. It would take a fairly large pile of drives for this efficiency gap to seriously affect TCO including power and cooling costs, but it's something to watch out for, especially since the DC500 sometimes substantially exceeds its rated power draw when hit with a lot of writes.
The Phison S12DC controller used by the Kingston DC500s is a significant advance over their older SATA controllers and the move to 28nm undoubtedly helped keep power draw in check while adding the more robust error correction that modern SSDs need. But after hitting the SATA performance wall Samsung pivoted to reducing power for their SATA drives, and at the moment they're well ahead of everyone else on that score.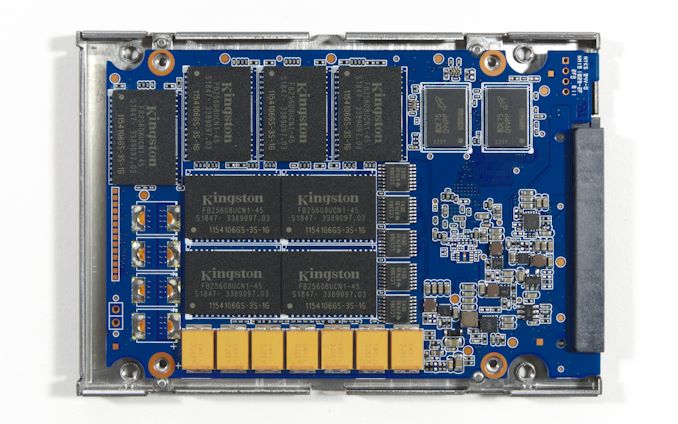 It's often hard to do any meaningful price comparison of enterprise SSDs, because many models are only or primarily sold in volume directly from the manufacturer to major customers. Those drives often show up at grey market resellers with pricing that is not at all indicative of the volume prices; spotty availability and the occasional surplus of a specific SKU cause major price distortions. This doesn't apply to the Kingston DC500 series, since they actually are intended for retail sales in individual quantities. The Samsung SATA drives in this review are also sold through distributors, so we can make a reasonable comparison. In the table below, we're using current prices from CDW, and we've included a few other relevant competing models with similar endurance ratings. All of these drives are likely to have volume pricing that's lower than these prices, but this should be an accurate picture of their relative positioning.
Enterprise/Datacenter SATA SSD Price Comparison
Unit Quantity from CDW, June 24, 2019
Endurance
(DWPD)
480 GB
960 GB
1920 GB
3840 GB
Kingston DC500R
0.5
$104.99 (22¢/GB)
$192.99 (20¢/GB)
$364.99 (19¢/GB)
$733.99 (19¢/GB)
Kingston DC500M
1.3
$125.99 (26¢/GB)
$262.99 (27¢/GB)
$406.99 (21¢/GB)
$822.99 (21¢/GB)
Samsung 860 DCT
0.2
$174.99 (18¢/GB)
$349.99 (18¢/GB)
$699.99 (18¢/GB)
Samsung 883 DCT
0.8
$119.99 (25¢/GB)
$219.99 (23¢/GB)
$419.99 (22¢/GB)
$799.99 (21¢/GB)
Intel
D3-S4510
1.4–2.1
$131.99 (27¢/GB)
$215.99 (22¢/GB)
$427.99 (22¢/GB)
$824.99 (21¢/GB)
Micron 5200 PRO
1.3–2.5
$196.99 (21¢/GB)
$373.99 (19¢/GB)
$1221.99 (32¢/GB)
Micron 5200 ECO
0.6–1.1
$101.99 (21¢/GB)
$187.99 (20¢/GB)
$355.99 (19¢/GB)
$651.99 (17¢/GB)
Seagate Nytro 1351
1.0
$118.99 (25¢/GB)
$211.99 (22¢/GB)
$394.99 (21¢/GB)
$743.99 (19¢/GB)
Kingston's pricing for the DC500 SSDs is generally in line with the rest of the market. At the higher capacities, the premium for the DC500M over the DC500R is much smaller than we would expect given how much extra flash and DRAM the -M version includes for the same usable capacity. Strictly comparing the two DC500s, the -M seems to be offering a pretty good deal for the improved write performance and endurance. However, the Samsung 883 DCT offers similar throughput and better QoS for slightly lower prices than the DC500M, with the caveat that the Samsung drive has 40% lower rated write endurance. And it's important to keep in mind that the more write-heavy workloads where the DC500M stands out from the DC500R and the Samsung drives are also the workloads least likely to be run on a SATA SSD of any brand—that's NVMe territory now.
While we have not personally evaluated its performance, the Micron 5200 ECO looks pretty well positioned to compete against the DC500R: it's rated for similar write performance, but aside from the 7.68TB model it has twice the write endurance, and it's cheaper across the board.
What's Next?
Kingston has shared some of their plans for enterprise and datacenter SSDs going forward. The DC500 family is just two of several product lines they are launching this year. They haven't released specifics about what other market segments they will be going after in the near future, but at the very least we expect an NVMe drive, probably an entry-level M.2 model based around the Phison E12DC or one of their later datacenter controllers. Since the datacenter drives take much longer to qualify than consumer products, we may not see a PCIe 4.0 datacenter drive before the end of the year even though consumer drives using the E16 controller will be hitting the shelves very soon.
Meanwhile for the successor to the DC500 family, Kingston is planning to update to Intel's 96L TLC, but that transition is probably at least a year away. To support this broadening of their enterprise/datacenter offerings Kingston has significantly increased the staff dedicated to these product lines, so we can expect a more regular cadence of updates—but still at enterprise product cycle pacing, which is not as fast-moving as the consumer SSD market has been lately.