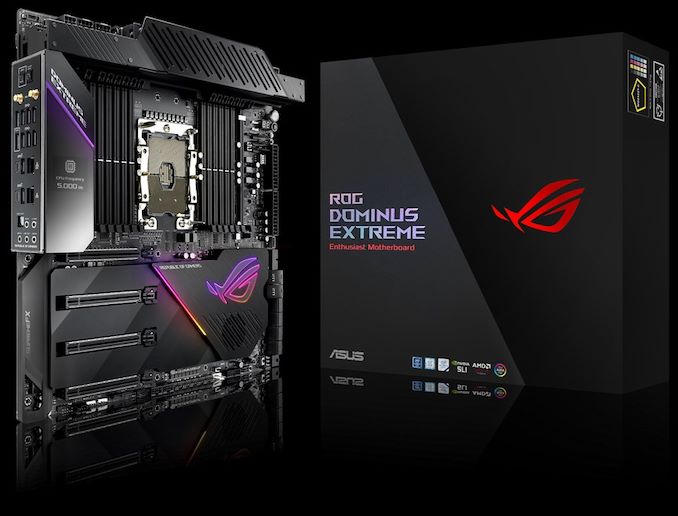 ASUS has released a new BIOS version 0601 for its ROG Dominus Extreme motherboard that 'improves PCIe compatibility' when using Intel's latest Xeon W processors based on the Cascade Lake architecture. The move confirms that existing extreme workstation motherboards originally developed for Xeon W-3175X (and other Skylake-SP products) will work with Intel's latest Xeon W-3200 processors.
When ASUS launched its ROG Dominus Extreme platform several months ago, the list of supported CPUs was limited to the flagship 28-core Xeon W-3175X as well as several other Xeon Gold and Xeon Platinum processors based on the Skylake-SP design and designed to use the LGA3647 socket.
Recently the company released its new BIOS version 0509 that added support for a variety of Intel Xeon W CPUs featuring the Cascade Lake microarchitecture and a slightly different physical layout. This week the company launched another BIOS version 0601 that is designed to improve PCIe compatibility whe using Intel's Xeon W-3275/W-3275M products unveiled in early June.

One of the key physical differences between Intel's Skylake Xeon W and Cascade Lake Xeon W processors is that the latter does not reserve 16 PCIe 3.0 lanes for on-package chips (e.g., OmniPath) but instead offers 64 PCIe 3.0 lanes to add-on cards instead. Since the LGA3647 package had all the pins necessary for 64 PCIe 3.0 lanes, but the previous-generation processors did not use them, a new BIOS release was necessary to ensure compatibility with the new Intel Xeon W-3275/W-3275M as well as other new CPUs. Whether these lanes are actually used or not is a different matter.
While it is positive to see that ASUS is taking care about compatibility with Intel Xeon W-3275/W-3275M and its motherboard for extreme workstations, what remains to be seen is whether Intel plans to offer an unlocked Xeon W-3200X for those who want overclocking.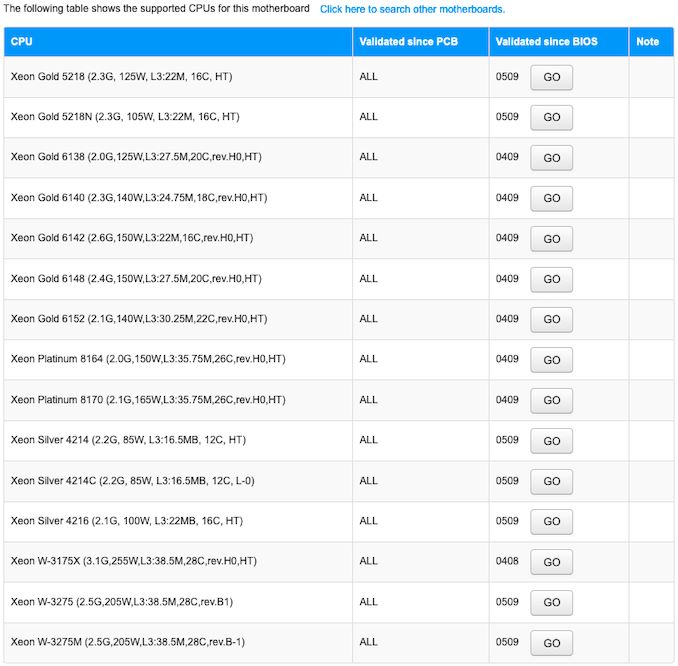 Related Reading:
Source: ASUS (via momomo_us/Twitter)