BIOS
ASUS is using its Republic of Gamers firmware which has two primary modes with different levels of complexity: EZ and Advanced. The design of the BIOS is consistent throughout, with a ROG themed red, black and dark background, with contrasting grey and white text. This design used in both the EZ and Advanced modes which users can access by pressing the F7 key.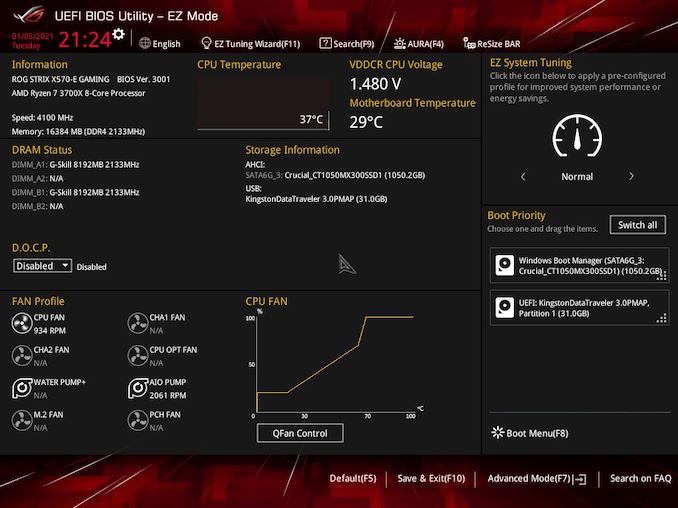 The basic 'EZ' mode is for novice users looking to make basic alterations. This includes basic XMP support (which ASUS calls DOCP on its AMD based models). On the basic screen is a list of core information including fan profile speeds, DRAM status, model and firmware version, current CPU Core voltage, and motherboard temperature. Users can use hotkeys to navigate between different sections of the firmware, as well as select the systems boot priority and access the QFan Control function integrated into the firmware.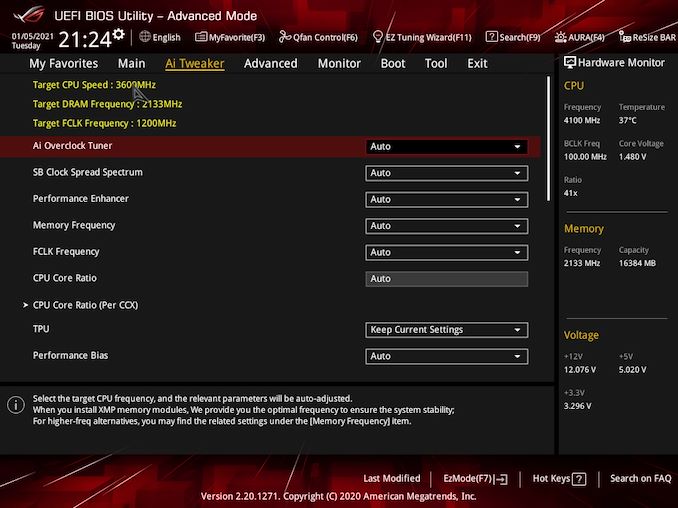 Accessing the more intricate parts of the firmware, users will need to press F7 to switch to the Advanced mode. This area is where all of the board's primary settings are located and are divided into menus and submenus. The Ai Tweaker is where all of the overclocking settings are located and users can overclock the CPU, memory, and integrated graphics when used with a compatible Ryzen based APU.
It offers control for CPU frequency, Fabric Clock frequency (FLCK), which users can adjust to allow AMD's Infinity Fabric to operate in tandem with memory frequency. AMD recommends an FCLK of 1800 MHz when using DDR4-3600 memory which it says is the sweet spot for performance on the Ryzen platform. For quick and easy memory overclocking, users can enable D.O.C.P,.
Other notable elements of the firmware include its AURA section which allows users to customize the board's integrated RGB LEDs. The software offers much more in-depth control of this, but it's nice to see that AURA and the QFan utility make it into the firmware. As we've seen with previous ASUS ROG models over the last couple of years, its firmware is consistent, intuitive, and laid out very neatly.
Software
Some of the following analysis comes from our ASUS ROG Strix B550-F Gaming review as it shares the same software bundle as the ROG Strix X570-E Gaming.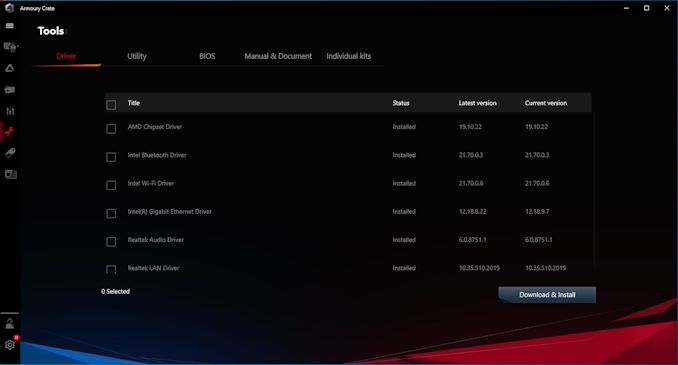 One of the unique ASUS implementations to its Republic of Gamers branded motherboards is the Armory Crate, which is pooled into memory on the motherboard and contains basic networking drivers and all the software and utilities. Armory Crate pops up when Windows is first installed onto a system, so it looks like somehow ASUS has got into your install image. Not a fun thing if you don't know about it in advance.
Thankfully this is just some extra software that helps most users get hold of chipset and controller drivers as needed. It can be disabled in the BIOS if needed. Note this means that the Driver CD traditionally bundled with a motherboard isn't really needed, as long as you have an internet connection.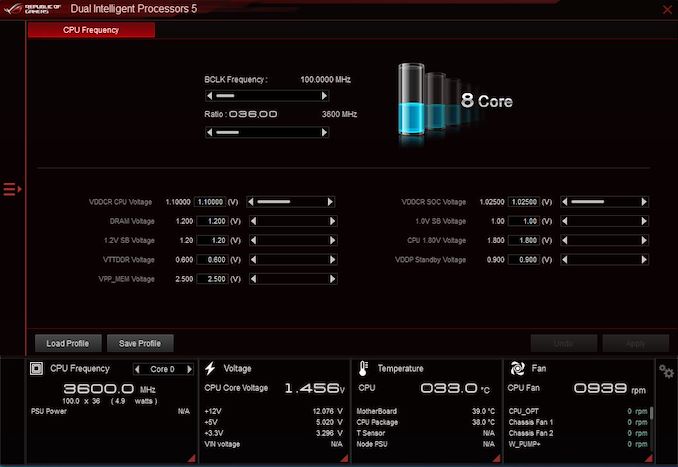 The ASUS AI Suite 3 utility is a combination of various software utilities that allow customization of power profiles, VRM power profiles, and load-line calibration settings. This also stretches to overclocking for the CPU, with options to adjust both CPU and BCLK frequency. Users can also make on the fly adjustments to voltages such as CPU VCore, memory voltage, and SoC voltages, although the firmware still offers the most for overclockers and enthusiasts. The AI Suite 3 software also allows access to its QFan tuning utility where users can customize fan profiles.
Other utilities in the ASUS package include the ROG Gamefirst VI network traffic shaping software, a custom skinned version of the CPU-Z monitoring utility, and its RAMCache III software. The ASUS Sonic Studio application also allows users to customize its auditory experience with effects and different sound profiles for things such as movies, music, and gaming. This includes frequency EQ customization too. As usual, the ASUS software package includes plenty of software to enhance user experience.