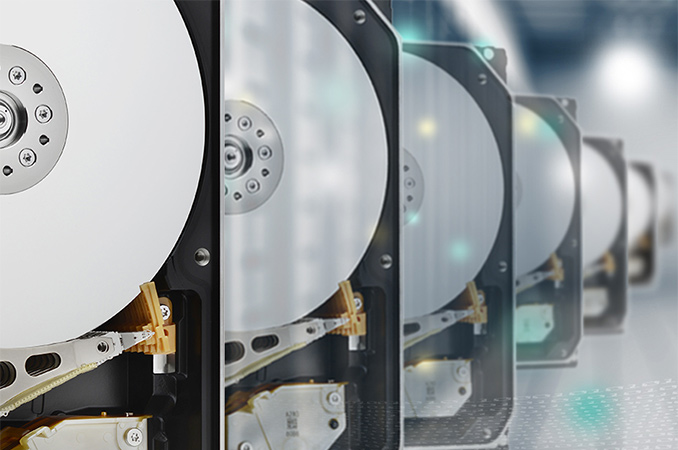 Western Digital is somewhat behind its rival Seagate in adopting heat-assisted magnetic recording (HAMR), which promises radical improvements to areal density and HDD capacities. Still, the company expects hard drives that use this recording method to enter mass production in the next 1.5 years. This technology will open doors for nearline drives offering 40 TB – 50 TB capacities in the coming years.
Seagate recently said it was months away from introducing its 32 TB nearline hard drives featuring its HAMR technology, with 36 TB and 40 TB HDDs to follow. The introduction of 32 TB hard drives will undoubtedly put Seagate in a leading position as far as capacity is concerned, as the highest capacity drive that Western Digital has today is its Ultrastar DC HC670 26 TB featuring UltraSMR set of technologies. At a recent conference, financial analysts asked Western Digital when the company expects its HAMR HDDs to emerge. The firm envisions these drives to enter mass production in circa 1.5 years.
"On the HAMR side, we are probably one year to 1.5 years plus before we get sort of volume production anyway," said Wissam Jabre, the chief financial officer of Western Digital, at the Bank of America Securities 2023 Global Technology Conference (via SeekingAlpha).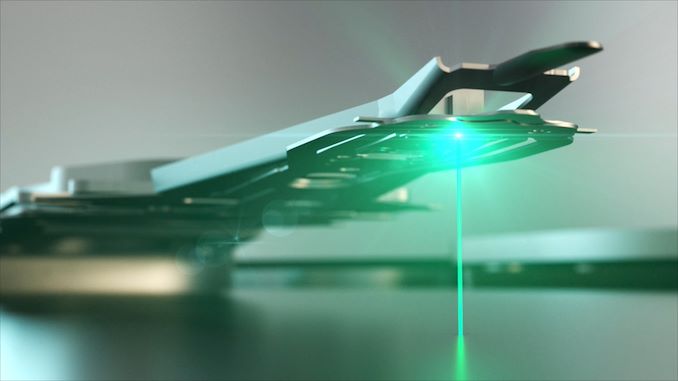 HAMR is a highly complex technology. It requires novel platters capable of enduring intense local heat of approximately 450°C or higher (generated using a laser with an ~810 nm wavelength and a ~20 mW power) without deforming over time. These platters are expected to be made from glass substrates and covered with a thin Fe-Pt alloy magnetic layer to ensure reliability and resist eventual deformation.
"HAMR could be one of the next on the roadmap," said Jabre. "[…] Our engineering teams have done a lot of R&D around [HAMR] […], it requires a lot of work on the material science as well as the physics. But also, much work is required in terms of commercialization, meaning being able to manufacture at scale, ensuring the yields are where they need to be, and having a reliable product that can last for several years. So, it takes time to get there."
All HDD makers have been working on HAMR HDDs for well over a decade, but only Seagate decided to bet on HAMR boldly. In contrast, Toshiba and Western Digital adopted energy-assisted perpendicular magnetic recording (ePMR) and microwave-assisted magnetic recording (MAMR) before adopting HAMR.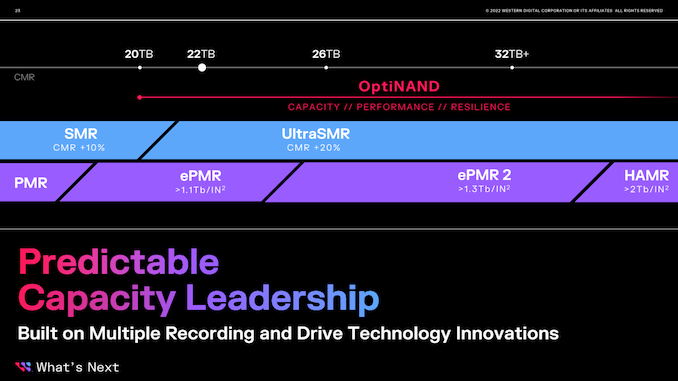 Western Digital's roadmap includes the 2nd Generation ePMR 2 platform, which allows for areal densities over 1.3 Tb/inch2 (an 18% over ePMR). Such areal density will enable the company to build 3.5-inch platters with a capacity of over 3.5 TB. Thus Western Digital will be able to offer HDDs with a ~36 TB capacity featuring 10 of such disks in the coming quarters. Meanwhile, the company says this technology will be used for CMR HDDs with 24 TB – 30+ TB capacity points.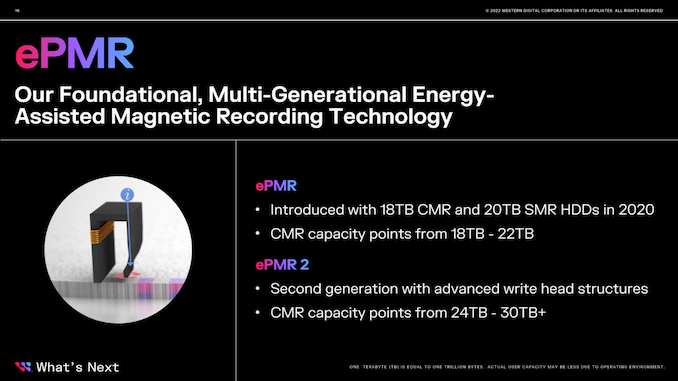 Of course, the key question is when precisely such drives are set to be announced, qualified, and shipped. But at least it looks like Western Digital is set to stay competitive with Seagate regarding HDD capacities for the foreseeable future.
As for HAMR, Western Digital expects this recording technology to enable areal densities higher than 2 Tb/inch2, which allows it to build ~5.4 TB 3.5-inch platters, opening doors for HDDs with capacities of around 50+ TB.