First x86 competitor: MSI's K2-102A2M and Opteron 275 HE
The MSI K2-102A2M was one of the first servers to arrive in the lab. It is not really a direct competitor to our T2000, but one of the main reasons why we liked to have the MSI server in this test is its support for the Opteron 275 HE. The recently launched 275 HE is a dual core Opteron running at 2.2 GHz and consuming only 55W at the most.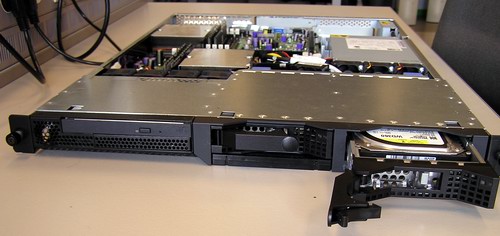 Along with the SuperMicro H8DCE with BIOS v1.0c (and later), the board inside the K2-102A2M is one of the few boards that has the proper power states and PowerNow! enabled for the 275 HE, as it should.
So, while the MSI K2-102A2M aims at a lower priced sector of the market than the T2000, it gives an idea of what the best x86 servers will be capable of in terms of performance/watt in the next months. The MSI K2-102A2M allows us to answer the question of whether or not the T2000 can outperform the x86 competition performance/watt-wise by a large enough margin. The MSI K2-102A2M supports two 940-pin AMD Opteron, thanks to the ServerWorks HT2000 Chipset. Eight 144-bit DDR DIMM slots allow up to 16 GB of registered ECC DIMMs. Upgrading is possible via one PCI Express x8 slot and one PCI-X 133 slot. The ServerWorks HT1000 Serial ATA host controller supports two SATA-II drives.
A slightly negative point is the use of a slim CD-ROM drive. Some of the current software is delivered on DVD, so we like to see at least a DVD-ROM drive.
On the positive side, there are the excellent dual-ported BCM5780 controller and the integrated MSI Server Management IPMI 1.5 with the MSI-9549 BMC card. We'll discuss remote management options in more detail in one of our upcoming server reviews.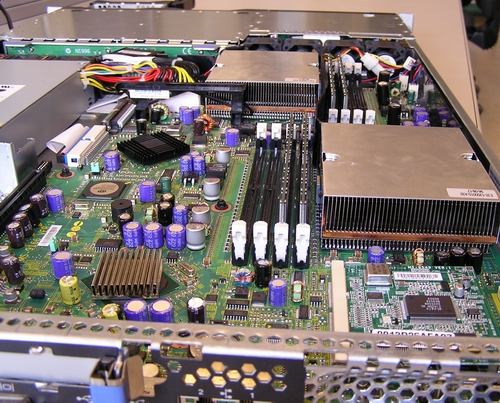 The ACBEL power supply with active PFC delivers 411W max.