Drive Specifications
Hard Drive Specifications
Western Digital Caviar SE16
WD7500AAKS
Hitachi Deskstar 7K1000
HDS721075KLA330
Seagate Barracuda 7200.10
ST3750640AS-RK
Stated Capacity
750GB
750GB
750GB
Interface
SATA 3Gb/s
SATA 3Gb/s
SATA 3Gb/s
Rotational Speed
7,200 RPM
7,200 RPM
7,200 RPM
Cache Size
16 MB
16 MB
16 MB
Average Latency
4.2 ms (nominal)
4.17 ms (nominal)
4.16 ms (nominal)
Read Seek Time
8.9 ms
8.5 ms
8.5 ms
Number of Heads
8
8
8
Number of Platters
4
4
4
Power Draw Idle / Load
8.6W / 10.7W
8.1W / 12.8W
8.6W / 12.6W
Command Queuing
Native Command Queuing
Native Command Queuing
Native Command Queuing
Warranty
3 Year - Retail or OEM
3 Year - Retail or OEM
5 Year - Retail or OEM
The 750AAKS has technical specifications similar to its competition from Seagate and Hitachi. Seagate continues to offer the most attractive warranty, though the power consumption at load of the Western Digital is by far the lowest among its peers. Other specifications (seek time, latency, etc.) are all close enough as to be virtually indistinguishable among the drives.
The current street price for the Western Digital 750AAKS is around $190, while the Hitachi drive comes in at about $235 and the Seagate 7200.10 750GB at $199.
Feature Set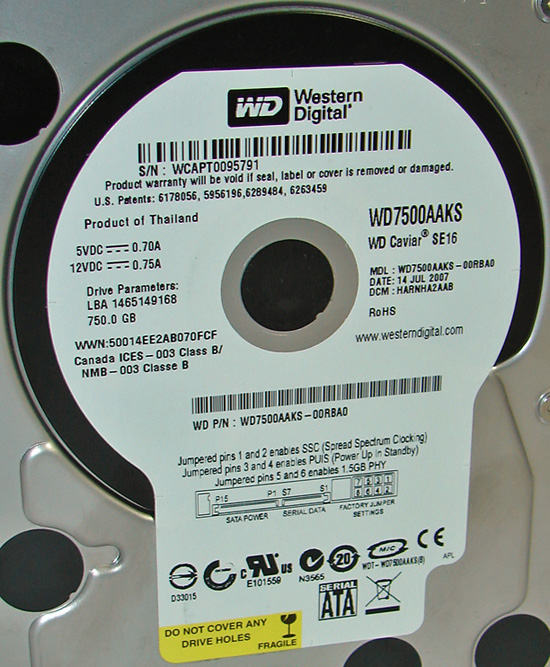 The 7500AAKS drive is equipped with all of the standard features found in the SE16 line, but has had two additional features added which are not present on the smaller capacity drives: Perpendicular Magnetic Recording (PMR), and StableTrac. PMR, which we've described
in previous articles
, is a means of achieving a higher data storage density (without changing the disk media). This is different than the more traditional method of longitudinal magnetic recording, which has nearly reached its limit in terms of data density. StableTrac, which is a proprietary technology by Western Digital, essentially means that the motor shaft is secured at both ends to reduce the effects (and generation) of vibration in the system.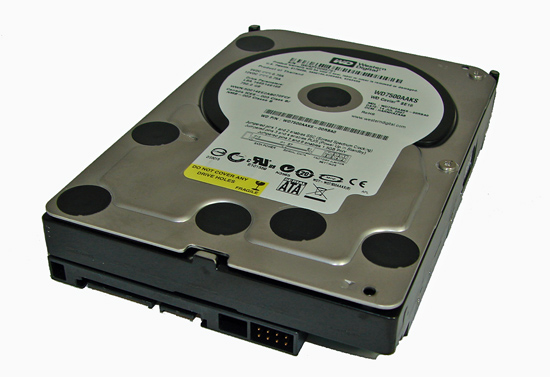 The 7500AAKS is a 3.5" form factor drive, with the standard white Western Digital sticker outlining the basic specifications (capacity, drive parameters, etc).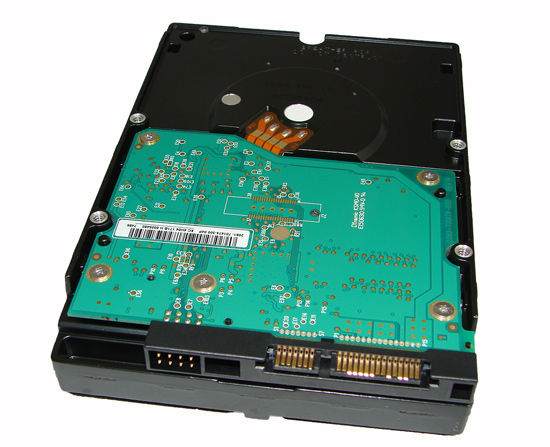 Western Digital has followed the lead of other manufacturers in removing the 4 pin MOLEX connector on this drive which was used in older ATX power supplies. The SATA power port is therefore the only available power option.