The New MacBook: I Think I Might Like It
The new MacBook does a bit better, you don't give up too much but what you do get in return is pretty much what I've been asking for. The dimensions are basically the same, but we get a much thinner unit.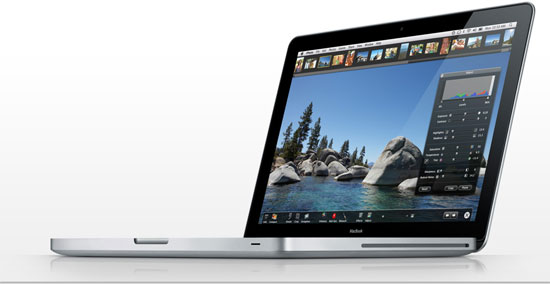 The LED backlit display fixes my biggest complaint with the MacBook, the screen should be on par with that of the MacBook Pro - finally.
Apple continues to put FireWire 400 on the chopping block, there's absolutely no FireWire support on the new MacBook. The GeForce 9400M + DDR3 combo also reduce power consumption, but Apple outfits the new MacBook with a smaller 45WHr battery.
You do pay for all of this, the updated configuration will run you $1299 up from $1099 (although you can still buy the entry level MacBook at $1099). The display alone is worth the $200 price premium honestly.
New MacBook
2008 Penryn MacBook
2007 Merom MacBook
Dimensions
H: 0.95"
W: 12.78"
D: 8.94"
H: 1.08"
W: 12.78"
D: 8.92"
H: 1.08"
W: 12.78"
D: 8.92"
Weight
4.5 lbs
5.0 lbs
5.0 lbs
Screen Size/Resolution
13.3" / 1280 x 800 (LED backlit)
13.3" / 1280 x 800
13.3" / 1280 x 800
CPU
Intel Core 2 Duo 2.0GHz or 2.4GHz (45nm Penryn, 1066MHz FSB)
Intel Core 2 Duo 2.1 - 2.4GHz (45nm Penryn, 800MHz FSB)
Intel Core 2 Duo 2.0 - 2.2GHz (65nm Merom)
GPU
NVIDIA GeForce 9400M (256MB UMA)
Intel GMA X3100
(144MB UMA)
Intel GMA X3100
(144MB UMA)
Memory
2GB - 4GB DDR3 1066
1GB - 4GB DDR2-667
1GB - 4GB DDR2-667
HDD
160GB - 320GB 2.5" 5400RPM SATA HDD
128GB SSD optional
120 - 250GB 2.5" 5400RPM SATA HDD
80 - 160GB 2.5" 5400RPM SATA HDD
Optical Drive
Integrated SuperDrive
Integrated Combo drive or SuperDrive
Integrated Combo drive or SuperDrive
Networking
802.11a/b/g/n
10/100/1000 Ethernet
802.11a/b/g/n
10/100/1000 Ethernet
802.11a/b/g/n
10/100/1000 Ethernet
Built in iSight
Yes
Yes
Yes
Inputs
2 x USB 2.0
1 x Audio in
1 x Integrated mic
2 x USB 2.0
1 x FireWire 400
1 x Audio in
1 x Integrated mic
2 x USB 2.0
1 x FireWire 400
1 x Audio in
1 x Integrated mic
Outputs
1 x Audio
1 x mini DisplayPort
1 x Audio
1 x mini-DVI
1 x Audio
1 x mini-DVI
Battery
45WHr
55WHr
55WHr
Price
$1299
$1099
$1099