Dell XPS L501x: Windows' MacBook Pro Alternative
We've lamented the state of Windows laptops on numerous occasions; the formula is "tried and true", but that doesn't mean we like it. Put in reasonably fast components, give us sufficient memory and hard drive capacity…and then match this with a cheap (usually glossy) plastic case and the least expensive (again, glossy) LCD panel you can find. Acer (and sub-company Gateway) has truly perfected the art, with a keyboard that all three of our laptop reviewers dislike/loathe/vilify, but they're certainly not the only culprit. ASUS, Toshiba, Dell, HP, and many others use variations of the same basic pattern, and what we're left with is a matter of finding out who if anyone can make something that truly stands out from the crowd.
Of course, if we're talking about standing out from the crowd, one name almost immediately comes to mind: Apple. Love 'em or hate 'em, Apple has definitely put more time and energy into creating a compelling mobile experience. It starts with building a high quality system, but it reaches beyond that into the core OS X experience. Whatever Apple is doing, the result is significantly better battery life under OS X for the components and battery capacity—and as we've shown, moving to Windows 7 largely negates any battery life advantage.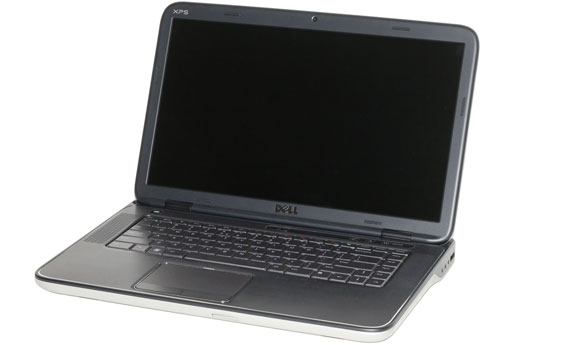 HP created their Envy line to go after the same target market, only forget the OS X stuff and simply build a better consumer notebook that doesn't feel like a cheap piece of plastic. Now, Dell is throwing its hat into the ring with the return of their XPS line. Yes, you could argue that the Studio XPS went after the same market, but the chassis now comes with a magnesium-alloy frame and eschews glossy plastic; the result looks and feels better (in our opinion) than the old Studio XPS 16. Dell also ships Waves Audio Maxx and JBL certified speakers on all the new XPS models, with a claim that these are the best laptop speakers on the market. We'll try to put that claim to the test, but before we get to the evaluation here's the specifications on our test system.
Dell XPS 15 L501x Specifications
Processor
Intel Core i5-460M
(2x2.53GHz, 32nm, 3MB L3, Turbo to 2.80GHz, 35W)
Chipset
Intel HM57
Memory
2x2GB DDR3-1333 (Max 8GB)
Graphics
NVIDIA GeForce GTX 420M 1GB GDDR3
96 SPs, 500/1000/1600MHz Core/Shader/RAM clocks
Display
15.6" B+GR LED Glossy 16:9 1080p (1920x1080)
(AU Optronics B156HW1) (Upgrade)
Hard Drive(s)
500GB 7200RPM HDD
(Seagate Momentus 7200.4 ST9500420AS)
Optical Drive
Blu-ray/DVDRW Combo (Upgrade)
Networking
Gigabit Ethernet (Realtek RTL8168/8111)
802.11n (Intel WiFi Link 6200AGN) (Upgrade)
Bluetooth 3.0 (Upgrade)
Audio
2.1 JBL Speakers + Waves Audio
(Stereo speakers and subwoofer)
Microphone and two headphone jacks
Capable of 5.1 digital output (HDMI/SPDIF)
Battery
6-Cell, 11.1V, 4.9Ah, 56Wh
Front Side
Memory Card Reader
Left Side
Exhaust vent
1 x USB 3.0
Right Side
Optical Drive
2 x Headphone Jack
Microphone Jack
1 x eSATA/USB 2.0 Combo
Back Side
Mini DisplayPort
HDMI 1.4
Gigabit Ethernet
TV Input (Optional)
AC Power Connection
1 x USB 3.0
Kensington Lock
Operating System
Windows 7 Home Premium 64-bit
Dimensions
15.0" x 10.4" x 1.3-1.5" (WxDxH)
Weight
6.14 lbs (with 6-cell battery)
Extras
Waves Maxx Audio 3
2MP Skype HD Certified Webcam (H.264)
86-Key backlit keyboard
Flash reader (SD/IO/XC/HC, MS/Pro/XC, MMC, xD)
Warranty
1-year standard warranty
2-year and 3-year warranties available
Pricing
Starting Price: $850
Price as configured: $1220
Most of the specs are standard stuff, but a few areas stand out from the crowd. One clear advantage over competing laptops is the 1080p LCD, and it takes about two seconds after you first power on the laptop to determine that yes, we have a winner here! Throw in what is obviously a higher-than-500:1 contrast ratio and the 1080p resolution and we're sold. The high color gamut (~100% AdobeRGB 1998) means the picture looks oversaturated at times, but given the choice between a 45% gamut and a 100% gamut we'll take the latter. What's great is that the total price of the LCD upgrade is only $130, and considering the amount of time you spend staring at the display it's money well spent in our book!
The speakers are another item where the XPS is head and shoulders above the crowd. The subwoofer adds much-needed bass, and sound clarity in general is very good. The Waves Maxx Audio 3 might matter more for audio professionals that regular users, but Waves does give you quite a few options for tweaking the way your laptop sounds. You won't be replacing your home theater system with laptop speakers, obviously, but the L501x can get very loud and do so without severe distortion. Personally, these rate as the best laptop speakers I've used (which isn't saying much), but how important that is depends on the individual.
Similar to the Waves audio in terms of how much it will matter is the HD webcam, and this is apparently the first Skype HD certified laptop. With H.264 support, the webcam in theory allows you to chat with others and get a higher quality video, though the video you get still depends on the other user's camera. In practice, getting an HD video connection with Skype requires at least 512Kbps of bandwidth in both directions, and even when you have that it doesn't always work. The webcam does work fine otherwise, but we never did manage a high quality HD video conference, perhaps because of bandwidth limitations (even though we tested on a 12/1Mb connection).
As mentioned, this is our first encounter with a mainstream NVIDIA 400M part, and we're quite curious to see how the 420M compares to the previous generation parts. NVIDIA has given us an estimate of 30% faster, but that would probably mean 30% faster than the 320M, which would make the 420M around the same performance as GT 335M—only with DX11 support naturally. In other words, we don't expect to be blown away by the 420M, especially if we try to run games at the 1080p LCD resolution! 400M also means the HDMI port is version 1.4, and there's a mini DisplayPort connection as well. This isn't a gaming laptop, unlike some of the previous XPS designs, but it will handle "mainstream" gaming…at a lower resolution than the 1080p panel. Thankfully, you can run at lower resolutions, and the panel is great in multimedia and general use even if 1080p requires quite a bit more GPU before it becomes reasonable.
Of the remaining features, only two final items are worthy of note. One is the backlit keyboard and the other is USB 3.0 ports—two of them. The keyboard isn't your typical chiclet option either; while it may not displace the ThinkPads for comfort, it works well. There's an eSATA/USB 2.0 combo port as well, so while expansion options don't include ExpressCard and you miss the Firewire port (sorry Dustin!), everything else you'd expect on a good mainstream notebook is here. Other extras like a Blu-ray combo drive, Bluetooth 3.0, a 2-year warranty, faster CPUs, a GeForce GT 435M, and a larger hard drive (or an SSD) are also available if you're interested. We do have one complaint about the upgrades, however: you can only order the faster 435M GPU if you get a quad-core CPU, which means you lose Optimus support in the process. The CPU+GPU upgrade also bumps the power adapter up to a larger 130W unit in place of the normal 90W brick, which addresses a problem some users experienced with CPU/GPU throttling on the old Studio XPS 16.
Given the price, what we have is Dell's direct competitor to Apple's entry-level MacBook, and frankly there's no competition in performance or features. The MacBook only leads if you want one of two things: a smaller size, or the ability to run OS X (without going the Hackintosh route). The standard 6-cell battery provides good if not great battery life, while an upgraded 92Wh 9-cell battery should provide for all-day computing if you don't try watching videos or playing games. The specs of our slightly upgraded unit also compete very well against the ASUS N82Jv—similar performance with a dramatically superior LCD—as well as the HP Envy line. If you pick the L501x up on one Dell's routine sales (i.e. the current sale available on all but the entry-level unit) you can cut costs even more. With improved build quality and features, the new XPS L501x is a great update to the old Studio XPS 16; the name change doesn't really matter in our book, as we thought the old model was good regardless, but Dell has addressed all the areas where users had complaints and produced a very compelling midrange (mainstream) notebook offering.