It's Not Just About Games
NVIDIA would also like to let everyone know, once again, that it's not just about games. They have CUDA, DirectX 11, OpenCL, and PhysX support, along with various 3D modes (including 3D TV Play). We also have HTML5 enabled browsers supporting GPU acceleration, and other browsers (i.e. Firefox 4) adding WebGL support. Most upcoming browsers are supposed to leverage the power of the GPU a lot more than they do today, making for a more interesting Internet. Let's take a few of these items in turn, though.
The jury is still out on CUDA encoding vs. Intel's Quick Sync (note that my quality with CUDA wasn't nearly so bad using MediaEspresso, so Anand may have encountered more of an Arcsoft Media Converter issue), but even if QS comes out ahead Optimus should at least allow NVIDIA to do the sensible thing and use the CPU where it's better, or their GPU when it's better. OpenCL is a bit of a gray area as well, since it's possible to run OpenCL code on a CPU. We don't have any good OpenCL tests right now, and we can't run it on an Intel CPU, so we'll just leave that on the table. Even so, Quick Sync might make one of the most common uses of OpenCL redundant.
That brings up another item we should point out as well: unlike desktop Sandy Bridge, nearly all notebooks will get Intel Quick Sync support. The desktop P67 doesn't work with integrated graphics, and it's the chipset to get if you want overclocking support—at least until Z67 shows up and provides IGP + overclocking. That means you can't use Quick Sync (at least not right now—maybe a driver or some other hack could provide access to the necessary CPU/GPU features). In contrast, all Sandy Bridge laptop chipsets support integrated graphics and thus Quick Sync. There's no PM67 to muddy the waters (at least not yet). The one exception would be notebooks that forego switchable graphics and only operate off a discrete GPU, and Quick Sync would make that a very bad design decision in our book. As I said in the Mobile Sandy Bridge review, SNB is a much bigger deal for laptops than desktops in my opinion.
Next up, DX11 and PhysX are certainly wins, albeit small ones, for NVIDIA. There are games that make reasonable use of both options, and even if you end up disabling the features in most titles for performance reasons (i.e. laptop GPUs are still usually too slow, so you have to choose between higher quality graphics, DX11, and PhysX), such features are still value add-ins. We'll lump them into the same category as better overall gaming performance and drivers for now.
And that leaves the final two items, HTML5 and WebGL. Internet Explorer 9 Beta and Firefox 4 are designed to leverage the power of your GPU as well, with IE9 focusing more on HTML5 and FF4 adding WebGL into the mix. We decided a quick test of a few current platforms would set the stage, and NVIDIA was even kind enough to list some suggestions in their reviewers' guide. We went to the WebVizBench site (don't even try that in something like Firefox 3.6!) and ran their benchmark at 1600x900 on IE9. Our test laptops were the new Sandy Bridge system from Compal/Intel, and the ASUS N53JF sporting an Arrandale CPU/IGP with GT 425M dGPU. We tested the ASUS laptop on both integrated graphics as well as the GT 425M. CPU load was minimal during the tests, so this does appear to be more of a graphics test. Here are the results.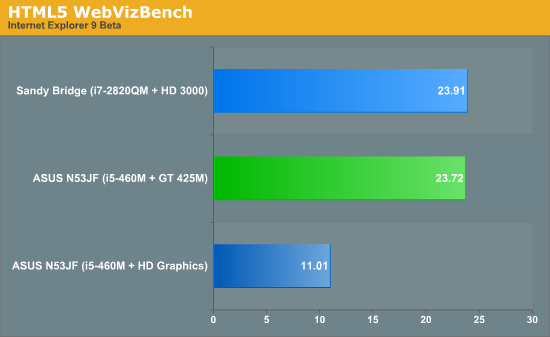 Oh, snap! The HTML5 test on Arrandale appears to work as expected, offering more than double the performance when you switch from Arrandale's HD Graphics to the GT 425M. The problem is that Sandy Bridge with HD Graphics 3000 actually came in slightly ahead of the GT 425M in IE9. Granted, the SNB platform has a significantly more powerful CPU, but as a graphics test we were expecting more.
We also tried the Flight of the Navigator WebGL demo in Firefox 4 Beta 8 and Chrome 9 Beta (measuring performance with FRAPS), but the results on our Optimus system indicate it never tried to use the dGPU. Yes, WebGL, Chrome 9, Firefox 4, and Internet Explorer 9 are all still beta, so we'll just let things sit and stew for now. We'll revisit this topic once we have some 500M hardware in our hands, hopefully with non-Beta browsers as well, and perhaps NVIDIA can wipe the egg off their face with a more convincing win next time.