The DS-211+ is not built for an easy teardown (considering that there are no user serviceable parts inside, this is not a surprise). However, we still have photographs of the components laid out bare for analysis.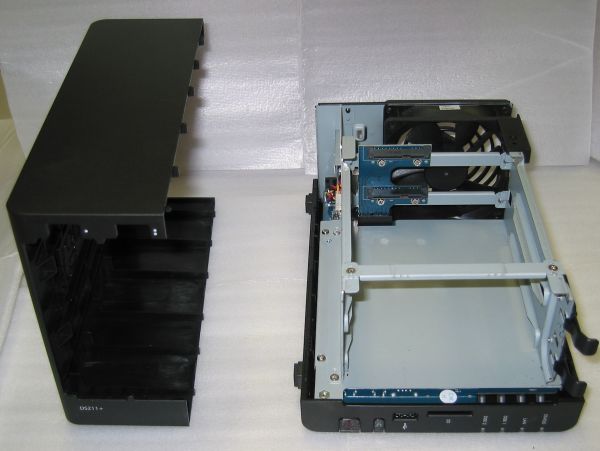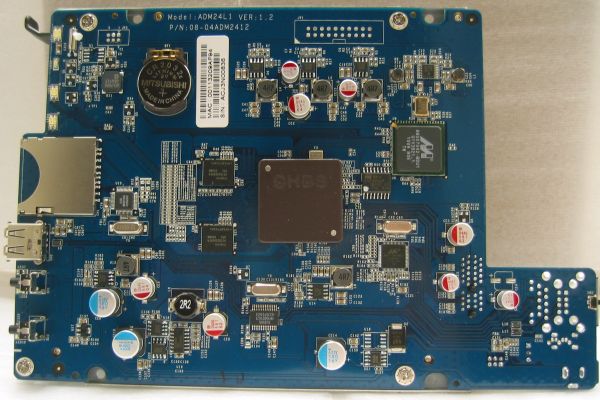 The DS-211+ runs on the Marvell Kirkwood mv6282 1.6Ghz ARM processor. This processor is beneath the heat sink in the above picture. It has Marvell's own Sheeva core running at 1.6 GHz, though it also has 1.8 and 2.0 GHz variants. The 6282 is a high performance integrated controller (PDF link), with dual GbE MACs and a multitude of SATA / PCI-E / USB 2.0 host and SDIO ports.
The other big chip visible on the main board above is the Marvell 88SX7042, a 4 port SATA to PCI-E x4 bridge. Together with the 2 SATA connections on the 6282, they support the 2 SATA drives and the eSATA port. There are also 2 x8 Hynix DRAM modules making up 512 MB of 16 bit DDR3 SDRAM.