Board Features
Market Segment
Mainstream H67
CPU Interface
LGA 1155
CPU Support
i3/i5/i7 Sandy Bridge
Chipset
H67
Base Clock Frequency
100 MHz
DDR3 Memory Speed
1000 or 1333 MHz
Core Voltage
Auto
CPU Clock Multiplier
Dependant on CPU
DRAM Voltage
Auto, 1.2V to 1.8V in 0.015V increments
DRAM Command Rate
Auto, 1N or 2N
Memory Slots
Four 240-pin DDR3 DIMM slots in dual-channel
Regular unbuffered DD3 memory
Up to 32GB total supported
Expansion Slots
1 x PCI Express 2.0 x16 slot
2 x PCI Express 2.0 x1 slots
1 x PCI slot
Onboard SATA/RAID
2 x SATA 6.0 Gb/s ports (white) with RAID 0, 1, 5 and 10
3 x SATA 3.0 Gb/s ports (blue) with RAID 0, 1, 5 and 10
1 x eSATA 3.0 Gb/s ports
Onboard
2 x SATA 6.0 Gb/s ports (white)
3 x SATA 3.0 Gb/s ports (blue)
1 x Floppy connector
1 x IR header
1 x CIR header
1 x Print Port header
1 x COM port header
1 x HDMI_SPDIF header
1 x Power LED header
Front Panel audio connector
3 x USB 2.0 header (for 6 ports)
1 x USB 3.0 header (for 2 ports)
Onboard LAN
Realtek RTL8111E Gigabit Ethernet
Onboard Audio
Realtek ALC892 7.1-Channel HD Audio
Power Connectors
24-pin EATX Power connector
8-pin EATX 12V Power connector
Fan Headers
1 x CPU Fan connector (4-pin)
3 x Chassis Fan connectors (3 x 3-pin)
1 x PS/2 Keyboard Port
I/O Panel
1 x D-Sub
1 x DVI-D
1 x HDMI Port
1 x DisplayPort
1 x Optical SPDIF Out Port
4 x USB 2.0 Ports
2 x USB 3.0 Ports (Etron EJ168A)
2 x eSATA 3Gb/s Port
1 x LAN (RJ-45) Gigabit Ethernet
Audio Connectors
BIOS
1.3
In the Box
I/O shield
USB 3.0 front panel
USB 3.0 rear bracket
Anaglyph Red-Blue 3D Glasses
2 x SATA cables
4 x HDD screws
6 x Chassis screws
My favorite addition to a Sandy Bridge motherboard packages comes in again – ASRock like supplying a USB 3.0 front bracket with their motherboards that comes with a space to put in an SSD – easily a product of $15 value if it were available separately. Also in the package is a pair of retro anaglyph 3D glasses if you own any video in red-blue 3D format.
The motherboard also comes with an infra-red receiver and remote control, designed to work with your Media center software. The infra-receiver must be connected to a front-panel USB which is in turn connected to the CIR motherboard connector: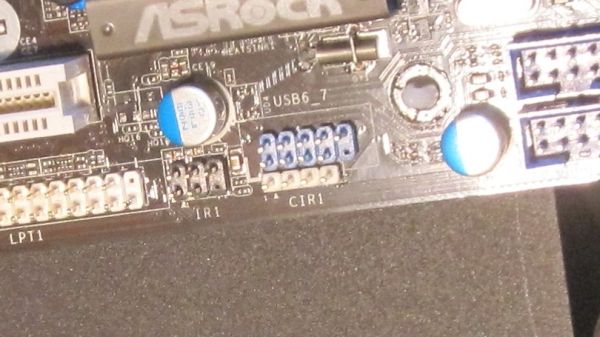 Instructions to install this are all in the manual. The manual was oddly not on the CD we received with the motherboard, but is available online. The remote itself seems fairly generic, but does not have a flashing LED to signify when you are pressing a button (a must-have for any remote control in my opinion), but the package does come with two CR-2032 coin batteries for the remote.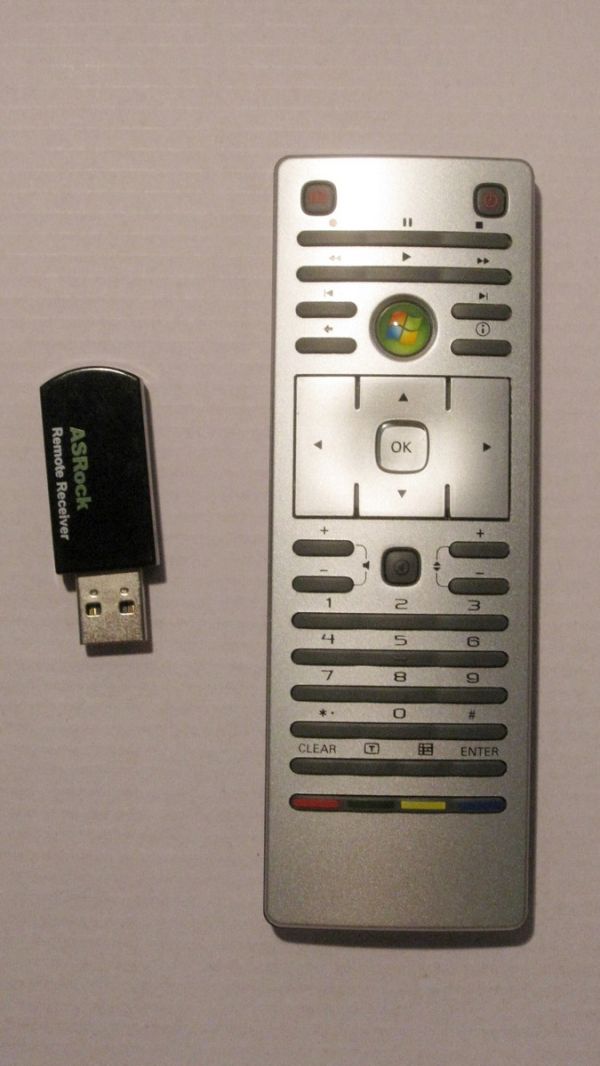 Software
As with the P67 Extreme4 review, ASRock have packaged most of their utilities into one program, making it quicker and easier to install and uninstall. With their CD, apart from the driver updates, ASRock include three programs:
ASRock eXtreme Tuning Utility (AXTU)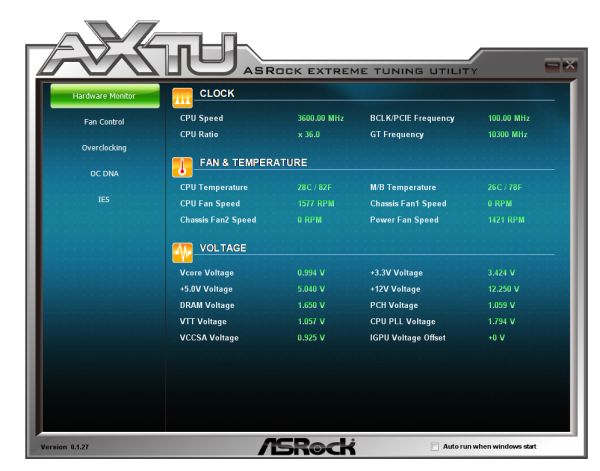 The AXTU that ships with the H67M-GE/HT is essentially the same software that comes with the P67 Extreme4, except it comes with all the extras required for on-processor graphics. Though as you might be able to tell from this first picture, it cannot exactly read the frequency of the graphics side accurately. Mind you, I would love a 10300 MHz GPU!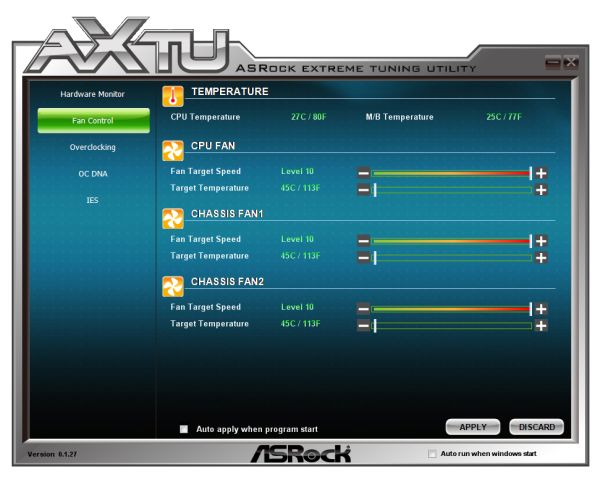 The fan control is pretty standard for ASRock fare – out of the headers on the board you can control the CPU fan and two of chassis fans. The AXTU will define a power curve/line for the fans given your suggested target temperature and max speed. Ultimately this is not the most awesome utility in the world for fan speeds, but it does the job it is programmed to do.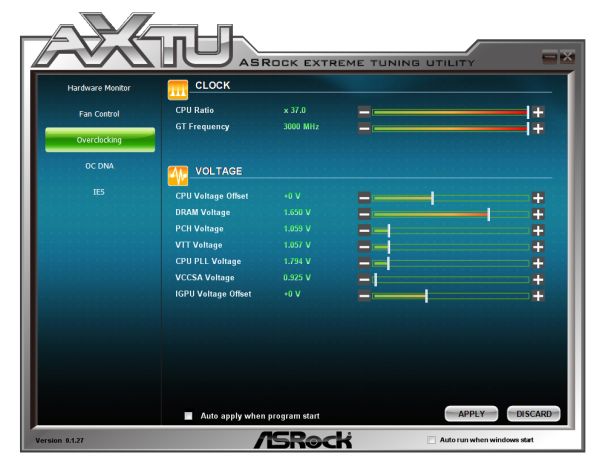 The overclocking section of the AXTU allows the standard selection of voltages, but also the CPU Ratio and Graphics frequency. In this case, you can define the maximum CPU Ratio – as we are using a 2500K on H67, it is a 37x limit on the single-core with turbo boost. The graphics frequency setting allows all the way up to 3000 MHz in 50 MHz steps, but as with all these options, requires a reboot. Even then, just because you selected it does not mean it is stable. Have a quick gander on my overclocking results for this board to see what I mean.
ASRock Instant Boot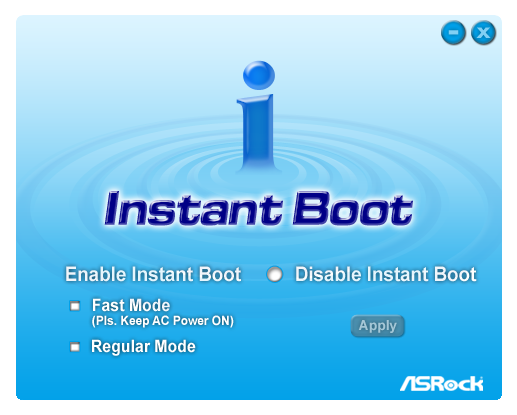 ASRock's Instant Boot is designed to help decrease the time to boot, by when you select shutdown, it will perform a full restart, then kick a form of hibernation in and enter low power mode. Thus when you press the power button next, the OS will appear a lot quicker than a full boot. As the CPU stays at stock on H67, we found no issues with Instant Boot.
ASRock XFast USB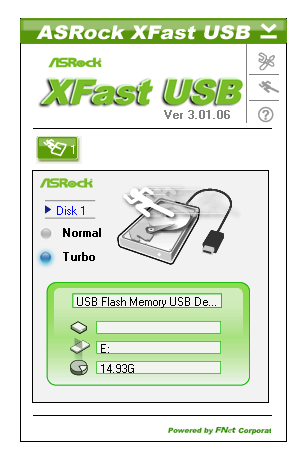 If you remember XFast USB from our previous ASRock article, then you may remember that when installed and enabled, it essentially blew the competition away in terms of read/write and our standard copy benchmark. It is no exception on H67. There's a lack of information online as to exactly how this software works, and the line from ASRock is that the 'XFast USB software modifies part of the USB driver, allowing it to multi-task and enhance the performance - ASRock are continually tuning the performance for better results'. In practice, this works really well.