Sandy Bridge on a <$500 Budget
Benchmarks for the newer Sandy Bridge-based Pentium CPUs are not widely available; however, in my experience the Pentium G620 is broadly equivalent to the older Intel Core 2 Duo E8400 and current AMD Athlon II X2 260 CPUs—at least in terms of web browsing, office productivity, moderate multitasking, and light gaming (e.g. Left 4 Dead, StarCraft 2). Though the Intel Pentium CPUs' HD 2000 graphics are often superior to the Radeon HD 4250 IGP found on most AM3 motherboards, both are capable of handling HD video but neither are gaming-grade. The Pentium G620 is inferior to the AMD Athlon II X3 line—and since it is either about the same price or even more expensive, I do not recommend the Sandy Bridge Pentiums right now unless you are interested in upgrading the CPU itself later to a more powerful Core i5 or i7 model. The Core i3-2100, on the other hand, performs about the same as the AMD Phenom II X4 940, so that's what we've used. Here are the full specs.
I recently had an AMD Phenom II X4 945 (C3 revision) system side by side with an Intel Core i3-2100 system; in my experience, the two systems performed so similarly I could not tell them apart for daily computing tasks. (Both rigs had an 80GB Intel G2 SSD, ATI Radeon HD 5550 GPUs, and 4GB DDR3-1333 in them.) The Core i3-2100 rig was slightly faster (<10%) in some DNA analysis tasks that are computationally demanding, but even then you'd need to run a specific benchmark to notice the difference. Something else worth noting is that the Core i3 system used less power than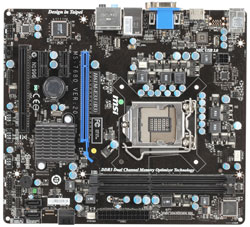 the Phenom II X4 system. Admittedly, I was taken aback by the Core i3's performance—it really is powerful enough to take on a current, midrange AMD quad-core CPU. Given that, the Core i3-2100 is almost overkill for most desktop users. (Enthusiasts who read AnandTech sometimes lose sight of the average user's truly modest needs!) The on-die HD 2000 graphics processor is not a gaming GPU, but it is fine for 1080p HD video playback, Windows 7's Aero interface, web browsing, and office productivity. It really is remarkable that such a powerful computer can be assembled for less than $500.
The remaining parts are standard budget fare. The MSI motherboard uses the H61 chipset, as that's the least expensive way to get into an SNB setup. There's a vanilla 500GB hard drive that remains inexpensive and has enough storage and performance for the majority of desktop users. (Note that they regularly go on sale for $35 or less if you're willing to shop around/wait.) 4GB of DDR3 is plenty for Windows 7 and allows for multitasking and most other needs. The Antec Three Hundred remains a favorite of mine, with its muted aesthetics, excellent airflow, good build quality, and capacious, easy to work with interior. It's not the quietest case on the market, but it's not terrible either. Similarly, the Antec Earthwatts 380W provides ample power for this system, and can easily accommodate both a CPU upgrade to a 95W quad-core Sandy Bridge and a more powerful GPU in the future. Stock case fans and the stock Intel CPU cooler are also sufficient, though spending maybe $25-50 on aftermarket fans will reduce system noise noticeably.
The above system is more than able to handle just about any task; the one area where it would fall short is in gaming. For that, you really need a discrete GPU, so to go with our budget recommendations we're including the AMD Radeon HD 6570 as an optional extra. It's often available for around $70, especially if you're willing to play the mail-in rebate game. If you're interested in something faster, the next step up that would be worth taking is the Radeon HD 5770 (note that the 6770 is literally the same GPU with a new name and a $10 premium, so don't bother). If you'd prefer an NVIDIA GPU, there's the GTS 450, but the 5770 generally offers equivalent or better performance. Idle power is in NVIDIA's favor by a few watts, but we'd really be splitting hairs to complain about an extra 6W of power draw. If you need other GPU alternatives, turn the page….