The left side of the Charge is home to the microUSB port and volume buttons, which are adorned with a small chrome ridge. The volume buttons on the Charge are precise and clicky, no complaints there. Having the USB port located here remains something of a point of contention for many people, though I'm starting to warm up to it.

The right side packs the Charge's HDMI port which is underneath an attached plastic cover. Get a thumb inside there and the cover pries off and swivels around exposing the HDMI type-D port. Just north of that is the power button, which like the volume buttons is the right balance between clicky and resistive enough to not lend itself to errant presses, and is easily locatable thanks to its raised shape. I'm impressed with all the buttons on the Charge - a small thing that definitely makes a difference for actual in-hand impressions in the long run.

Up at the very top of the Charge is an offset headphone jack, microphone for noise cancellation in calls, and a "Digital by Qualcomm" sticker. As we'll discuss later however, there's no Qualcomm parts inside, but if you license CDMA2000 you still need this sticker on the handset.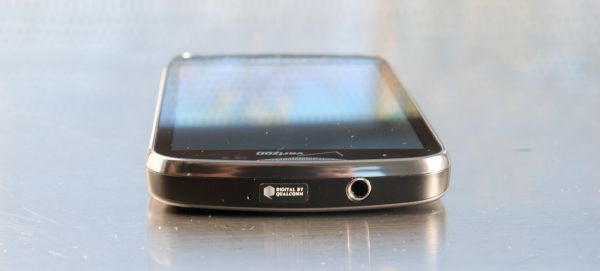 Where the Charge falls apart in the physical department is the back cover. This is something we've harped endlessly on about with the Galaxy S series, with the Fascinate, with the Nexus S, and in essentially the entire new Samsung Android lineup other than the Charge, it's fixed. On the Galaxy S 2, the back is now textured instead of one featureless slick plastic face like it is with the original Galaxy S and now the Charge.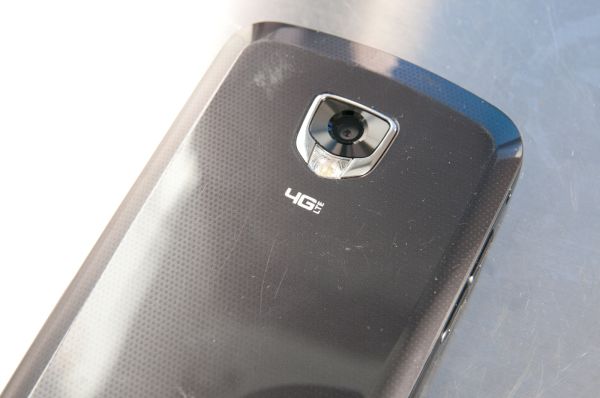 As a result, the Charge picks up scratches on the back disappointingly quickly, just like its predecessors. The plastic that Samsung used for this generation seems especially prone to picking up what are called "sleeks" - fine scratches that are only visible from light incident at an angle.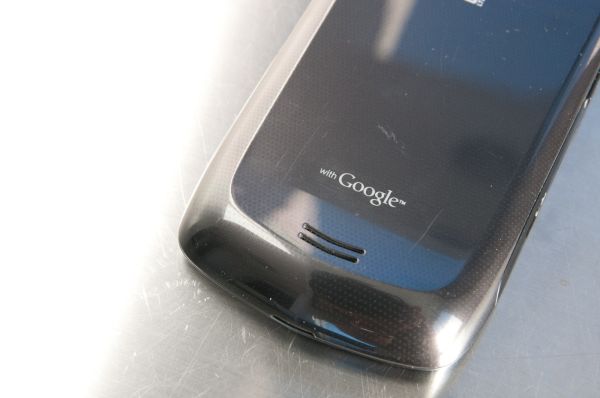 It's just frustrating because otherwise the Charge has an excellently balanced in-hand feel thanks to its ergonomic lip on the back, and overall impressive build construction. Though the entire exterior of the Charge is plastic, the internal frame is metal, and that rigidity certainly shows through.
Physical Comparison
Apple iPhone 4
HTC Thunderbolt
LG Revolution
Samsung Droid Charge
Height
115.2 mm (4.5")
122 mm (4.8")
129.8 mm (5.11")
129.9 mm (5.11")
Width
58.6 mm (2.31")
67 mm (2.63")
66.9 mm (2.63")
67.5 mm (2.65")
Depth
9.3 mm ( 0.37")
13.2 mm (0.52")
13.6 mm (0.54")
11.90-14.96 mm (0.47"-0.59")
Weight
137 g (4.8 oz)
183.3 g (6.46 oz)
172 g (6.08 oz)
143 g (5.04 oz)
CPU
Apple A4 @ ~800MHz
1 GHz MSM8655 45nm Snapdragon
1 GHz MSM8655 45nm Snapdragon
1 GHz Hummingbird S5PC110
GPU
PowerVR SGX 535
Adreno 205
Adreno 205
PowerVR SGX 540
RAM
512MB LPDDR1 (?)
768 MB LPDDR2
512 MB LPDDR2
512 MB LPDDR2
NAND
16GB or 32GB integrated
4 GB NAND with 32 GB microSD Class 4 preinstalled
4GB NAND with 16 GB microSD preinstalled
2 GB NAND + 32 GB microSD preinstalled
Camera
5MP with LED Flash + Front Facing Camera
8 MP with autofocus and dual LED flash, 720p30 video recording, 1.3 MP front facing
5 MP with AF and LED flash, 720P video capture, 1.3 MP front facing
8 MP with AF and LED flash, 720p30 video capture, 1.3 MP front facing
Screen
3.5" 640 x 960 LED backlit LCD
4.3" 800 x 480 LCD-TFT
4.3" 800 x 480 LCD-TFT
4.3" 800 x 480 SAMOLED+
Battery
Integrated 5.254Whr
Removable 5.18 Whr
Removable 5.6 Whr
Removable 5.92 Whr
Probably the most poignant comparison for the Charge however isn't Galaxy S, it's the HTC Thunderbolt and LG Revolution. Compared to the Thunderbolt, the Charge is a fair amount taller - nearly 8 mm in fact. However, the Charge is 1.3mm thinner and around 30 grams lighter. The LG Revolution has roughly the same outline as the Charge and is 0.4 mm thicker than the Thunderbolt. Thickness and overall mass are prime considerations for smartphone shoppers, and I think in this category the Charge's thinner overall profile makes it more attractive than the other phones purely from a physical perspective.
Update: My thickness numbers in the table for the Charge were previously incorrect, and have been corrected now. Thanks everyone.