BIOS
Desktop Llano gets a taste of ASRock's full graphical UEFI, which we've seen a couple of times before on P67 and H67. There's not much new to discuss over the previous versions, except for the Llano specific features, an error I found regarding memory compatibility.
As any motherboard manufacturer will tell you, in order to be the best you have to win on performance. To do this, you need to have your default settings in a rather uncomfortable zone - in terms of the CPU, if your base clock is 100.4 MHz rather than 100.0 MHz, you could gain an advantage. The same thing applies to memory - if by default your timings are the tightest they can possibly be, then you'll be ahead of the competition. The issue is when your timings are too tight, and the BIOS isn't equipped to deal with this issue properly. I've been testing with G.Skill's DDR3-1866 MHz kit which comes in the form of 4x4 GB sticks. When trying to boot, about 80% of the time, I'd get a random error code on ASRock's Debug LED. I mentioned this to ASRock, who suggested I loosen the tRCD when I could get into the BIOS. This had no effect; neither did applying the XMP settings. I tried with two 4GB sticks, to determine if this was a kit compatibility issue or a 16GB compatibility issue, and it turns out it is kit specific. ASRock are aware of this problem (and have access to the exact same kit I was using and also acknowledge the issue), so I will assume that in the near future a BIOS update will be released. Addendum: This should be fixed in the 11I BIOS.
Note: We were told a little while back that Llano has had some issues with very old Hynix memory. This G.Skill kit does use Hynix, but the newer stuff which should not have an issue with a fixed BIOS behind it.
As with any BIOS, I find having an initial screen with a lot of relevant data is key. ASUS are the winners so far, but ASRock does quite well with CPU and DRAM data. Perhaps future versions will add voltages, temperatures and fan speeds to this initial page: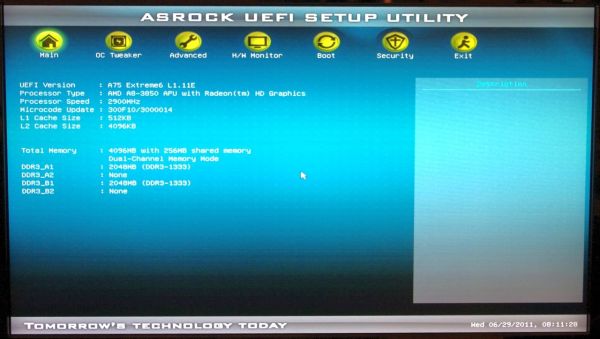 The main difference in Llano to other BIOS is going to be in the overclocking screens. I'll be going into detail as to how Llano overclocks later on, but on this ASRock board, we have a lot of options. In terms of overclocking modes, there are three - manual, 'CPU OC Mode' or 'DRAM OC Mode'. In the CPU and DRAM OC mode, a drop down menu underneath would appear, allowing you to select predefined values, and when one of these was selected, the APU speed would be adjusted accordingly in the settings underneath. CPU Mode gives the options to OC from 3200 MHz to 3600 MHz on our APU, whereas DRAM Mode offers DDR3-2000 to 2500 MHz(!). You cannot select both modes at the same time, though you can make note of the settings and implement them in manual mode.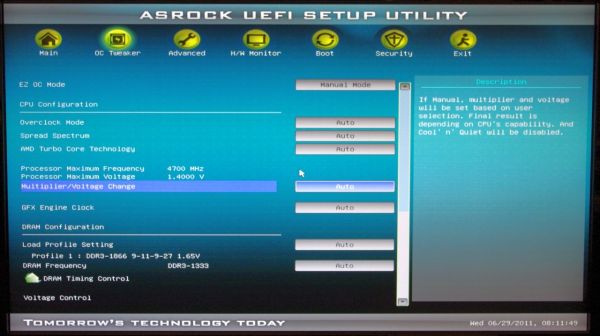 In manual mode, we can select the APU frequency in 1 MHz jumps, and an odd function called 'dynamic overclocking', which gives the option to add an additional percentage overclock on top of your APU overclock when the system is under load. Also present is the option to enable/disable Turbo Core, but on this APU (A8-3850) there is no Turbo Core, so the option does nothing (even if it does give an option to up the multiplier to 33x).
The BIOS also gives the option to change multiplier - anything above 29x on this APU, while it gives a new value for processor frequency in CPU-Z in the OS, doesn't actually do anything - such is the Llano limitation. But you can select underneath 29x to declock the system. Also interesting is that the CPU NB Frequency can be directly adjusted - while the BIOS says 'Multiplier', the values offered are given in MHz - from 654 MHz to 1054 MHz. This is different to the iGPU frequency overclock, which has its own option from 626 MHz to 1800 MHz, also with a voltage change.
The standard array of memory sub-timing options are also here, including to set XMP profiles. Up to three BIOS profiles can be saved.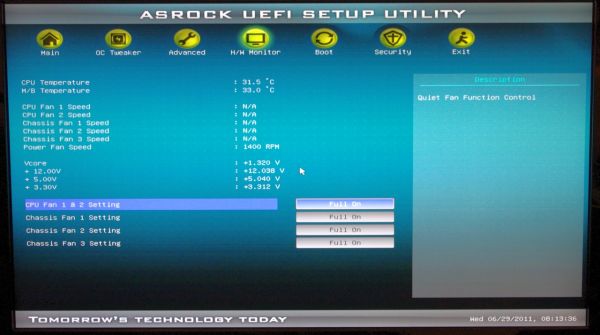 In terms of BIOS based fan controls, the H/W Monitor option has our fan settings. The PWR header cannot be controlled, and both CPU fan headers are controlled through one setting. The other fan settings can be set as 'Manual', where a fan speed between 'Level 1' and 'Level 9' can be chosen. In Automatic mode, a target CPU temperature and a fan speed setting can be selected.
Software
The ASRock software package has not changed much recently since our last reviews on ASRock's P67 and H67 offerings. The Instant Boot utility does an extra reboot when the computer is shut down and emulates a deep sleep state written to the hard disk to allow quick restarting the next time a system is booted, and XFast USB is a tool which overrides windows copy stack limitations to increase throughput via the USB interface. The ASRock eXtreme Tuner has been modified for Llano, and ASRock are now including XFast LAN with its products, both are discussed below.
ASRock eXtreme Tuner Utility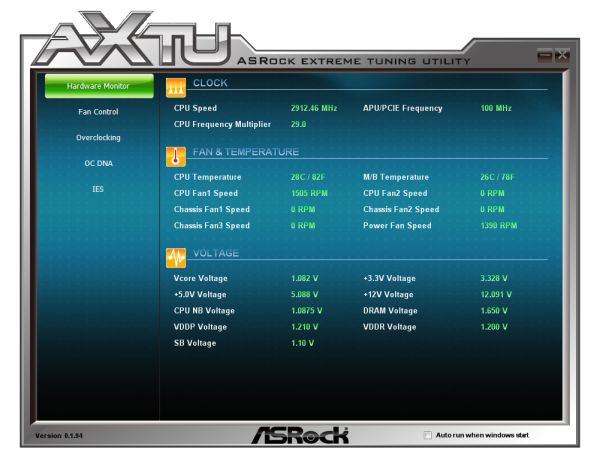 Despite the array of overclocking options in the BIOS, not many made their way into the AXTU. The hardware monitor is indicative of what we want on the front page of the BIOS (temperatures, fan speeds, voltages), but in the Overclocking menu, the APU frequency, CPU multiplier and various voltages are configurable.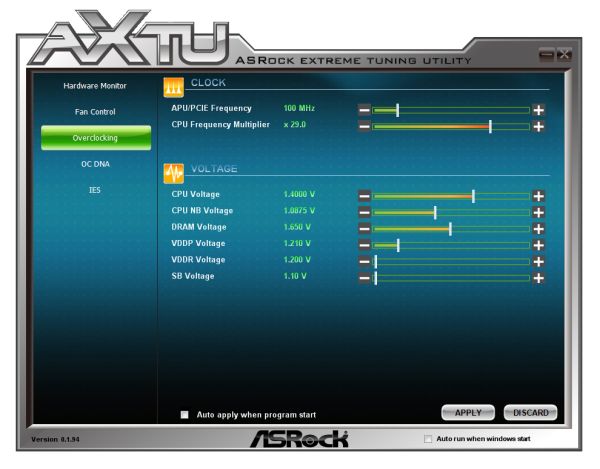 Even though the CPU multiplier on my processor has a fixed 29x ceiling, it gives me the option to raise it, although in reality this has no effect on the actual clock speed, no matter what any other program tells you.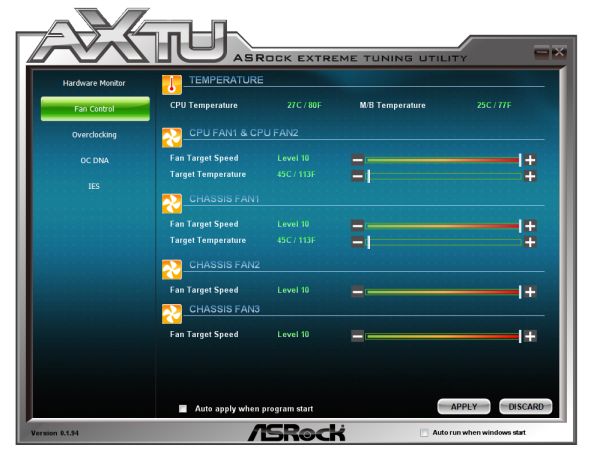 Fan control also seems limited - the CPU fans and the first Chassis fan headers can be controlled in terms of a target temperature and fan speed, but two of the chassis fans can only be controlled in terms of speed. I still think that other manufacturers have better fan control options, allowing you to control various ramping and hysteresis.
XFast LAN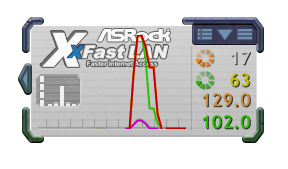 ASRock will start shipping a new software product with its products - XFast LAN. ASRock license this to be placed in its software portfolio, and lock it to ASRock motherboards. This software is actually produced by cFos Software GmbH, and based on cFosSpeed, a software solution for packet management (which retails at 16 euro), so that all outward bound packets are queued and those with highest priority are dispatched first, whilst maintaining high throughput. Without going into too much detail, it seems highly configurable and adaptive software to use. Whether it makes a significant difference to an end-user or consumer is to be determined, but ASRock are telling me they think it's better than a hardware solution, such as the Bigfoot Killer NIC.