Great Looks, But Some Things Shouldn't Be Universal
Undoubtedly some of you may disagree as you did with my assessment of the M17x R3, but I'm still a big fan of Alienware's styling. It's the kind of thing that really has to be seen and felt in person to be appreciated. If you read that review, you're going to find the design of the M14x extremely familiar.
Alienware eschews glossy plastic everywhere except two places: the speaker trim and the screen frame. Everything else is a smooth rubberized plastic texture that's very pleasant to the touch. Where that glossy plastic is employed at least makes some sense: the speaker trim isn't liable to see a lot of action, and the screen is a single glossy surface from edge to edge with no bezel. Undoubtedly some will complain about the glossy screen itself, but gloss on consumer grade products is here to stay and next to impossible to avoid, and unlike dismally low screen resolutions it can at least make a case for itself.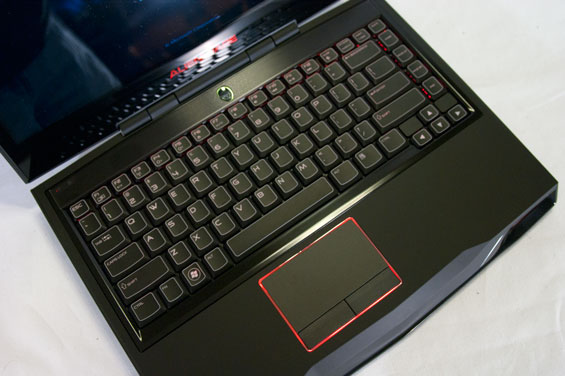 The keyboard and touchpad have a very similar texture to the rest of the notebook, although there's a little too much flex in the keyboard for my liking. Those of you who aren't happy with the modern trend towards chiclet-style keyboards will be right at home here, as the M14x's keyboard is a more traditional style. The layout itself is a good one, too, bog standard for 14" notebooks. Some things don't need innovation.
Unfortunately, some of the design decisions that worked well for the M17x R3 make much less sense in a more portable notebook. Having the fan intakes on the bottom of the M17x was fine; that notebook is enormous and should be spending its life on flat surfaces. But the M14x is small enough to be used as a laptop proper, and putting the fan intake on the bottom of a notebook like this is unwise.
By the same token, while Alienware is undoubtedly proud of the personalized metal plate on the bottom of each notebook, that metal plate is a heat factory, and a lot of the heat the notebook generates is going to get absorbed into it. As a result, it gets incredibly hot to the touch when the M14x is running full bore.
Finally, the powerful hardware inside takes its toll in one other area: sheer uncompromising bulk. The M14x may be one of the fastest 14-inch notebooks ever made, but it's also one of the heaviest, tipping the scales at 6.45 pounds. This comes with the territory and you can't entirely fault Alienware for it, but it's worth mentioning.
The M14x is, at least in this reviewer's opinion, a very attractive notebook, but the powerful hardware comes at some cost in the design and the bottom intake potentially curtails the kind of laptop gaming something like this should be well suited for.