Right on schedule, Samsung Mobile announced variants of the already-popular Samsung Galaxy S II destined for T-Mobile, Sprint, and AT&T. As rumored, there was no word of a Verizon-bound variant at this point, but we now have official details on the devices headed to the other major carriers.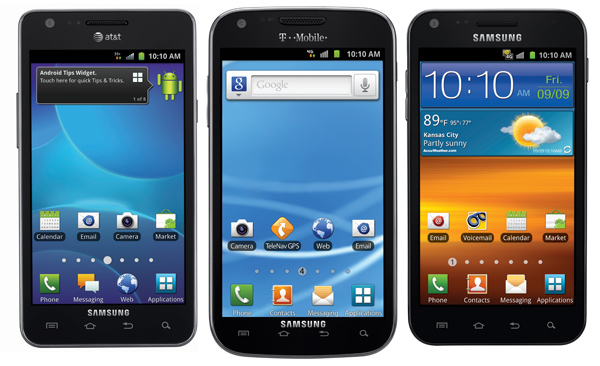 Left to right: AT&T SGS2, T-Mobile SGS2, Sprint SGS2 Epic 4G Touch (not to scale)
We've put together a small table based on what information Samsung has made available at this point, and our own Jason Inofuentes is on the ground in New York at the launch event getting a hands-on look. There's information out about Sprint and AT&T versions, but T-Mobile is being relatively light on detail about their SGS2 variant. It goes without saying, but all three versions are running Android 2.3.
USA Samsung Galaxy S II Variants
Carrier
T-Mobile
Sprint
AT&T
Name
Samsung Galaxy S II on T-Mobile
Samsung Galaxy S II Epic 4G Touch
Samsung Galaxy S II
SoC
Dual-Core Snapdragon 1.2 GHz (?)
Exynos 4210 1.2 GHz
Exynos 4210 1.2 GHz
Network Support
DC-HSPA+ (MDM8220?)
WiMAX + CDMA2000 1x/EVDO
HSPA+
GSM (850/900/1800/1900MHz)
UMTS Tri-band (850/1900/2100MHz)
Display Size
4.52" SAMOLED+ WVGA
4.52" SAMOLED+ WVGA
4.3" SAMOLED+ WVGA
Size
?
2.7" x 5.1" x 0.38"
? x ? x 8.89 mm
Storage
16 GB Internal, up to 32 GB microSD
Cameras
8 MP Rear Facing w/LED,AF, 2 MP Front Facing, 1080p30 H.264 High Profile
WiFi/BT
?
802.11a/b/g/n, BT 3.0
802.11a/b/g/n, BT 3.0
Battery
?
1800 mAh
1650 mAh
All three of the variants get names which differ from the previously leaked codenames, though surprisingly enough T-Mobile and AT&T have gone with fairly sane ones this time. Sprint is the odd man out, continuing its Epic 4G branding which it with the original SGS variant.
The T-Mobile SGS2 remains something of an enigma, and the carrier has released close to nothing about the device beyond simple specifications and the name, and notably no word of it carrying an Exynos SoC. It remains very likely the device uses a dual-core snapdragon SoC and MDM8220 DC-HSPA+ (dual-carrier) baseband, which would make it T-Mobile's first HSDPA Cat. 24 (42 Mbps) smartphone.