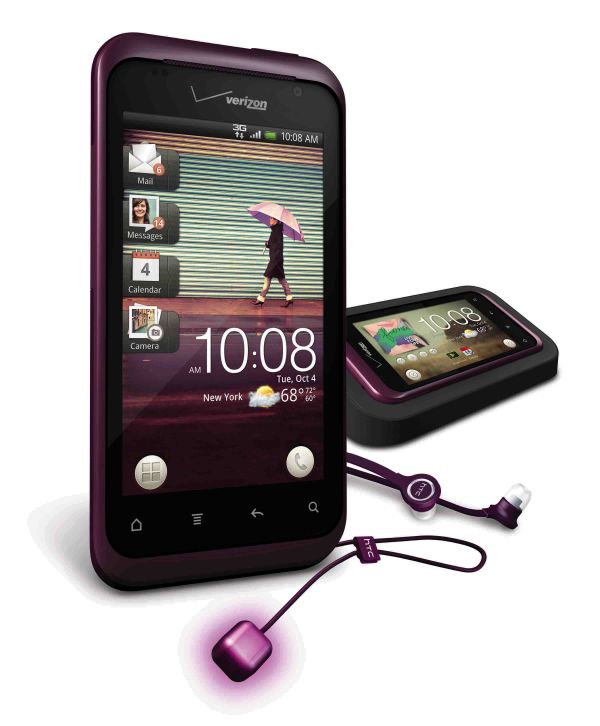 Long rumored and now unveiled, the HTC Rhyme (nee Bliss) will be hitting Verizon Wireless on September 29th for $199, a high price point for a phone with relatively mediocre specifications. Though not explicitly stated, the phone is being positioned to fill a feminine niche within the market, that is otherwise not well served by the hard edged, black monoliths that we've come to expect. To cater to this less masculine aesthetic the phone will be offered, exclusively on Verizon, with a plum colored body; and features what's being called the HTC Charm, an LED indicator, also plum colored, that hangs from a lanyard attached to the device.
The 3.7" phone features a WVGA SLCD display, and is powered by the same MSM8655 as found in the Incredible 2. Indeed the internals match the Incredible 2 exactly, with the frame simply shrunk down to the smaller form factor. Where the Rhyme makes a name for itself, aside from color, is software and packaging. The phone will be the first Stateside taste of HTC's Sense 3.5, a thoroughly revamped skin that adds several unique ways of accessing your mail, messages, contacts and media. Built around Gingerbread the changes from Sense 3.0 are substantial and make quite a case for the manufacturer's software efforts. HTC is packing more into the box for the Rhyme than any phone in recent memory. Buyers will find the Charm, a docking station, and a pair of tangle free headphones included with the device; that's plenty to make up for the lack of LTE or a second core. PR and press shots below.
Update: Verizon permalink is up, here!
Source: HTC