We knew this was coming, but HTC still had some surprises in store. The HTC Rezound will hit retail channels for $299 on November 14th. This latest halo phone comes to us with an emphasis on the audio, but it's the display we're particularly keen on seeing. Let's dive into the specs and have a look at what we can expect.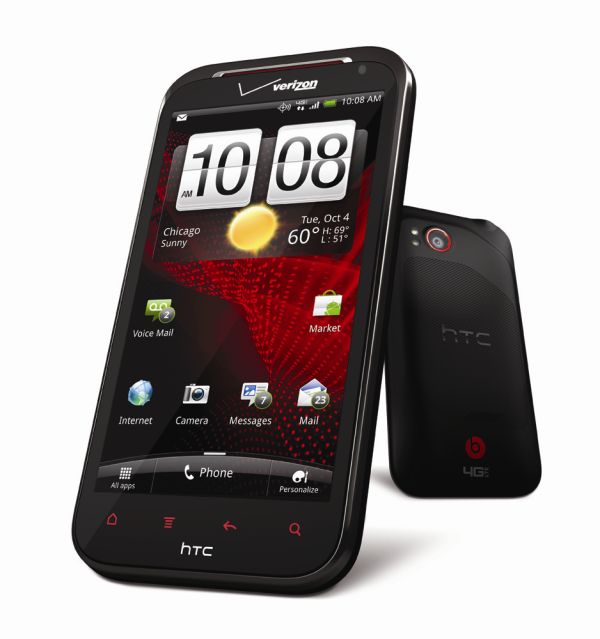 Performance will be driven by the familiar MSM8660 clocked at 1.5 GHz, we explored this platform at this clock speed in the Mobile Development Platform we explored. The MDP's performance was stellar, but it wasn't held back by power optimizations necessary to make a viable everyday cellphone. So while our MDP data gives us some idea of what the top end of our expectations might be, we're certain a retail device will look more like the performance we saw in the Evo 3D review.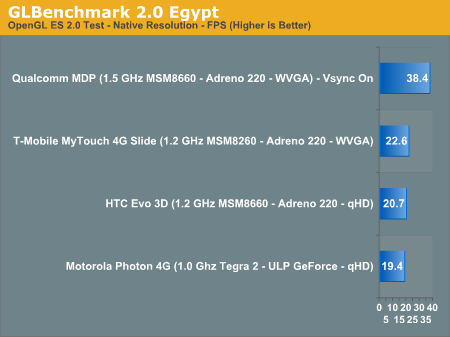 When Anand took a look at the TouchPad, seemingly an age ago, he noted the Wolfson Micro silicon inside which provides the hardware to implement the Beats Audio software. The Rezound is billed as the first Beats Audio smartphone in the US, kin to the Sensation XL available in the UK. We're not sure whether the Rezound will have a similar Wolfson Micro codec, but the Beats Audio technique is capable of drastically improving the audio quality by providing improved low and midrange frequencies. The Beats by Dre ear buds that will ship with the Rezound won't have you leaving your favorite Shures in the drawer but they should be an improvement over the usual cheap buds that come with phones these days.
The Rezound comes with the venerable MDM9600, speeds will mirror those of the rest of VZW's LTE fleet, but even it's 1620 mAh will not drastically improve battery performance over other LTE devices. The other specs are halo phone par: 8MP/1080p rear shooter, 2MP front shooter, 16GB on board storage, 16GB microSD included, 1GB RAM and the usual Bluetooth and WiFi capabilities.
Where the Rezound raises questions is in the display technology. At 4.3" and with a 720p resolution, the Rezound has a stupendous 341 ppi pixel density, and the stated display technology is Super LCD which should thrill the AMOLED detractors amongst you. What we don't know is whether there remains a Pentile matrix, as we've seen on the Droid 3, in an RGBW format. If not, this could be amongs the finest displays on a phone this year. But even with a Pentile matrix, the subpixel density should far exceed the human eye's ability to detect a Pentile grid, leaving just the color representation as a concern.
We're reaching out to HTC for more information, and are excited to get our hands on it. Stay tuned.
Physical Comparison
Galaxy Nexus
Galaxy S II (International)
Motorola Droid RAZR
HTC Rezound
Height
135.5 mm (5.33")
125.3 mm (4.93")
130.70 mm (5.15")
129.5 mm (5.1")
Width
67.94 mm (2.67")
66.1 mm (2.60")
68.90 mm (2.71")
66.0 mm (2.6")
Depth
8.94 mm (0.35")
8.49 mm (0.33")
7.1 - ?? mm (0.28" - ??")
13.7 mm (0.54")
Weight
135 g (4.76 oz)
115 g (4.06 oz)
127 g (4.48 oz)
??? g (??? oz)
CPU
1.2 GHz Dual Core Cortex-A9 OMAP 4460
1.2 GHz Dual Core Exynos 4210
1.2 GHz Dual Core Cortex-A9 OMAP 4430
1.5 GHz Dual Core Snapdragon MSM8660
GPU
PowerVR SGX 540 (@384 MHz)
ARM Mali-400
PowerVR SGX 540 (@304 MHz)
Adreno 220
RAM
1 GB LPDDR2
1 GB LPDDR2
1 GB LPDDR2
1 GB LPDDR2
NAND
16 / 32 GB NAND
16 GB NAND with up to 32 GB micro SD
16 GB NAND, 16 GB microSD class 4 preinstalled
16 GB NAND, 16 GB microSD preinstalled
Camera
5 MP with autofocus and LED flash, 1080p30 video recording, 1.3 MP front facing
8 MP with AF/LED Flash, 2MP front facing
8 MP with AF/LED Flash, 1080p30 video recording, 720p front facing
8 MP with AF/LED Flash, 1080p30 video recording, 2MP front facing
Screen
4.65" 1280 x 720 Super AMOLED
4.27" 800 x 480 Super AMOLED Plus
4.3" 960 x 540 Super AMOLED Advanced
4.3" 1280 x 720 Super LCD
Battery
?Removable 6.48 Whr
Removable 6.11 Whr
Sealed 6.56 Whr
Removable 5.99 Whr
Source: HTC (pdf)