Appearance, Cables, and Connectors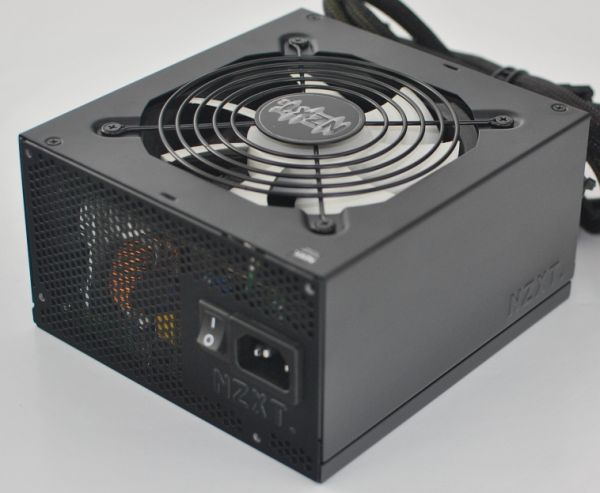 The robust and 160mm deep case has a gray surface and a common fan grille; the fan itself is white. Next to the power input you can find a NZXT logo, as well as on the side of the unit. The ventilation holes are comparatively small and honeycombed. On the front the modular connector panel protrudes slightly, with labels indicating which modular connector fits into each socket. The sleeving for the fixed cables is well made but not opaque, while the modular connectors use flat cables.
Cables and Connectors

Main
24-pin (50cm) fixed
ATX12V/EPS12V
4+4-pin (70cm), 8-pin 55cm all fixed
PCIe
2x 6/8-pin (50, 60cm) fixed, 2x 6/8-pin (50, 60cm) modular
Peripheral

3x SATA (ca. 55, 70, 85cm)

, 3x SATA (ca. 55, 70, 85cm),

3x SATA (750W only, ca. 55, 70, 85cm)

all modular

3x HDD (ca. 55, 70, 85cm

)

, 3x HDD (ca. 55, 70, 85cm)

all modular
The 24-pin cable is relatively short with 50cm. The long CPU cable is very good, particularly for cases where the PSU is mounted on the bottom. The 24-pin, two CPU, and one 6/8-pin PEG cable are fixed. In contrast to the 650W version, the 750W has a third SATA cable with three additional connectors. With six (or nine) SATA and six molex connectors, the two power supplies are exceptionally well equipped. Note that there is no FDD connector, but this shouldn't be a problem for most systems. If you do need such a connector, you can either buy an inexpensive adapter or simply shop elsewhere; it would be nice if NZXT included the adapter in the packaging, though, "just in case".