Internal Design and Components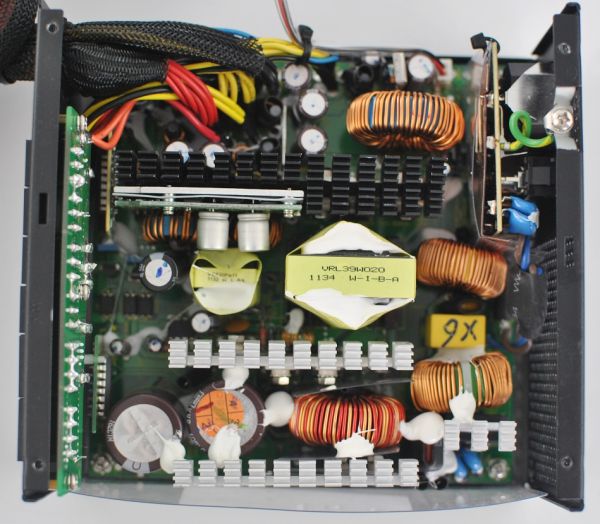 The power supply is based on a circuit design that is identical to the Seasonic M12 II Bronze and the Corsair TX V2 series. NZXT operates with a forward converter with two MOSFETs, which allows the manufacturer to use a higher switching frequency and lower voltage rating for the transistors. In this case the design consists of a primary controller for PFC in continuous current mode and a DC-to-DC converter for +3.3V and +5V as well. This should also clarify how the majority of the output voltages are regulated. The PWM controller of each output takes over this task.
All the heatsinks are relatively small and are punched into an optimized shape. Most of the circuit boards are made out ​​of epoxy resin and fiberglass. In contrast to the 650W model, the 750W unit uses larger filtering capacitors in the primary circuit and generally a bit more powerful semiconductors. The EMI filtering is well equiped with two common-mode chokes, another choke against differential mode EMI, six (!) Y capacitors, two X capacitors, and one MOV.
The only thing keeping this from being a truly high-end classification is the 80 Plus Bronze certification. Seasonic had a few 80 Plus Silver PSUs with a similar structure a while back, which would only require MOSFETs with a lower drain-source resistance. Overall, the design of the HALE82 is definitely more than common 80 Plus Bronze PSUs. We will see a very similar design in the near future with the G-series from Seasonic, which is certified 80 Plus Gold.