My friends often think I've lost my mind given how many times I run speedtests on handsets in the process of reviewing them. The reason I'm compulsive about testing cellular network throughput and conditions is because it's massively important to the overall smartphone experience - remove the cellular connection, and you've got a very expensive personal media player at best. We've taken a good look at Verizon's 4G LTE a number of times, however we haven't yet given AT&T's LTE the same treatment, though it's coming soon.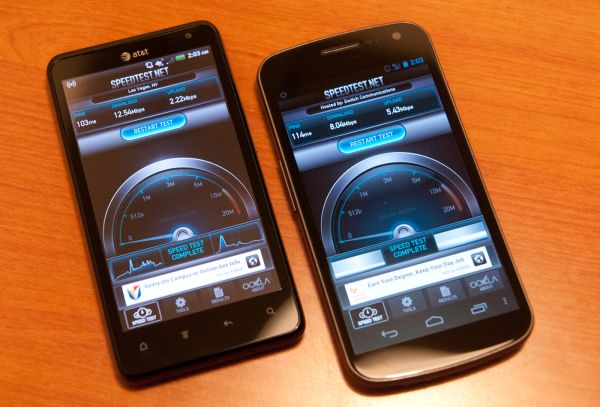 We're wrapping up CES 2012 in Las Vegas, and the whole time I've been obsessively running throughput tests using Ookla's speedtest.net application on an HTC Vivid and CDMA/LTE Galaxy Nexus, two UE Category 3 devices on AT&T and Verizon Wireless LTE, respectively. I thought it worthwhile to share how AT&T LTE has stacked up next to Verizon Wireless 4G LTE during CES thus far. I've been running tests on both phones at the same time in both the Las Vegas Convention Center and Venetian CES venues in between meetings, as well as up and down the Strip during the convention. This isn't meant to be super scientific, but gives a decently fair gauge for how things have performed thus far.
The results are pretty interesting, and show that AT&T's LTE was slightly faster than Verizon 4G LTE during the show, though the two end up being pretty close at the end of the day. I've done the same statistical breakdown we do for smartphone reviews for the results, and made some color-coded histograms as well. I ended up running just north of 200 tests total, so ~100 per device.
AT&T LTE Results
Downstream Stats (Mbps)

Avg: 17.681; Max: 45.708; Min: 3.78, StDev: 9.000

Upstream Stats (Mbps)

Avg: 6.575; Max: 14.188; Min: 0.105, StDev: 3.234

Latency Stats (ms)

Avg: 107.549; Max: 134; Min: 65, StDev: 8.999
Verizon Wireless LTE Results
Downstream Stats (Mbps)

Avg: 11.185; Max: 33.571; Min: 0.184, StDev: 6.965

Upstream Stats (Mbps)

Avg: 7.133; Max: 16.44; Min: 0.135, StDev: 4.038

Latency Stats (ms)

Avg: 126.41; Max: 439; Min: 83, StDev: 51.554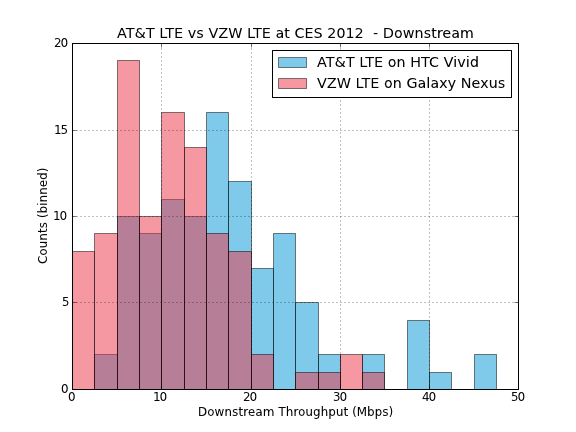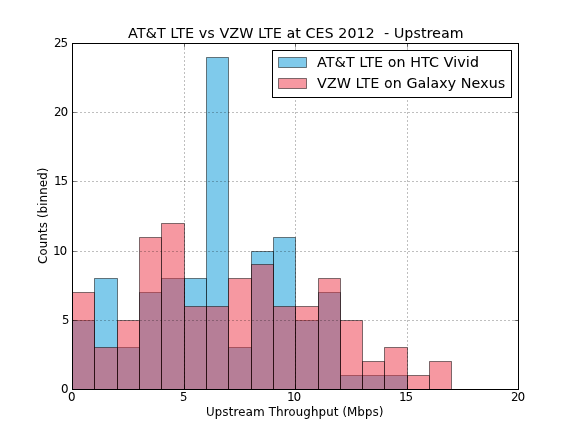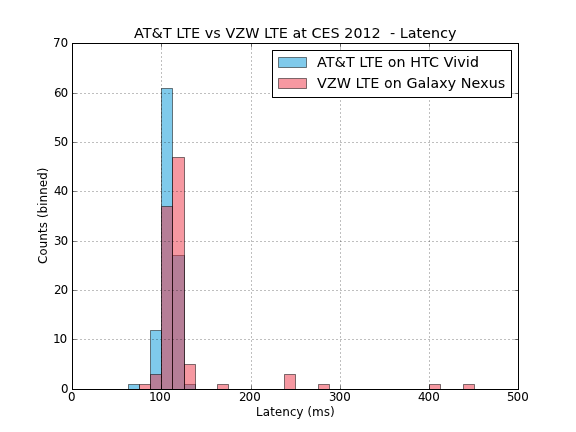 The data ends up being pretty intriguing, and neither network honestly comes out dramatically ahead of the other. This isn't surprising considering both are running 10 MHz FDD-LTE on the 700 MHz band right now. AT&T also can deploy a 5 MHz FDD-LTE carrier on AWS in Las Vegas, though I'm not sure it is currently lit up, and I can't check if it's in use on the HTC Vivid like I can the Samsung Skyrocket. AT&T LTE posted better downstream numbers than VZW LTE overall and came in with a higher maximum throughput of just over 44 Mbps down, but is admittedly nowhere near as loaded with devices as Verizon's year-old 4G LTE network.
Subjectively, Verizon's 4G LTE coverage is also better than AT&T's in Las Vegas. I couldn't take down numbers on the handsets, but needless to say there were a number of areas where AT&T LTE didn't propagate where VZW LTE was perfectly fine. We got better 4G LTE signal in more casinos and hard-to-reach areas in the Venetian with Verizon than AT&T, though admittedly Verizon has been deploying and improving its network for much longer than AT&T.