Meet the Second Generation Ultrabook
Last year, Intel came out with a new initiative to push: the Ultrabook. There are plenty of ways to look at Ultrabooks that show they're nothing new, but much like when Intel launched Centrino, fundamentally it's about guaranteeing a certain level of performance/features. With Centrino, Intel required branded laptops to use an Intel CPU, an Intel chipset, and (somewhat controversially) an Intel wireless adapter. It didn't sound like much back then, but it proved highly successful among OEMs and retail customers. Centrino has now moved on to become a brand for Intel's wireless adapters, but its legacy is still remembered.
With Ultrabooks, Intel came up with a different set of requirements: you still need an Intel CPU, but it has to be of the ULV classification; the chipset is likewise from Intel. The bigger—or in this case, smaller—requirement is that Ultrabooks need to be thin: 18mm or less for 13.3" and smaller displays, 21mm or less for 14" and larger displays, and 23mm or less for convertible tablets. Ultrabooks also need some form of solid state storage (SSD-only or a hybrid solution using an HDD with an SSD cache), battery life should be at least five hours, and there's a loose requirement that there be a sub-$1000 offering for each Ultrabook brand.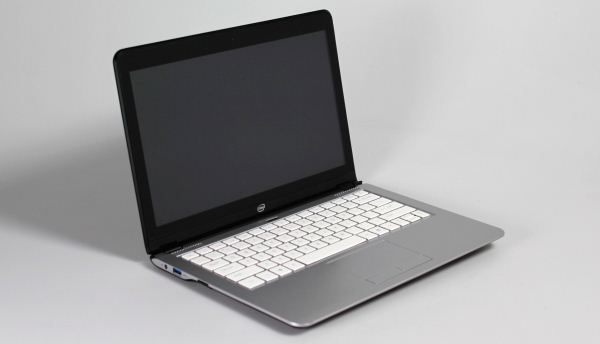 An earlier prototype had a white keyboard
Along with the official launch today of a variety of dual-core Ivy Bridge processors—including standard voltage and ULV laptop chips—Intel sent us a prototype Ivy Bridge Ultrabook for testing. Many of the current crop of Ultrabooks look quite similar, and this one doesn't change a whole lot. It's very thin, very light, and looks quite sexy if you're into that sort of laptop. The big changes naturally come from the CPU update: graphics are now DX11 capable with HD 4000 hardware, and all Ultrabooks should now come with at least one USB 3.0 port and more likely two or more—the UM77 chipset is capable of supporting up to four USB 3.0 ports.
Given this is an R&D Ultrabook, we're not going to go into a ton of detail on the unit. It's pretty close to something that could actually be sold, though it won't be. I do have a few minor complaints with the design and I suspect retail Ultrabooks will address most of those. Here's a quick rundown of the specs for the Intel "PUB-RD" Ultrabook:
Intel Ivy Bridge "PUB-RD" Ultrabook Prototype Specifications
Processor
Intel i5-3427U
(Dual-core 1.80-2.80GHz, 3MB L3, 22nm, 17W)
Chipset
UM77
Memory
4GB (2x2GB) DDR3-1600 Samsung
Graphics
Intel HD 4000
(16 EUs, up to 1150MHz)
Display
13.3" WLED Glossy 16:9 900p (1600x900)
(CPT, model unknown—COR17DB)
Storage
240GB Intel 520 SSD
(Note: Has new "lower power" firmware)
Optical Drive
N/A
Networking
802.11n WiFi (Intel Advanced-N 6235)
Bluetooth 4.0 (Intel)
Audio
Realtek ALC269
Stereo Speakers
Headphone jack
Capable of 5.1 digital output (Mini-HDMI)
Battery/Power
6-cell, ~47Wh
60W Max AC Adapter
Front Side
N/A
Left Side
Mini-HDMI
1 x USB 3.0
AC Power Connection
Right Side
Memory Card Reader
1 x USB 3.0
Headphone jack
Back Side
2x Exhaust vents
Operating System
Windows 7 Home Premium 64-bit
Dimensions
12.97" x 8.78" x 0.63" (WxDxH)
(329mm x 223mm x 16mm)
Weight
3.21 lbs (1.46kg)
Extras
Webcam
80-Key keyboard
Flash reader (MMC/MS/SD)
One thing that immediately sticks out as being unusual for an Intel reference laptop is the CPU. I've seen quite a few Intel provided laptops over the years, and they almost always come with a high-end CPU—often going so far as to include Extreme CPUs, or at most one or two steps down. This isn't the only time we've seen an i5 CPU from Intel, but as the standard bearer for their Ivy Bridge Ultrabook initiative I admit I was a little surprised. Mind you, it's not a bad chip if you're actually going out to purchase an Ultrabook, as the extra $120 or so just for slightly better CPU performance isn't going to be a huge factor. Either the Core i5-3427U is going to be sufficient for your needs, or you'll want a standard voltage CPU—probably one of the quad-core models, and probably with switchable graphics as well.
It appears from the review slides that there are some versions of the above Ultrabook with 8GB RAM, but our sample included 4GB DDR3-1600 from Samsung in a dual-channel configuration. As we'll see in a moment, the RAM is soldered straight onto the motherboard, so there's no upgrading it. This isn't a huge issue for our benchmarks and testing, but if I were an end user I would definitely go straight to 8GB these days (assuming you can find such an Ultrabook). For one, opening up an Ultrabook is typically more complex and/or frustrating than getting at the RAM/HDD in other laptops, but more importantly it looks like most Ultrabooks are soldering RAM onto the motherboard—the extra thickness of an SO-DIMM might not seem like much, but when you're trying to get under 18mm every bit of savings counts!
One item that I have no complaints about is the 240GB Intel 520 SSD. Sure, it's expensive, and I wouldn't necessarily buy one with my own dime, but personally 240/256GB is the sweet spot in terms of storage. It allows me to install all the apps and games I really want, I still have plenty of room for documents, pictures, and movies, and for 2xnm NAND it means you get a sufficient number of channels in your SSD to maximize performance. SandForce 2281 SSDs aren't known for being the best options in terms of idle power use, and that may play a role later, but Intel does make a note in their reviewer's guide that they're running updated firmware that should improve power characteristics.
Rounding out the package and similar to the ASUS UX31E we have a CPT (Chungwa Picture Tubes) 13.3" 1600x900 LCD—most likely the CLAA133UA01 or CLAA133UA02. It's a very bright LCD and has a good resolution for a 13.3" laptop, but contrast is unfortunately not very good. Still, given the choice between a mediocre and somewhat dim 1366x768 TN panel and a mediocre but bright 1600x900 TN panel, we'll take the latter for sure. If you want a better LCD in your Ultrabook, ASUS thankfully looks to have you covered with IPS panels in their upcoming UX21A/UX31A/UX32A. Also similar to the UX31E, there's no Ethernet port on the PUB-RD prototype; even with 300Mbit WiFi, let me tell you it takes quite a while to copy over our ~120GB test suite.
The remaining features are pretty sparse, which is what you need to expect with these ultra thin laptops. There are two USB 3.0 ports, one on each side, a mini-HDMI port, a headphone jack, and flash memory readers for the most common formats. Other than the AC adapter socket and the exhaust/intake ports on the rear of the unit, that's all you get. With a single HDMI output, triple-head display setups are naturally out of the question. It's also important to note that the only way to get triple-head support is if you have two displays attached via DisplayPort, so until we see that (or Thunderbolt) on an Ultrabook or laptop, you should plan on running at most two displays.
We did take the time to photograph the exterior of the PUB-RD Ultrabook, along with opening it up to get some shots of the internals. The top and bottom covers have a soft-touch coating that I find pleasant to the touch, and the palm rest is matte silver plastic. And for your viewing pleasure, check out all the warning labels about this not being a retail sample—and just forget that you saw the part about not using this laptop at home, okay? (You should see the additional warning paperwork that came with the Ultrabook!)
The keyboard keys feel a bit loose for my taste, and the bottom-left Control key has a habit of registering as still pressed after I use it (particularly if I do Fn+Shift+Right to select to the end of a line, as an example), but none of this really matters on a prototype. The touchpad is also standard fare, with Synaptics hardware that works well—and thank goodness for discrete mouse buttons! Most Ultrabooks that I've tested so far have gone for the clickable touchpad with integrated left/right buttons, and I find those somewhat less practical than the tried-and-true discrete buttons; your mileage may vary, of course.
As far as the internals go, space is clearly at a premium. The 47Wh battery takes up a large chunk of real estate, the 2.5" SSD fills in the gap to the left of the battery, and the top half or so of the chassis is home to the motherboard. There is an unused mini-PCIe slot just above the SSD, which might also support mSATA (I don't have the necessary hardware for testing), but that's about the only empty spot. When you consider that this is a 13.3" Ultrabook and there's little unused space, it becomes clear why many Ultrabooks are going with mSATA drives in place of the standard 2.5" drives.
If you look at the cooling section, there's only a single small fan at the top (back) of the motherboard area. How exactly is that little fan supposed to cool everything? There's not even a radiator/heatpipe right next to the fan exhaust, which is where you'd get the best airflow and cooling. Intel addresses this with foam guides on the bottom cover, but I have to think this is one area where retail Ultrabooks will be better than this prototype. We'll get to thermals later, but the back section of the Ultrabook definitely gets warm under load, and even at maximum fan speed there doesn't appear to be a lot of airflow from the exhaust port.
One final interesting side note is that when I first started testing this Ultrabook, I was quite disappointed with battery life. It wasn't all that different from Sandy Bridge, but the problem was HWMonitor was reporting a whopping 67Wh battery capacity. (That's another reason I opened up the chassis.) Intel later provided an updated BIOS to address the situation, and battery life looks a lot better now that I know it's a 47Wh battery.
Outside of minor complaints with the keyboard and the Mini-HDMI adapter (was it really too hard to fit full HDMI? Though mini-DisplayPort would probably be the best all around solution), there's nothing inherently wrong with the PUB-RD Ultrabook. Intel could easily give this design to any of their OEM partners and it could be turned into a retail product with very little effort. I've already had several friends see it and ask me how much it costs and when it will be available. The answer to that question will come from the big OEMs, but given the particulars of this configuration (e.g. the i5-3427U processor and 240GB Intel 520 SSD) it would likely be priced at $1000 or more.
That's not horrible considering everything you get, but ultimately the value in Ultrabooks comes in how much emphasis you place on having a small, sleek ultraportable. We'll look at the performance you can expect momentarily, but while it's better than any Sandy Bridge Ultrabook you're still paying a premium for the form factor. Is an Ultrabook a better buy than something like a Trinity-based laptop? The answer, as always, will come down to how you plan on using your laptop and how much you're willing to pay.