Probably one of the biggest complaints I hear related to NFC is just how slowly adoption and uptake of the technology is going. While NFC-enabled phones aren't really anything new, the challenge is now getting NFC tags out and into the hands of the masses, and making programming those tags simple. Today, Samsung is announcing a plan to do just that with Samsung TecTiles.
Samsung's TecTiles is a two-pronged approach. One part is the programming application which will work with a number of NFC-enabled Samsung phones to enable users to both program and read tiles, and enable a variety of shortcuts. The list of phones provided by Samsung USA is almost all of the NFC-enabled devices that have shipped recently:
Samsung NFC-Enabled Android Smartphones

· Samsung Galaxy S III on AT&T, Sprint, T-Mobile, US Cellular and Verizon

· Samsung Galaxy S II on T-Mobile

· Galaxy Nexus on Verizon, Sprint and GSM Unlocked

· Nexus S 4G on Sprint

· Samsung Galaxy S Blaze 4G on T-Mobile
The TecTiles application on Google Play enables a number of shortcuts to be programmed into the NFC tags. Samsung gave us a list of some of the programmable functions, a number of which go beyond the normal PIM data embeds that I've seen done before.
Settings & Applications

· Change phone settings (Bluetooth, Wi-Fi, ringer/media volume, screen brightness, etc.)

· Launch an application

· Join a Wi-Fi Network

· Show a message

Communication

· Make a call

· Send a text message

· Start a Google Talk conversation

· Share a contact or business card

Location & Web

· Show an address on a map

· Open a web page

· Foursquare or Facebook check-in

Social

· Automatic Facebook "Like"

· Update Facebook status

· Post a tweet or follow a contact on Twitter

· Connect on LinkedIn
The other part is commercial availability of a 5-pack $14.99 set of programmable tiles, which will be available for purchase both online and in carrier stores from AT&T, T-Mobile, Sprint, and Verizon. I've seen other programmable NFC tags, but thus far nothing in store or as readily available as what Samsung is making available today.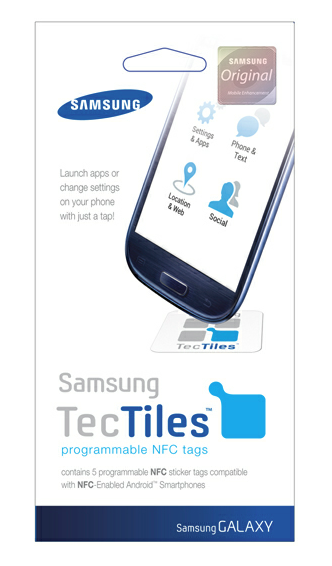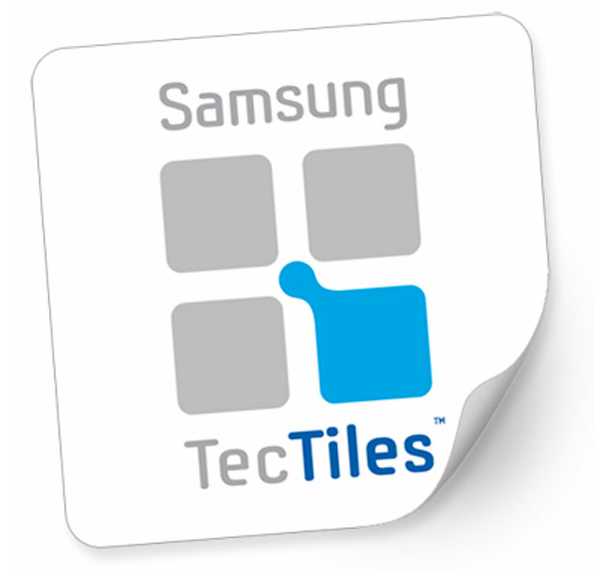 The tags include a MIFARE 1kB NFC memory chip which supports a 100,000 write lifetime and 10 year data retention period. All of the above listed phones support the programming NFC mode, and the NFC tags can optionally be programmed permanently. Samsung has already made its TecTiles page which includes details about the 5 pack and some more information live.
Samsung gave me the opportunity to play around with both the TecTile NFC tags and application last week, and I came away impressed with how complete Samsung's solution is. Some of the use cases included making a tag for the nightstand which would silence your phone and set your alarm, or another for your desk at work which would set the phone to vibrate. Another use case includes making a tag with either your WiFi PSK or that of a guest network for allowing guests to easily attach to your network. I could see myself putting this to use, as entering my 29 character random PSK into each new review unit gets old, fast. Either way making NFC tags easily accessible for consumers is a huge step in the right direction toward making the technology more prevalent.
Source: Samsung TecTiles, TecTiles (Google Play)