Build, Noise, Heat, and Power Consumption
I'll say this for Lenovo: whatever my complaints about the ThinkCentre M92 Tiny's default configuration (especially in regards to price), the chassis itself is well built. Lenovo has a pretty smart flow-through design that pulls in air through the front and exhausts it out of the back, and even under load the M92 Tiny is below 30dB. It also benefits from the USB 3.0 support integrated into Intel's 7 series chipsets.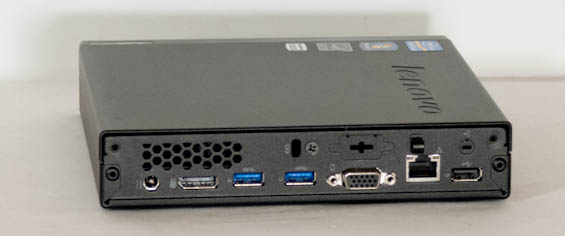 On the other hand, the port selection on the back of the M92 Tiny may be a matter of some contention depending on your needs. I don't think anyone will complain about the additional two USB 3.0 ports on the back, but the lack of audio ports is unusual, and I personally feel like it may still be too soon to rely on DisplayPort as our sole digital output. In a perfect world we'd have a DVI port there, or maybe HDMI, but DVI ports are pretty big and I'm not sure exactly how Lenovo would've fit it in (above the VGA port maybe?). Thankfully Lenovo ships a DisplayPort-to-DVI dongle with the M92 Tiny.
However you feel about the choice of ports for the M92 Tiny, the cooling system is aces given how small the whole thing is.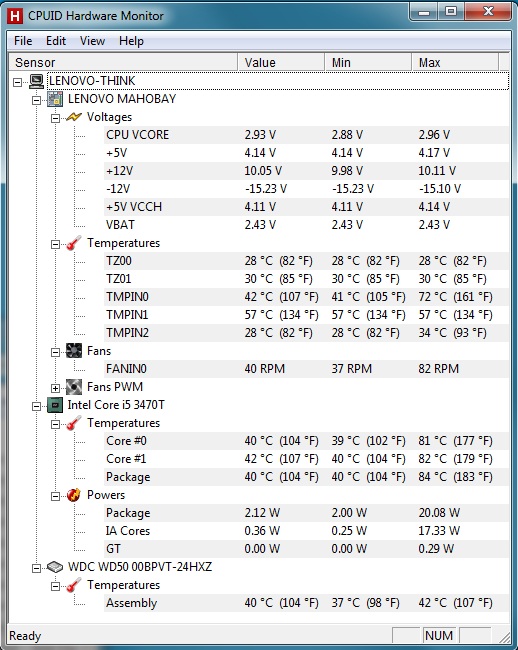 The CPU runs a little toasty, but Ivy Bridge is prone to running hot to begin with. Given the way other vendors seem to be content to toe the line in regards to running Ivy's thermals right up to spec, I think you could reasonably argue Lenovo might have included an option for a 45-watt i5-3570T.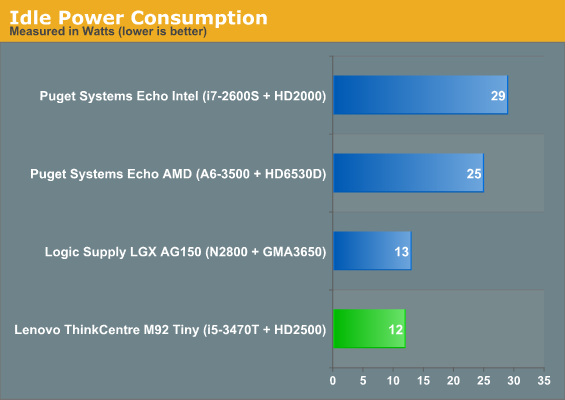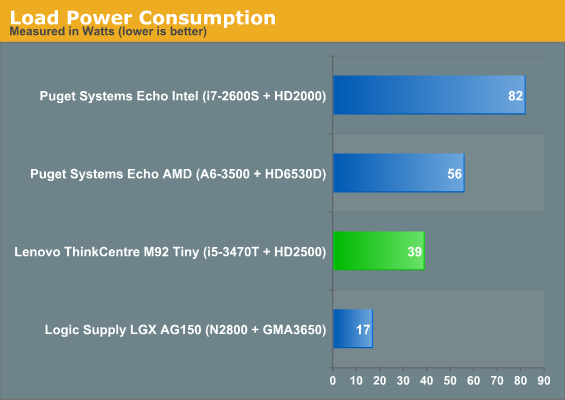 Power consumption is as you'd expect, pretty much as good as it gets short of going down to Atom. Under load the M92 Tiny isn't even stretching the limits of its 65W power supply, since these measurements were taken at the wall. At this point it's worth mentioning how remarkable it is that we're able to get this much performance out of this little power. It's true the i7-2600S in the Puget Systems Echo posts notable leads on Lenovo's system when threading comes into play, but it requires more than twice as much power to produce at most a 50% lead.