Sony has just finished announcing three new Android smartphones at IFA 2012 in Berlin. The highest end device, the Xperia T (LT30p), is pictured above. It has your standard 28 nanometer dual core 1.5 GHz Qualcomm Snapdragon S4 processor inside paired up with 1 GB of RAM. It also has a 4.55 inch 1280 x 720 pixel LCD display. What makes this phone special is that it has a 13 megapixel camera on-board, something we only saw earlier this week with the LG Optimus G. Dimension wise we're talking 129.4 mm x 67.3 mm x 9.35 mm, which means it's not as thin as other flagship devices, but hey, anything less than 10 mm is fine by us. The phone also weighs 139 grams and has a battery rated at 1850 mAh. Oh and there's pentaband 3G support in this thing, all the way up to 42 Mbps HSPA+.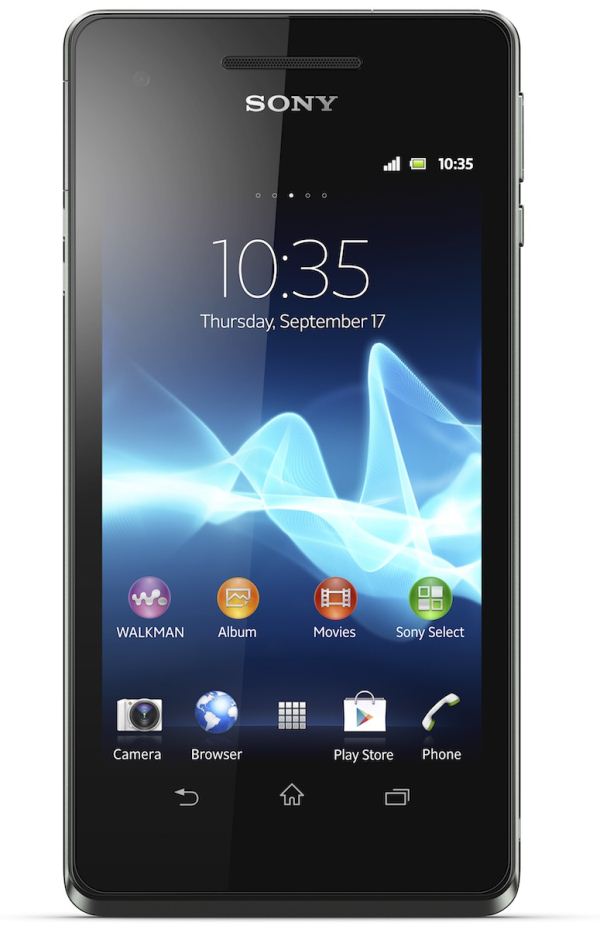 The next device is an interesting one. The Xperia V (LT25i) has the same 13 megapixel camera as the Xperia T, the same Qualcomm Snapdragon S4, and it too has 1 GB of RAM, but the screen measures 4.3 inches diagonal while still managing to deliver a resolution of 1280 x 720 pixels. It also adds 4G LTE support, specifically in LTE bands I, III, V, VII, and XX. Translation: None of those are American bands, but they are bands in Europe and Asia. The phone is also dust (IP55) and water (IP57) resistant. And the battery, which is rated at 1750 mAh, isn't that much smaller compared to what's in the Xperia T. In terms of weight you're looking at 120 grams, and as for the dimensions it's kind of bulky at 129 mm x 65 mm x 10.7 mm. That's over 2 mm thicker than the year and a half old Samsung Galaxy S II.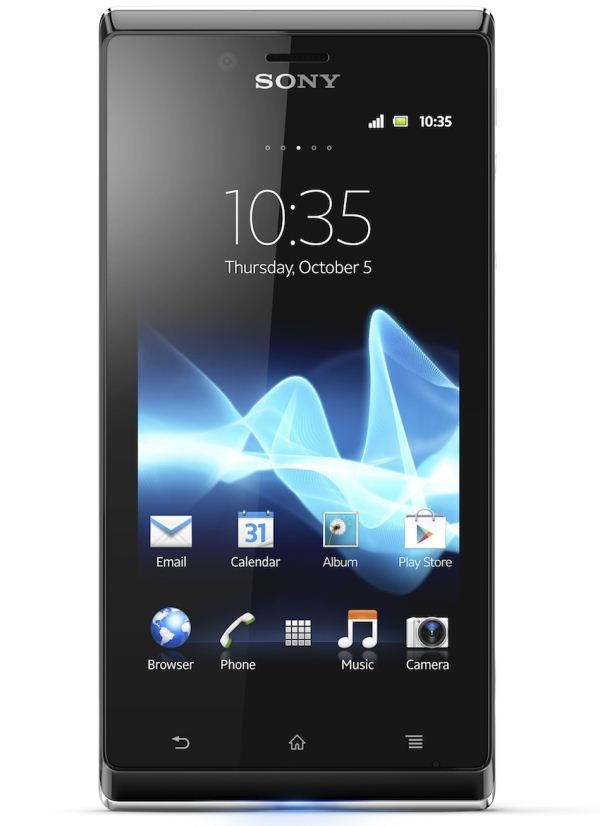 The last device, the Xperia J (ST26i/ST26a), is definitely for the budget consumer. It uses Qualcomm's MSM7227A, which is essentially a 45 nanometer ARM Cortex A5 paired up with an Andreno 200 graphics processor. Sony says they've got it clocked at 1 GHz and that there's 512 MB of RAM inside. It has a 4 inch display that pushes 854 x 480 pixels, and there's also a 5 megapixel camera on the back. The ST26i variant has quadband GSM/EDGE and 3G on the 900 MHz and 2100 MHz bands while the ST26a variant has quadband GSM/EDGE and 3G on the 850 MHz, 1900 MHz, and 2100 MHz bands. And by 3G we mean the 7.2 Mbps variety, which shouldn't come as a surprise given where this phone is positioned in Sony's portfolio.
Both the Xperia T and Xperia V have NFC, which we like, and they also don't have any front facing buttons, which we like even more. Sony's decided to opt for on-screen keys like the ones we saw on the Samsung Galaxy Nexus and the ASUS Nexus 7. Meanwhile the Xperia J has a back, home, and menu key. It also lacks NFC.
None of these devices have been priced, sadly, but we do know that the Xperia T will launch globally over the next few weeks. The Xperia V and Xperia J will also launch globally, but you'll have to wait until Q4 2012. All three of these phones will ship with Android 4.0, and Sony promises that they'll get Android 4.1 at some point after launch, but no specific timetables were given.
Update: Reader "quiksilvr" asked about the front facing cameras. The Xperia T spec sheet says it does 720p (0.9 megapixels), while the Xperia V and Xperia J spec sheets both say their front facing cameras do good old fashioned VGA.