Introduction
As many new features are brought into the computer audio industry, it can be easy to pursue the next best thing and fail to consider strong, economical solutions.  Such is the case with the presence of surround sound for both computer based DVD playback and gaming.  For music playback, or as a more economical solution for computer gaming, there still exist a number of strong products based around stereo reproduction, or a two channel system.
Many of the near field systems designed for the computer workstation take advantage of a 2.1 speaker format, in which two stereo speakers are combined with a subwoofer to extend the frequency response of the smaller drivers used in many computer speakers.  This also allows for a higher powered bass driver, to provide the room filling low frequency energy without blowing out the ears of a listener in a near field situation
With 10 years of history, MidiLand continues to bring a number of speaker systems to the market.  The S4 series builds on the success of their earlier S2 series, offering a variety of speaker configurations from 2.1 speaker systems up to full 5.1 Dolby certified systems.  The S4 3050M is their moderately powered 2.1 system.  It consists of a powered subwoofer with integrated amplifiers for the two satellites speakers.  Volume, tone, and power controls all reside on the front of the subwoofer.  The components all feature MidiLand's metallic finish common to models ending in the "M" designation.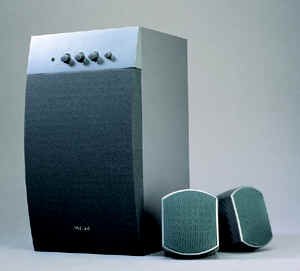 Specifications (Courtesy of MidiLand)

RMS Power

Total 50W
Satellite 10W + 10W
Subwoofer 30W

Frequency Response

180Hz - 20kHz+3dB Satellites
20Hz - 180Hz+3dB Subwoofer

Input Sensitivity

300 mV RMS

Drivers

2.5" Full range satellite speakers
6.5" Subwoofer

Power Supply

External adapter

S/N Ratio

52dB

Function Controls

Power/volume, treble and subwoofer
control, LED display

Dimensions (WxHxD)

3.30" x 3.90" x 4.20" Satellites
7.63" x 8.50" x 13.75" Subwoofer