Introduction
As increased processing power brought the ability to playback DVDs to computers, it has also brought affordable surround sound capabilities to accompany the movie experience. At least three sound cards offer the option of outputting the individual channels off of a surround encoded track by incorporating a six channel design, as ABIT revealed their AU10 card to join the market with the Turtle Beach Santa Cruz, and Creative has just recently announced the SoundBlaster Live! 5.1. In addition, more companies are bringing 6 channel cards to the market, as Hercules will have their Gamer XP-2 available at the end of this month.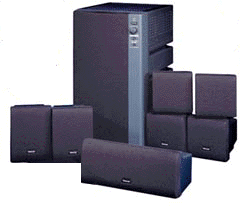 Speaker designers have taken advantage of this new feature by being able to lower costs on speaker systems by eliminating the surround decoders previously needed for a 5.1 surround sound solution, shifting the task to the computer and soundcard. Six channels of analog audio can now be pulled off a sound card and directly amplified for a full surround sound listening environment.
VideoLogic built upon their earlier success with the Sirocco Crossfire series as it expanded into the 5.1 surround market. Initially, they offered the DigiTheatre system, which included an external Dolby Digital decoder. The system used the digital audio stream via an SPDIF connection to the decoder, which then broke the data down into the 6 analog channels for playback. With the introduction of six channel soundcards, the company has been able to eliminate the decoder from the package and release it as the DigiTheatre LC system for use in conjunction with a six channel audio card.
The announcement of this system shortly followed the premiere of their 6 channel audio card, the VideoLogic Sonic Fury. This card marks a cross distribution agreement between Voyetra Turtle Beach and VideoLogic designed to bring each of their products to both sides of the Atlantic Ocean. The Sonic Fury is identical to the Turtle Beach Santa Cruz sound card, simply distributed in Europe with a slightly different software package. Turtle Beach is also distributing select speaker systems in the United States for VideoLogic.
For American customers, Turtle Beach offers this system through their website for $149.95. This does not include a six channel card or DVD playback software with the required multichannel support. For evaluation purposes, the six channel card used was the Turtle Beach Santa Cruz, and an OEM multichannel version of WinDVD (v 2.2). Until just recently, the multichannel WinDVD was available only through third party OEM manufacturers that provided the software specifically for their multichannel systems. It has just become commercially available through InterVideo's website for users needing the software.
Specifications
The DigiTheatre LC system consists of a subwoofer enclosure that includes the six channel amplifier for the system, a center satellite, two front satellites, and two rear satellites. The cabinets are all made of plastic, including the subwoofer enclosure, this reduces weight and cost, but doesn't show the same commitment to quality as wooden speakers enclosures might have. Here's what VideoLogic tells us about their system:
Specifications (Courtesy of VideoLogic)

RMS Power

Total: 62.5W RMS
Satellites: 7.5W + 7.5W (0.04% THD)
Center: 7.5W (0.05% THD)
Subwoofer: 25W (0.038% THD)

Frequency Response

Satellites: 180Hz - 20kHz
Center: 140 Hz - 20 kHz
Subwoofer: 50Hz - 200Hz

Input Sensitivity

DVD input: 250 mV
Line inputs: 500 mV

Drivers

Front: 4 inch midrange shielded / 2 inch Neodynium tweeter
Surround: 4 inch
Center: 3 inch magnetically shielded
Subwoofer: 6.5 inch magnetically shielded

S/N Ratio

Satellites: 70dB
Center: 67dB
Subwoofer: 69dB

Function Controls

Power/volume, input select, LED display

Dimensions (WxHxD)

Front: 114 mm (W) x 236 mm (H) x 150 mm (D)
Surround: 114 mm (W) x 151 mm (H) x 150 mm (D)
Center: 260 mm (W) x 106 mm (H) x 155 mm (D)
Subwoofer: 228 mm (W) x 406 mm (H) x 325 mm (D)