We had the chance to meet up with Asustor at CES yesterday. Reviews of some of their offerings had popped up on various websites, and my initial impression was that Asus was aiming to get a toehold in the fast growing NAS market. I wasn't expecting much, but I was in for a pleasant surprise.
Asustor was founded in August 2011 as an affiliate of the Asus group. It has around 70 employees, out of which 60 are in R&D, with a majority involved in software / firmware development. Even though the company is pretty new, the employees trace back their roots to QNAP and Synology.
Currently, Asustor has one NAS product family, the 6 Series. All the models use the Atom D2700 2.13 GHz dual core processor with 1 GB of SO-DIMM DDR3. It is possible for end-users to upgrade the DRAM up to 3 GB. The currently available models include 2,4,6 and 8-bay models AS-60xT, where x is the number of bays, and T represents the tower form factor.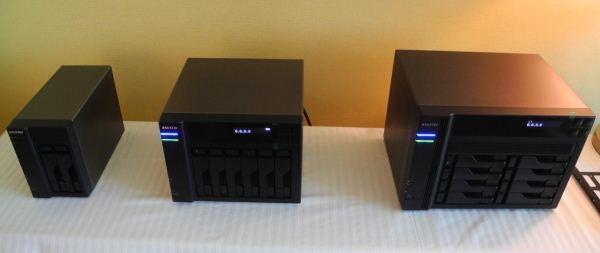 Towards the end of this month, Asustor will also introduce rackmount models AS-604R (1U form factor) and the AS-609R (2U form factor) with 4 and 9 bays respectively. These models will also have 1 GB of DDR3 DRAM and the D2700 processor only. I find it hard to understand how they can manage to do RAID calculations across 9 drives with just an Atom CPU. We are trying to confirm whether there is any hardware RAID involved.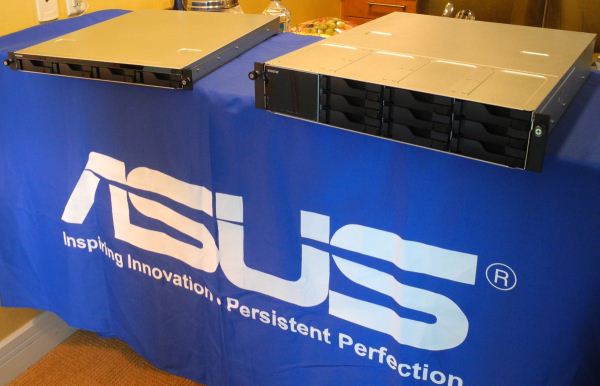 All the 6 series models have 2x GbE links, 4x USB 2.0, 2x USB 3.0 and 2x eSATA to go along with the HDMI display output port. While the 2-bay unit has an external 60W power adapter, the rest of the tower models have an internal 250W PSU. The rackmount units have internal redundant power supplies (250W for the AS-604R and 350W for the AS-609R).
QNAP and Synology have been around for more than 10 years, while Asustor is relatively new. Starting from a fresh slate migh help Asustor provide modern consumers with a better suited. However, the drawback is that Asustor hasn't had time to deliver all the features available in the Synology or QNAP units. Being Atom-based units, the 6 series isn't really a candidate for value propositions. 1 GB of DRAM also sounds a bit low for multi-bay NAS units based on the Atom processors. In comparison, the LaCie 5big NAS Pro has 4 GB of DRAM and is based on the same Atom processor (D2700).
In terms of software and UI, Asustor has decided to replicate the iOS experience with similar icons and layout. Most commonly required functions are easily accessible. A SDK is available for developers to produce custom apps. For example, Boxee has been ported over and can be used to decode and send HD video out thrugh the HDMI port (similar to how Thecus has developed XBMC for their Atom D2700 based NAS platforms). A private cloud solution is enabled using the Asustor apps for Android and iOS as well as Asustor's own dynamic DNS service. a Dropbox app is available to bring content stored in your Dropbox account on to the NAS and keep it synced. Unlike other NAS units with volume level encryption, Asustor has opted for folder level encryption.All virtualization needs are available with Citrix, VMWare and Hyper-V support.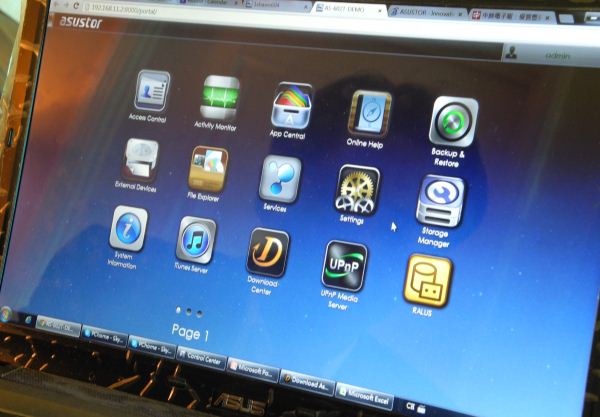 On the whole, the Asustor 6-series looks like a well-built NAS unit with an effective and easy to use OS in the Asustor Data Master (ADM). Reliability and performance are aspects on which we will get more information from user reports and detailed reviews in the future. I am also looking forward to Asustor expanding into the value market segment in the future.