We met up with Synology at CES today, and the main focus was on the recently released Disk Station Manager 4.2 firmware. Different NAS vendors take different approaches to accessing a NAS over the Internet. For example, Western Digital and Seagate set up the connection through their own servers, but most of the vendors opt for the port forwarding method. While it is straightforward for tech-savvy folks, it is not a simple plug-and-play option for the general user (which is why Western Digital and Seagate avoid it). In the recently reviewed LaCie 5big NAS Pro, LaCie tried to automatically forward the necessary ports using the uPnP port forwarding method (which sets up the port forwarding rules in gateways which support it). It didn't particularly work well with the NAS behind a couple of switches. Synology is also aiming to tackle the problem with an improved Quick Connect. The claim is that there is no need for port forwarding to enable remote access, and we will check out how this works as soon as we get back from CES. It appears that Synology uses a relay mechanism wherein the QuickConnect ID is made available to a Synology server for the initial handshake.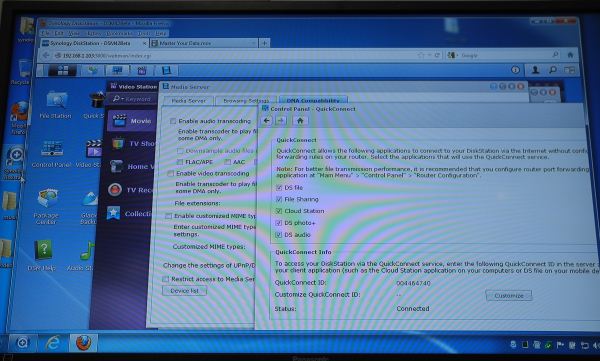 Other updates in DSM 4.2 include DS cloud updates for better iOS support, an improved Package Center and an updated Cloud Station 2 allowing for nearly unlimited accounts and sync folders. The apps also get some updates with DS Video expanding mobile platform support, DS Photo+ getting auto-sync for iOS devices and Video Station going the HTML5 route to work without browser plugins and Audio Station support for streaming to Bluetooth speakers.
From the SMB / SOHO perspective, DSM 4.2 adds support for Amazon's Glacier cloud backup service. Synology High Availability (SHA), a scheme in which one NAS acts as an active server and a second one takes over seamlessly when there is a failure in the active one (because the two servers are being synced continuously), is now available for all x86 models. Synology also indicated that all the x86 models are VMware vSphere 5 VAAI and Windows Server 2012 certified.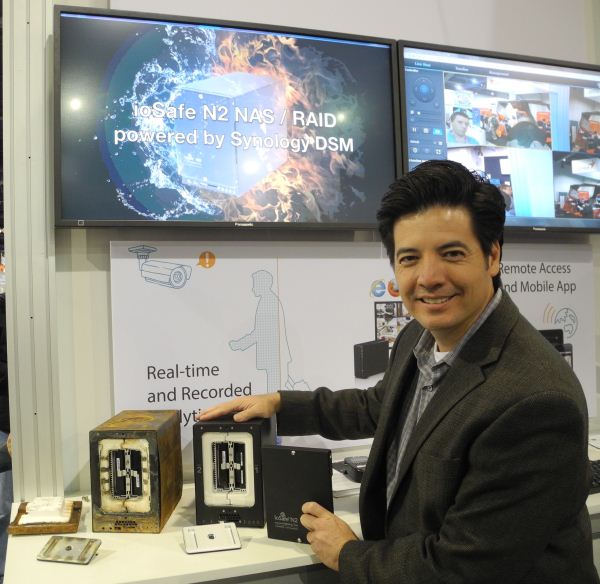 ioSafe CEO Rob Moore with the ioSafe N2
The ioSafe N2 also had a place of honour in the Synology booth. We covered the announcement of the ioSafe N2 back in September. It is basically a Synology DS213 motherboard in a chassis designed by ioSafe for disaster resistance while also allowing users to replace the hard disks if necessary. ioSafe had promised that the unit would ship by January, and true to their word, our review unit shipped right on time. We will be taking a closer look at the unit later this month.