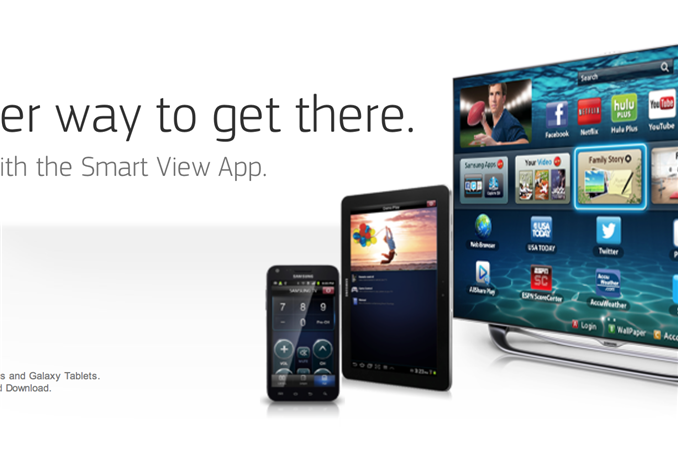 I'm not entirely sure I understand the point of MWC this year if everyone is going to pre-empt the show with announcements of their own (or in the case of the Galaxy S 4, wait until after the show to announce). Samsung does join the list of companies that are unveiling announcements prior to the show with the disclosure of its TV Discovery service.
Samsung is in a very unique position in that it is not only a SoC, NAND, display and DRAM maker, but also a significant player in the smartphone, tablet and TV space. If any company is well positioned to understand the needs of the market, it's Samsung.
With its fingers in many pots, Samsung quickly recognized a strong relationship between smartphone/tablet usage in conjunction with simply watching TV. This lead to Samsung outfitting many of its devices with an IR emitter, like with the Galaxy Note 10.1. If your tablet is out while you're watching TV, you might as well use your tablet to control your TV as well.
To increase available synergies between smartphone/tablet and TV, Samsung launched its TV Discovery service. Samsung's TV Discovery is a combination of software and hardware that simply lets you get a good feel for what content you have available to watch on TV as well as aggregated from online streaming sources such as Netflix and Blockbuster. Like many other attempts at TV/PC or TV/gadget convergence, TV Discovery attempts to solve the problem of having tons of content spread across many services by presenting it all in a single app on your smartphone or tablet.
TV Discovery will also have a personalization component as well, to suggest content for you to watch based on your preferences.
The software side isn't anything super unique, as we've seen many attempts at this before. I don't know that another software aggregation service is going to dramatically change anything, but before we reach perfection there are always many iterations of attempts that we have to live through.
Devices equipped with an IR emitter will be able to serve as universal remote controls, just as before.
What is most unique about Samsung's TV Discovery service however is the integration with Samsung TVs. With all 2013 SMART TVs, Samsung is promising the ability to stream content from your TV Discovery enabled smartphone/tablet to your TV and vice versa. Getting content from your smartphone or tablet onto your TV is nothing new, but we haven't had a good way of getting TV content onto your mobile device. Obviously you'll need a Samsung TV for this to work, as well as the Samsung smartphone/tablet, but it's an intriguing leverage of Samsung's broad device ecosystem.
You can expect to see the TV Discovery app ship on 2013 Samsung mobile devices as well as 2013 Samsung SMART TVs.