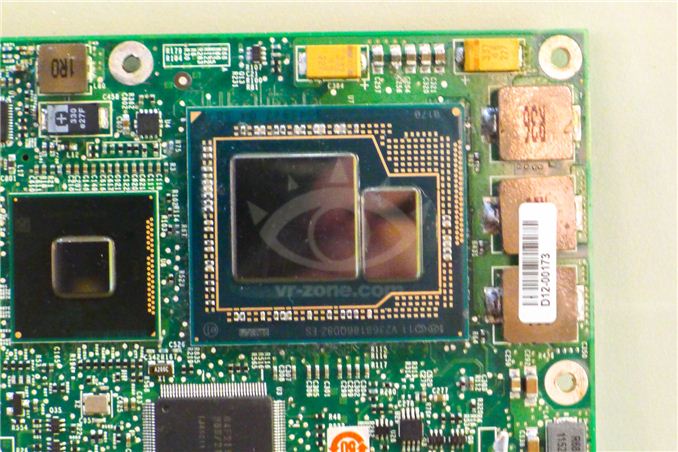 One of the worst kept secrets is Haswell will have four different GPU configurations: GT1, GT2, GT3 and GT3e. As with Sandy Bridge and Ivy Bridge, higher numbers mean more execution units, with GT3 topping out at 40 EUs. The lowercase e denotes an embedded DRAM part, with some amount of DRAM on the Haswell package itself (not on-die).
In an awesome scoop, the folks at VR-Zone managed to snag a photo of what looks like a quad-core Haswell die with GT3e graphics. The small package to the left should be the Lynx Point chipset (8-series), while the dual-die package on the right is Haswell + DRAM. The big square die should be Haswell itself with its 40 EU GPU, while the smaller die is the DRAM itself.
Intel hasn't officially acknowledged the existence of GT3e, but it did demonstrate performance of the part at CES earlier this year - targeting somewhere around the speed of NVIDIA's GeForce GT 650M. The DRAM size, operating frequency and bus width are all unknown at this point. I've heard the DRAM itself should be relatively small (~128MB), looking at the chip shot we get some indication but there's no confirmation of the specific type of memory we're looking at here (which obviously impacts die area).
Haswell GT3e will be available both in notebooks and desktops, however neither will come in socketed form (BGA-only). The desktop parts will carry an R suffix. This will be the beginning of Intel's socketed/soldered strategy on the desktop, which as of now is set to work sort of like tick tock - with the first chips on any new process being sold exclusively in BGA packages. Haswell will have socketed desktop SKUs, Broadwell won't, Skylake will, etc...
GT3e use in notebooks will be limited to larger designs it seems. Don't expect to find this level of graphics performance in a low wattage Ultrabook part, but it will likely surface in bigger notebooks - perhaps those driving ultra high resolution panels.
Source: VR Zone