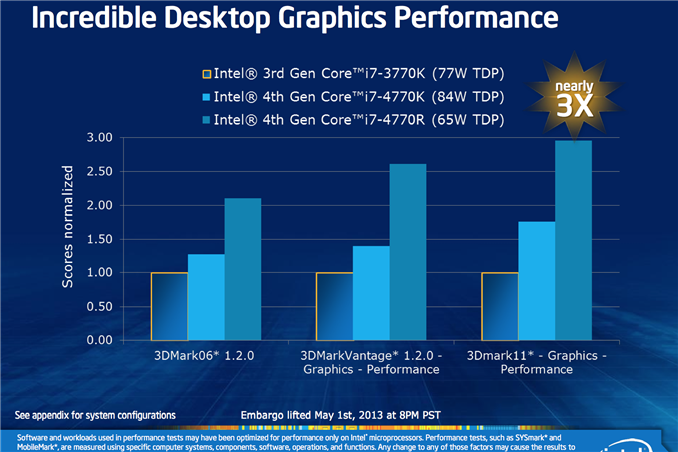 Tonight Intel gave its (high-end) processor graphics a new name: Iris. Along with the new brand disclosure, Intel did let a few details slip about Haswell TDPs.
High-end desktop parts creep up to 84W (Core i7-4770K). All socketed desktop Haswell CPUs will either use Intel HD Graphics (GT1) or Intel HD Graphics 4xxxx (GT2). There's a new category of BGA-only (non-socketed) desktop CPU with an R-suffix that will ship with Intel Iris Pro graphics 5200 (GT3e). These R-series SKUs will top out at 65W, implying lower max CPU frequencies than the K-series SKUs but obviously delivering better graphics performance.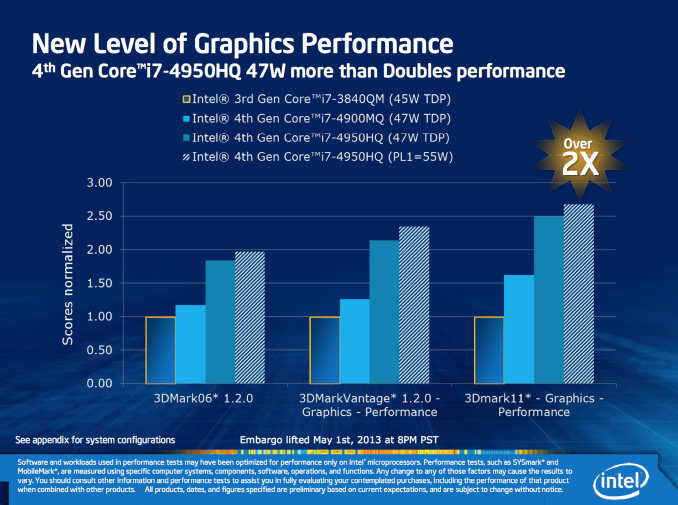 Quad-core notebook parts climb up from 45W to 47W, and these are the only parts that have the chance of getting Iris Pro graphics. Based on what we know thus far, an H-suffix seems to imply Iris Pro (Core i7-4950HQ) while an M-suffix is plain old Iris (Core i7-4900MQ). With an increase in TDP, it's entirely possible that we won't see any battery life improvement from quad-core mobile Ivy Bridge to Haswell unless you start including power savings from potentially getting rid of a discrete GPU.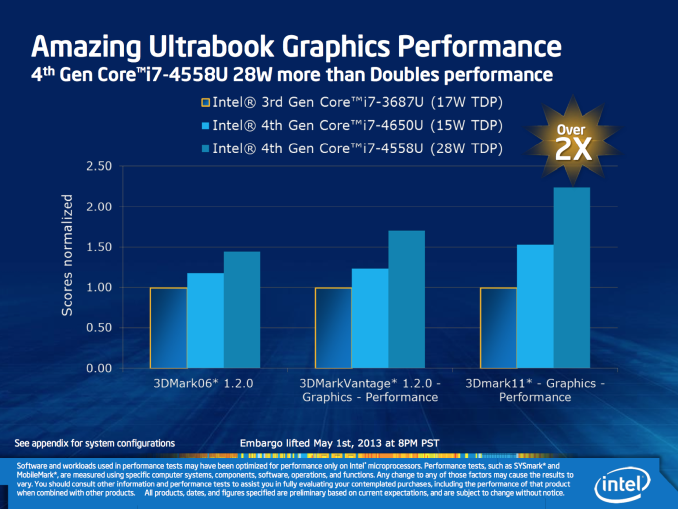 Finally, the more interesting TDPs we have are down in Ultrabooks - these are parts that we've been calling Haswell ULT. Currently, Ultrabooks use 17W Ivy Bridge parts but those TDPs drop slightly with Haswell ULT down to 15W. There's no room for Iris down in the 15W range (power constraints, Intel doesn't want to regress on CPU performance), however Intel will be introducing 28W Haswell ULT parts to enable 14/15" and larger Ultrabooks with Iris graphics. The inclusion of a 28W Ultrabook part is very interesting as it clearly goes after notebooks like the ASUS UX32VD that attempted to pair a low end discrete GPU with low-power Intel silicon. Intel definitely has its eyes set on eating more of the BoM in the PC market, at the expense of the discrete GPU vendors of course. It will be very interesting to see how things play out over this next generation with low-end to mid-range discrete GPU attach rates.