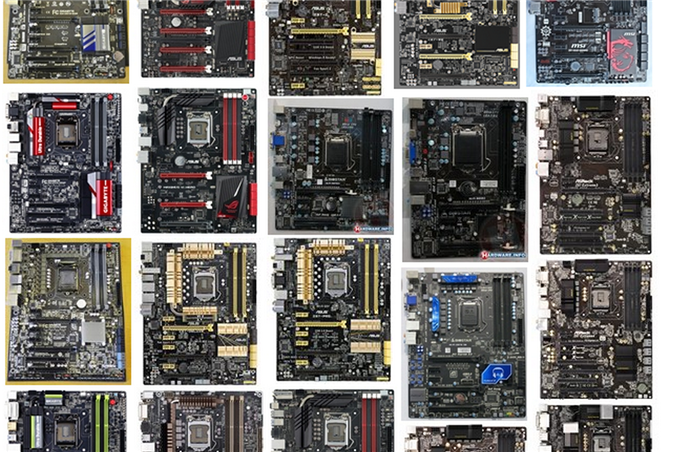 With time quickly approaching the launch of Haswell, leaks on both motherboards and CPU performance are coming out of the woodworks. Similar to our advance Ivy Bridge coverage, here is a current roundup of everything we were allowed to show or is currently in the public domain.
Fun with Z87
So as you would expect, reviewers like Anand and I are knee deep in getting Haswell coverage and testing ready for launch. We cannot tell you what we are testing, or what is coming in our repertoire, but we try to match what our readers want to see. As a general rule, in order to receive media kits from Intel, we sign a company-wide NDA, and then if we want kit from other companies (motherboards, pre-release systems), then they may request NDAs from specific people as well. I know I have personally signed a few in recent months leading up to the release.
So What Is In This Preview Then?
So some manufacturers have decided to release data to media like AT in order to boost coverage before launch. Others have had leaks from media events posted online, and here we have tried to collate that information. Everything you see in this post we have permission to post from the various manufacturers, or the information is already in the public domain. Some information has been from Intel itself, such as Beijing IDF presentations released on the internet.
Much like our Ivy Bridge preview, we will be going through the motherboards expected to be released – either final ES images or retail ones. We have the big four up ready to bat – ASUS, Gigabyte, ASRock and MSI, with appearances by ECS, Biostar and EVGA as well.
AnandTech's Haswell Coverage
At AnandTech we have been hot on the heels of Intel, attempting to understand what is behind the new silicon. We have covered the following topics so far:
Intel's Haswell Architecture Analyzed: Building a New PC and a New Intel
Intel Haswell Architecture Disclosure: Live Blog
Intel Details Haswell Overclocking at IDF Beijing
Making Sense of the Intel Haswell Transactional Synchronization eXtensions
Haswell: Up to 128MB On-Package Cache, ULV GPU Performance Estimates
Intel Haswell GT3e GPU Performance Compared to NVIDIA's GeForce GT 650M
IDF 2012: Haswell GT3 Running Skyrim
Intel Haswell Architecture Slides (IDF 2012)
Haswell at IDF 2012: 10W is the New 17W
Pricing
In previous years, motherboard launches have ranged the full gamut from the $60 to over $200 at launch, even reaching $400 as the platform develops. Within that is the cost for the chipset (a not-insignificant cost), the production, the modules, the extra controllers and all the licensing for extra features such as SLI or HDMI. Of course no manufacturer wants to announce pricing just yet, but like the Sandy Bridge and Ivy Bridge launches, we at AnandTech are hoping for a motherboard roundup of around $200 (+/- 10%) to go live at launch.
Details regarding pricing led us to Chinese websites: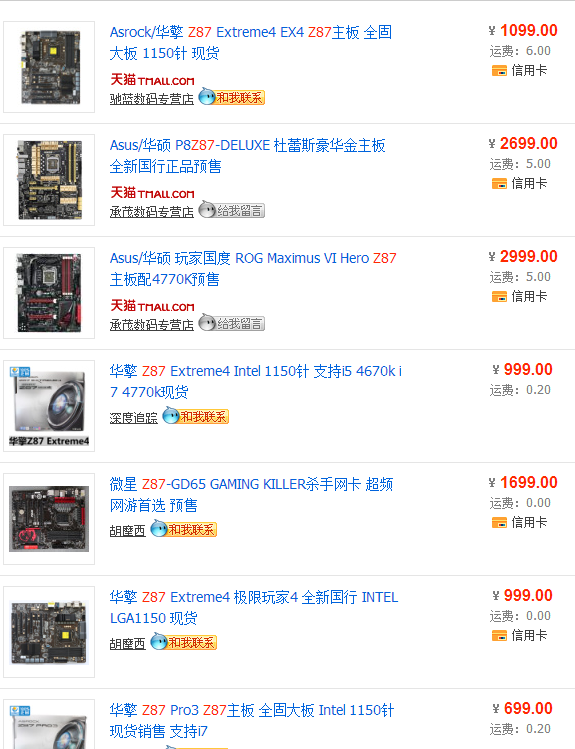 At current exchange rates, this puts the pricing at the following:
ASRock Z87 Extreme4: ¥1099/999 = $179/$162
ASUS P8Z87-Deluxe: ¥2699 = $439
ASUS ROG Maximus IV Hero with a 4770K: ¥2999 = $488
MSI Z87-GD65 Gaming: ¥1699 = $276
ASRock Z87 Pro3: ¥699 = $114
Personally I believe that this pricing is a bit high, indicating 'put your order in early' for when stock actually arrives. There is not any import tax (most if not all these motherboards are made in China), and sales tax / VAT is technically 17%.
But for now, let us look at what motherboards have actually been on display.