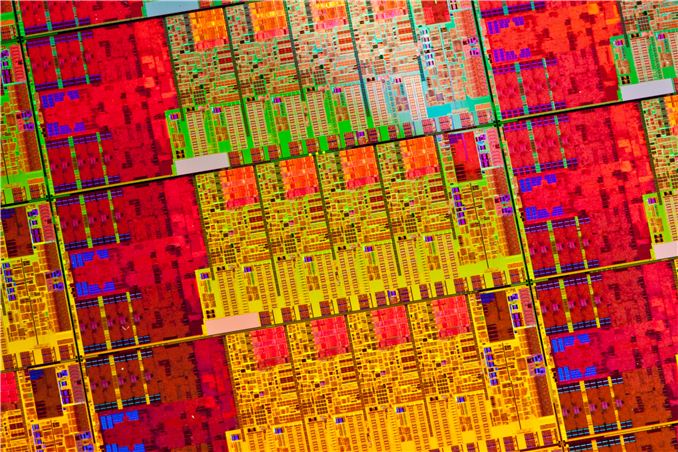 For those who are just looking for information on the various processor models with their associated features, we wanted to put together a short list of all the parts being launched today to go along with our architecture and performance testing (among other things). Similar to the previous two launches, Intel is starting off with their quad-core parts, to be followed at a later date by dual-core offerings. We'll actually be going into the Ultrabook parts sooner rather than later, but for now there are no Core i3, Pentium, or Celeron Haswell chips. We've got a separate article going over the desktop SKUs, and our focus here will be on the mobile offerings.
Intel 4th Gen Core i7 M-Series Mobile Processors
Model
Core i7-4930MX
Core i7-4900MQ
Core i7-4800MQ
Core i7-4702MQ
Core i7-4700MQ
Cores/Threads
4/8
4/8
4/8
4/8
4/8
CPU Base Freq
3.0
2.8
2.7
2.2
2.4
Max SC Turbo
3.9
3.8
3.7
3.2
3.4
Max DC Turbo
3.8
3.7
3.6
3.1
3.3
Max QC Turbo
3.7
3.6
3.5
2.9
3.2
TDP
57W
47W
47W
37W
47W
HD Graphics
4600
4600
4600
4600
4600
GPU Clock
400-1350
400-1300
400-1300
400-1150
400-1150
L3 Cache
8MB
8MB
6MB
6MB
6MB
DDR3/DDR3L
1600
1600
1600
1600
1600
vPro/TXT/VT-d
Yes
Yes
Yes
No
No
Intel SBA
No
No
No
Yes
Yes
Price
$1096
$568
$378
On the mobile side of the fence, other than some slight changes to the naming scheme relative to Sandy Bridge and Ivy Bridge (there's no more "20" suffix on most of the initial models and they're now "MQ" instead of "QM"), the mobile Haswell rollout is what we expected. There are actually two quad-core mobile processor families, with the M-series being the "traditional" models while the H-series gets some iGPU upgrades and other tweaks.
Along with the traditional Extreme part at the top of the hierarchy, we now get a 4900MQ, 4800MQ, and 4700MQ in place of the previous 3820QM, 3720QM, and 3610QM that we saw with Ivy Bridge. The 4800MQ, 4702MQ, and 4700MQ are 6MB L3 cache parts, so only the 4900MQ and 4930MX get the full 8MB L3. Other than the clock speed variations and the lack of vPro/TXT/VT-d on the 470x chips (which at the same time also get the distinction of being part of the Intel Small Business Advantage platform—basically, for non-managed networks), the parts all have HD 4600 Graphics. That means slightly better iGPU performance than HD 4000, but these are GT2 (20 EUs) rather than GT3/GT3e (40 EUs).
TDPs are up 2W relative to Ivy/Sandy Bridge models, but how that will actually play out in practice remains to be seen. Considering the max TDP is rarely hit under mobile workloads, we don't expect any major changes, and Haswell is introducing a host of other improvements all aimed at delivering better battery life. Dustin has at least one Haswell notebook in for review, with a high-end CPU and dGPU. It won't be a great representation of battery life, but at least we can get some idea of how much things have changed relative to the 3rd Generation Core i7 processors.
Intel 4th Gen Core i7 H-Series Mobile Processors
Model
Core i7-4950HQ
Core i7-4850HQ
Core i7-4750HQ
Core i7-4702HQ
Core i7-4700HQ
Cores/Threads
4/8
4/8
4/8
4/8
4/8
CPU Base Freq
2.4
2.3
2.0
2.2
2.4
Max SC Turbo
3.6
3.5
3.2
3.2
3.4
Max DC Turbo
3.5
3.4
3.1
3.1
3.3
Max QC Turbo
3.4
3.3
3.0
2.9
3.2
TDP
47W
47W
47W
37W
47W
HD Graphics
Iris Pro 5200
Iris Pro 5200
Iris Pro 5200
4600
4600
GPU Clock
200-1300
200-1300
200-1200
400-1150
400-1150
L3 Cache
6MB
6MB
6MB
6MB
6MB
DDR3/DDR3L
1600
1600
1600
1600
1600
vPro/TXT/VT-d
Yes
Yes
No
No
No
Intel SBA
No
No
Yes
Yes
Yes
Price
$657
$468
Here's where things get interesting, the mobile H-Series processors. CPU clocks are down slightly relative to the above M-series, and all of these are 6MB L3 cache parts. To make up for that, Intel has equipped the top three HQ parts with their Iris Pro 5200 iGPU. While having faster integrated graphics may not really matter much on a desktop if you have a discrete GPU, on notebooks we generally always like having the faster iGPU available—you don't always need a full discrete GPU for some tasks, but the cut-down GT1 of the previous generation sometimes fell short. Heat and noise are also more of a concern with notebooks, so running off the iGPU whenever possible is generally a good thing.
Intel has targeted roughly the level of performance offered by NVIDIA's GT 650M with their Iris Pro 5200 graphics, or roughly a two-fold increase in performance over HD 4000, and that should be enough for everything short of high-quality, high-resolution gaming. What's even more interesting is that there's the potential for a reasonable gaming experience with the CPU and iGPU combined still drawing less than 47W of power; GT 650M may still be a better gaming chip, but the combined CPU + dGPU power draw is quite a bit higher than 47W. Of course, even on a 90Wh battery a load of 45W means you'd still get less than two hours of battery life. We'll see about testing this as soon as we get more time with the hardware.
What I'm not quite getting is the role the 4702HQ and 4700HQ are supposed to fill; they're still equipped with HD 4600 graphics, just like their MQ relatives, so we've asked Intel for clarification. Best guess right now: the MQ and HQ parts are different packages, so the 470xHQ chips are lower-echelon offerings for OEMs/users that don't necessarily need/want Iris Pro 5200. It's a way for an OEM to have one laptop that can support a range of processors, rather than locking all the HQ parts into higher-cost CPUs. Maybe down the road, we'll even see some Core i5 H-Series CPUs, but we don't have any concrete information on that yet.
For those interested in the desktop side of things, we've broken out those parts into a separate Pipeline article.