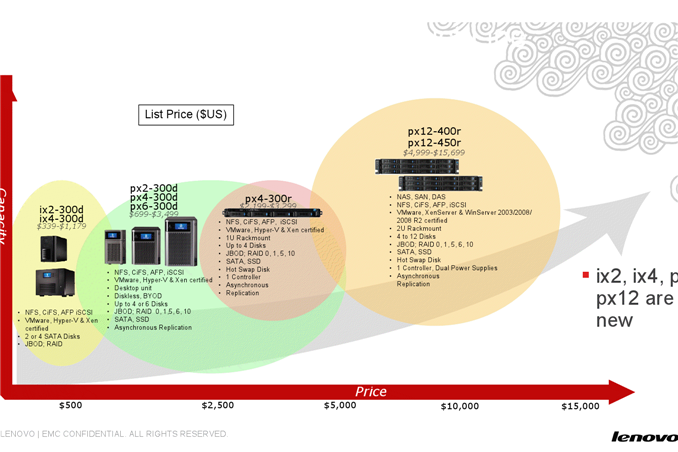 LenovoEMC is on a roll lately with third-party partnerships. These have been done to enable extra capabilities and provide customers with features that other NAS vendors provide with in-house packages. In July, we reviewed the px2-300D NVR which integrated a VMS from Milestone Systems. Today, a partnership with Acronis is being announced to provide data backup and protection solutions for servers, PCs and NAS systems.
It is customary for NAS vendors to bundle PC backup software so that contents on the clients can be backed up to a NAS target. LenovoEMC's announcement today is the first that I have heard of where a backup engine resides on the NAS to backup its contents to another network location. Of course, many vendors allow for rsync jobs to be set up to achieve the same. However, professional backup solutions like the Acronis Backup & Recovery being introduced today can provide automated and fast incremental backups that are more reliable and perform better than rsync according to LenovoEMC and Acronis. LenovoEMC is the first and currently only vendor to run the Acronis Backup & Recovery engine on the NAS itself.
LenovoEMC is restricting the availability of the Acronis engine to the px-series (for performance and x86 ease of portability reasons). A dedicated backup appliance with the engine pre-installed is available in the EMEA and APAC markets. The backup appliance also includes a single license of Acronis Backup & Recovery 11.5 for Windows and Linux servers (one each) and three licenses for PC versions of Acronis True Image Lite 2013. The backup appliance is expected to cost around $150 more than the corresponding px-series NAS without the Acronis engine. For existing px-series users, the NAS backup engine is expected to cost $49 while the full package for server-to-NAS / PC-to-NAS / NAS-to-NAS backup is expected to cost $249.