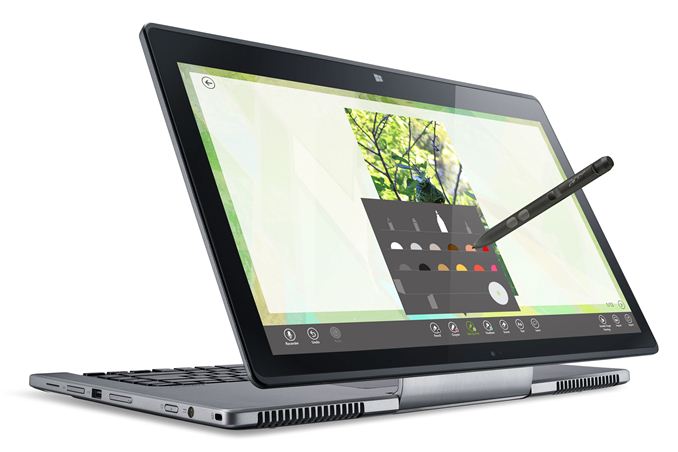 Earlier this year, we looked at Acer's R7 laptop – an interesting hybrid device that moves the keyboard forward and the touchpad back, with the idea being that you'll use the touchscreen display rather than the touchpad. Its big selling point is the Ezel hinge, which allows you to do a few other things besides shifting the screen forward, like turning the R7 into a "table", or flipping the screen over for "presentation mode".
While I wouldn't call the original R7 a bad laptop, at the same time it's not laptop for everyone, and it definitely had a few flaws. Acer has now updated the R7 line with a Haswell processor, and they've added an active digitizer as a bonus (though the stylus to make use of the active digitizer is an optional extra). Is that enough to change the R7 from a quirky laptop into something great? Perhaps not entirely, but there are definitely improvements that warrant a closer look; here are the specifications for the R7, showing the old and new models:
Acer Aspire R7 Specifications
Model
R7-572-6423
R7-571-6858
Processor
Intel Core i5-4200U
(Dual-core 1.6-2.6GHz, 3MB L3, 22nm, 15W)
Intel Core i5-3337U
(Dual-core 1.8-2.7GHz, 3MB L3, 22nm, 17W)
Chipset
Integrated (ULT)
HM77
Memory
2x4GB DDR3L
(Two slots, 16GB max)
6GB DDR3-1600
(4GB onboard, 2GB SO-DIMM, 12GB Max)
Graphics
Intel HD Graphics 4400
(20 EUs at xxx350-1100MHz)
Intel HD Graphics 4000
(16 EUs at 350-1100MHz)
Display
15.6" Glossy IPS 1080p (1920x1080)
15.6" Glossy AHVA 1080p (1920x1080)
Storage
1TB 5400RPM HDD
500GB 5400RPM HDD
24GB SSD Cache
Optical Drive
N/A
N/A
Networking
802.11a/b/g/n
Bluetooth 4.0
802.11n WiFi
(Dual-band 2x2:2 300Mbps capable)
Bluetooth 4.0 + HS
Battery/Power
4-cell, ~15.1V, 3560mAh, 53.6Wh
~6.5 hours battery life
4-cell, ~15.1V, 3560mAh, 53.6Wh
~4 hours battery life
I/O, Ports, Extras
Headset jack
2 x USB 3.0
1 x USB 2.0
1 x HDMI
1 x Mini-VGA
Flash Reader (SD)
Kensington Lock
HD Webcam
86-Key Keyboard
Ezel hinge
Active digitizer
(Optional) n-Trig DuoSense Stylus
Headset jack
2 x USB 3.0
1 x USB 2.0
1 x HDMI
1 x Mini-VGA
Flash Reader (SD)
Kensington Lock
HD Webcam
86-Key Keyboard
Ezel hinge
Operating System
Windows 8.1 64-bit
Windows 8 64-bit
Dimensions
14.83" x 10.02" x 0.81-1.12" (WxDxH)
(376.8mm x 254.5mm x 20.6-28.5mm)
14.8" x 10.0" x 1.1" (WxDxH)
(376mm x 254mm x 28mm)
Weight
5.29 lbs (2.4kg)
5.29 lbs (2.4kg)
Pricing
MSRP: $900
Online: $900
Stylus: $49 MSRP
MSRP: $1000
Online: $850
Most of the core features of stayed the same outside of the processor + chipset. The i5-4200U may actually end up being slightly slower than the previous generation i5-3337U, but it should be a lot more power friendly. Moving the chipset onto the CPU with a lower TDP of 15W results in some real power savings. In other areas, the new R7 comes with 8GB DDR3L memory, this time via two SO-DIMM slots, and it has a larger 1TB hard drive but no SSD cache.
The loss of the SSD cache might hurt a little bit, but in reality SSD caching only goes so far – particularly when it's ExpressCache as opposed to Intel's Smart Response Technology. What Acer really needs is at least a 120GB SSD for the OS and apps. I understand adding a full-size SSD would increase the price, but the difference in performance is so substantial for everyday tasks that I simply refuse to go any other route these days. Of course you can always upgrade from the 1TB hard drive to an SSD on your own; I'm not sure if there's an mSATA slot, however (probably not considering there are now two SO-DIMM slots), so you would have to remove the 2.5" hard drive. I would have liked to see 802.11ac WiFi as well, but that feature didn't make the cut.
As mentioned already, the only other noteworthy change on the hardware front is the inclusion of an active digitizer on the display, which works with N-trig's DuoSense stylus (styli). Unfortunately, despite the stylus being used in all of the pictures Acer provided, it's an additional purchase that will cost another $50. Given that Acer is pushing the stylus as being a useful feature, I think they're shooting themselves in the foot by not including one on all of the new R7 laptops.
Not surprisingly, even with the same basic hardware the new R7 has advertised battery life that's over 50% higher than the original model. Under a heavy load it's not likely that you'd see that much of a difference, but for everyday tasks like web surfing for office work, Haswell's improved low/idle power definitely makes a difference compared to Ivy Bridge.
So are an active digitizer with an optional stylus, improved battery life, and slightly more memory and storage enough to make the new R7 a worthwhile laptop? That all depends on what you want to do with it. With a stylus, perhaps the Ezel hinge may actually make the R7 more useful as an actual easel for artists. At the very least, it's something different from the norm, and that might be enough to carve out a small piece of the market for Acer's R7. I wasn't actually sure that we would see an update to Haswell, so apparently Acer saw enough demand/interest that it was worth revisiting the R7. I just wish they had changed a few of the fundamentals, as the swapped keyboard and touchpad is still something I don't really like in practice.
The new R7 is already available at Best Buy, though it might not actually ship until December. I couldn't find a listing for the optional DuoSense stylus yet, but that should also show up sometime in early December.
Source: Acer PR