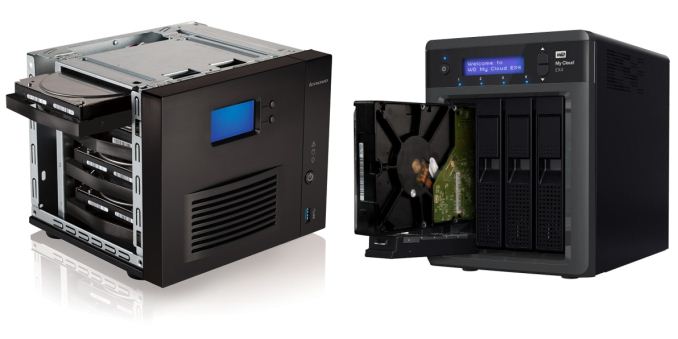 Introduction
The consumer Network Attached Storage (NAS) market has seen tremendous growth over the past few years. As the amount of digital media generated by the average household increases, the standard 2-bay NAS is no longer sufficient. Today, we are going to take a look at two different 4-bay solutions, the Western Digital My Cloud EX4 and the LenovoEMC ix4-300d. Both of them use ARM-based Marvell SoC platforms and target the home consumer / SOHO markets.
Western Digital has had a lot of experience supplying SMB NAS units with more than 2-bays, but those have been based on Microsoft's Windows Storage Server. On the consumer side, their attempts with a custom Debian-based embedded Linux NAS system were very functional and cost effective. On the other hand, LenovoEMC (Iomega) has a long history of servicing various tiers in the NAS market, ranging from single-bay network attached hard disks to ARM-based SOHO targeted NAS units (the ix-series) and SMB / SME-targeted rackmount / tower form factor units (the px-series).
The two units that we are going to look at today were released a year apart, the LenovoEMC ix4-300d in late 2012, and the WD MyCloud EX4 in late 2013. One would definitely be excused for thinking that the ix4-300d would be based on an older platform and the WD EX4 on a more modern one. The interesting aspect is that the ix4-300d was one of the first NAS units to use Marvell's ARMADA XP platform. WD, on the other hand, has gone with the older Kirkwood platform to keep the costs low. The following table summarizes the features of the two NAS units that we are covering today.
LenovoEMC ix4-300d and Western Digital My Cloud EX4 Specifications
ix4-300d
My Cloud EX4
Processor
Marvell MV78230 dual-core ARMv7 SoC @ 1.3 GHz
Marvell 88F6262 Kirkwood @ 2 GHz
RAM
512 MB DDR3
512 MB DDR3
Drive Bays
4x 3.5" SATA II (No Hot Swap)
4x 3.5" SATA II (Hot Swappable)
Network Links
2x 1 GbE
2x 1 GbE
USB Slots
1x USB 3.0 + 2x USB 2.0
2x USB 3.0
eSATA Ports
None
None
Maximum Capacity
4-bays
4-bays
VGA / Console / HDMI
None
None
Full Specifications Link
LenovoEMC ix4-300d Specifications (PDF)
Western Digital My Cloud EX4 Specifications (PDF)
Suggested Retail Pricing
US $270
US $360
Testbed Setup and Testing Methodology
Our NAS reviews use either SSDs or hard drives depending on the unit under test. While rackmounts and units equipped with 10GbE capabilities use SSDs, the others use hard drives. The ix4-300d and My Cloud EX4 were both evaluated with four 4 TB WD Re (WD4000FYYZ) drives. Evaluation of NAS performance under both single and multiple client scenarios was done using the SMB / SOHO NAS testbed we described earlier.
AnandTech NAS Testbed Configuration
Motherboard
Asus Z9PE-D8 WS Dual LGA2011 SSI-EEB
CPU
2 x Intel Xeon E5-2630L
Coolers
2 x Dynatron R17
Memory
G.Skill RipjawsZ F3-12800CL10Q2-64GBZL (8x8GB) CAS 10-10-10-30
OS Drive
OCZ Technology Vertex 4 128GB
Secondary Drive
OCZ Technology Vertex 4 128GB
Tertiary Drive
OCZ RevoDrive Hybrid (1TB HDD + 100GB NAND)
Other Drives
12 x OCZ Technology Vertex 4 64GB (Offline in the Host OS)
Network Cards
6 x Intel ESA I-340 Quad-GbE Port Network Adapter
Chassis
SilverStoneTek Raven RV03
PSU
SilverStoneTek Strider Plus Gold Evoluion 850W
OS
Windows Server 2008 R2
Network Switch
Netgear ProSafe GSM7352S-200
Thank You!
We thank the following companies for helping us out with our NAS testbed: