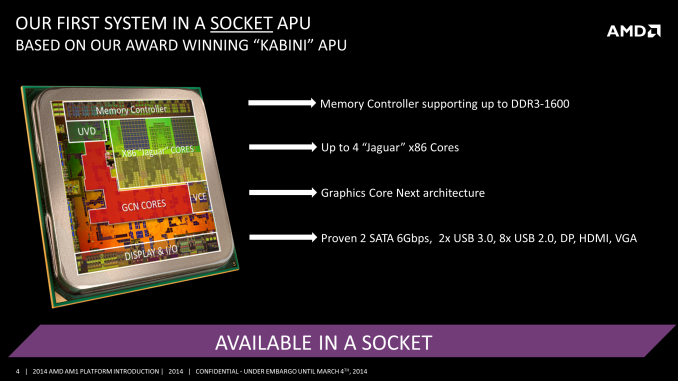 From the Consumer Electronics Show at the turn of the year, images were coming out of motherboards supporting the FS1b socket. This socket was a pin-grid-array, rather than a soldered on package which we had seen at Computex 2013. Then a couple of weeks later, we reported on a leak regarding several PGA system-on-chips with the Kabini name destined for the FS1b socket. Today AMD is formalizing that announcement into the AM1 platform – A Kabini APU combined with a socketed FS1b motherboard.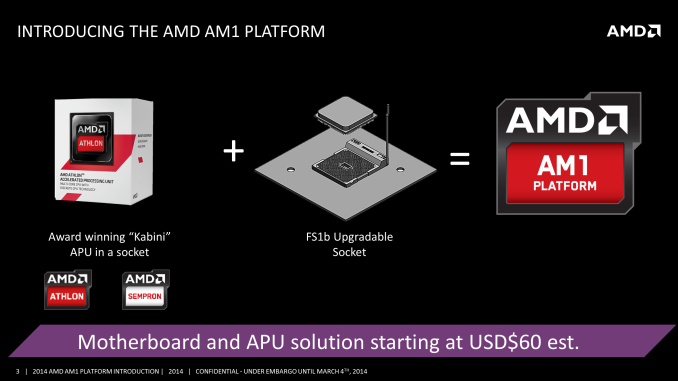 We have examined Kabini in the laptop and mobile space; however AMD sees a market particularly in regions with low GDP. Users of these markets have asked for low cost systems that remain upgradable. With the AM1 platform, AMD is aiming for a combined SoC and motherboard in the $60 region, remaining socketed for an upgrade path.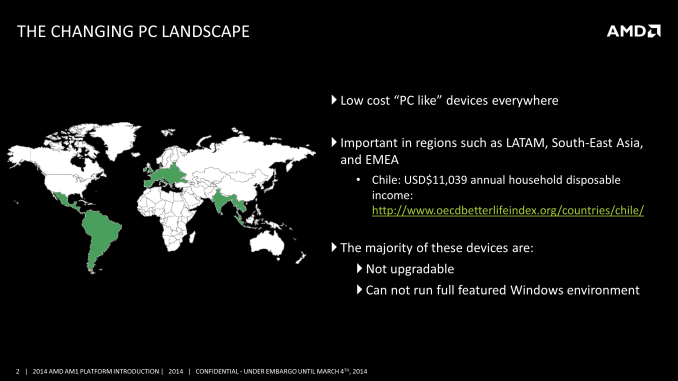 The Kabini processors will be similar to their laptop counterparts – up to four Jaguar based CPU cores, a single memory controller supporting up to 1600 MHz memory and 128 streaming processors from the Graphics Core Next architecture. Due to the SoC element of the CPU, there is no chipset on the motherboard and all the IO will be present on the CPU itself. This should help drive the cost of the motherboards down such that another IC does not need to be engineered in. The Kabini APUs will source two SATA 6 Gbps ports, two USB 3.0 ports, eight USB 2.0 ports, four PCIe 2.0 lanes and a trio of video outputs (DisplayPort, HDMI, and VGA).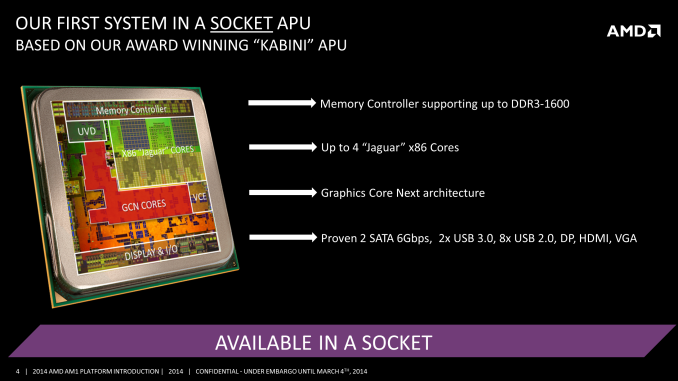 At launch, on April 9th, AMD have 15 motherboards planned from the major motherboard manufacturers. They will mostly be in the micro-ATX form factor, with a couple in the mini-ITX size. We reported on several motherboards from Computex and CES, such as this from MSI: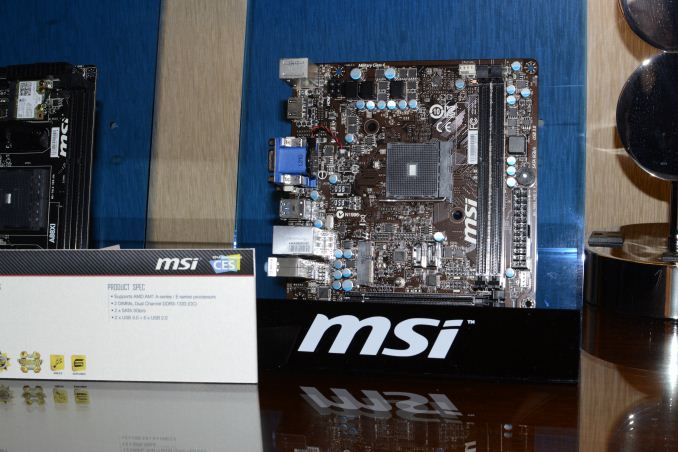 With the use of four PCIe 2.0 lanes, AMD is not expecting these systems to be used with anything other than a low end discrete graphics card (R5 230 or GT210) for more screens. The bandwidth would be limiting, and as a result anything other than low-resolution/low-quality gaming would be possible. Also, no dual graphics co-operation is currently planned from AMD.
The list of APUs coming to release, as far as we can tell, still comes from the leak via Chinese VR-Zone. Compared alongside some of the socketed Kabini:
AMD AM1 Kabini
AMD FT3 Kabini
A6-5350
A4-5150
E2-3850
E1-2650
A6-5200
E1-2500
Cores / Threads
4 / 4
4 / 4
4 / 4
2 / 2
4 / 4
2 / 2
CPU Frequency
2050
1600
1300
1450
2000
1400
GPU
HD 8400
HD 8400
HD 8280
HD 8240
HD 8400
HD 8240
GPU SPs
128
128
128
128
128
128
GPU Frequency
600
600
450
400
600
400
L2 Cache
2MB
2MB
2MB
1MB
2MB
2MB
TDP
25 W
25 W
25 W
25 W
25 W
25 W
At this time, AMD have not confirmed these SKUs. But we were able to confirm that AMD is aiming at the Kabini APU line to be 128 SPs and 25W. There are no plans to release lower wattage parts. The reasoning behind this is for desktop systems are often not restricted on power, and thus the difference between a 15W APU and a 25W APU is ultimately not that much at the end of the day, and the lower TDP part will sacrifice performance.
The big competition for AMD in this segment is desktop Bay Trail. AMD is keen to point out the differences between the two: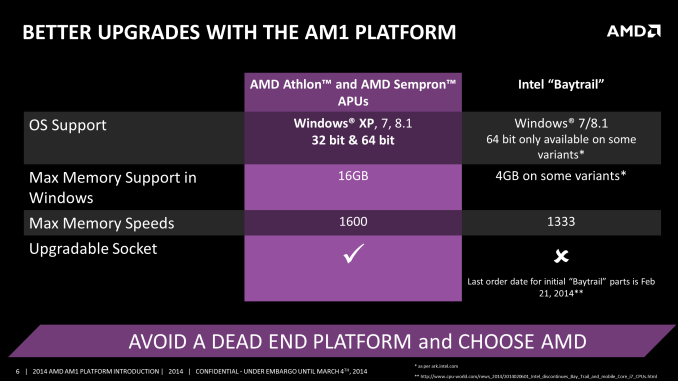 So all Kabini APUs will support Windows XP onwards, and all accept both 32-bit and 64-bit operating systems. Maximum memory support is 16GB at DDR3-1600 MHz. A couple of points AMD fail to mention on this slide are relatively important:
Kabini APUs are all single channel memory, compared to BayTrail / Silvermont CPUs that are dual channel.
Kabini APUs are 25W, whereas Silvermont CPUs are 10-15W on average.
Finding a non 64-bit BayTrail system is hard – I only found reference to BayTrail-T CPUs that might be 32-bit only, and these systems are not directly competing with Kabini APUs and the AM1 platform.
Further questioning to Adam Kozak has suggested that the AM1 systems should support memory overclocking above the verified DDR3-1600 MHz speed. Unfortunately these APUs will not have any Turbo Core technology however, nor will they support CPU overclocking.
I also probed further on a couple of topics:
Beema Desktop APUs replacing Kabini Desktop: Currently AMD is still discussing whether Beema will be released in a similar vein to AM1, preferably in the same socket despite the presence of the Platform Security Processor. There needs to be some longevity in the platform, but the focus on Beema to begin with will be in the laptop and mobile markets.
Robustness of AM1 over future updates: AMD hope to keep the FS1b socket for the AM1 platform going forward.
Scope for an 8-core Jaguar Kabini APU, or a 2-core and larger IGP: AMD will focus purely on the quad-core APU with 128 SP GCN graphics at this time.
Having briefly tested Jaguar in a desktop platform in-house, AMD is clearly making a low-end play where volumes can be high while profit-margins are low. Even if the motherboard and APU combined are $60, the rest of the system can easily double that, minus a monitor and an OS, which could bring the total up nearer $200 or $250. At this price point, the main competition is Windows (or Linux) enabled tablets, or depending on the workload, even Android enabled tablets. There is scope for other markets (as a cheaper compute machine) in there too. The single channel memory situation is a little odd when it comes to throughput, reducing peak bandwidth to 12.8 GB/s. The upgradable element for this market means that should faster processors come along, they would be upgradeable, however the jump to a Bulldozer-based architecture could be had for as little as $88 (AMD A4-4000 and GIGABYTE F2A55M-DS2) with more IO to play with.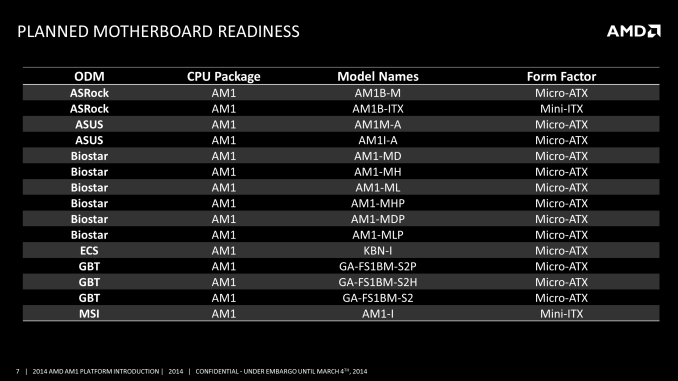 Release date for Kabini APUs and motherboards: Formally the AM1 products are to be available in early April, with global availability expected on April 9th. Pricing and APU SKU lists have not been announced, so it is unclear if that $60 target for motherboard plus APU is on the low end or the high end. We have asked regarding samples for the platform and look forward to testing.