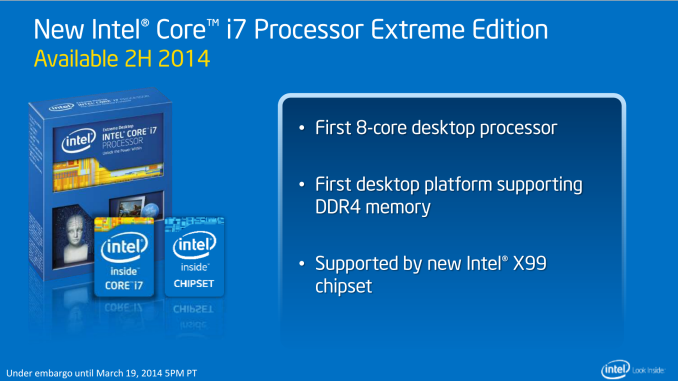 The second of Intel's enthusiast-based announcements after the unlocked Iris Pro coming to Broadwell is one regarding Intel's new high performance platform. Currently we sit with socket LGA 2011 featuring Sandy Bridge-E and Ivy Bridge-E CPUs on top of the X79 chipset using DDR3 memory. Intel are confirming today that the next stage in that process will be Haswell-E, supported by the new X99 chipset and flanked with DDR4 memory.
The new processor line up will have an 8-core CPU at the top end, which Intel is calling their first '8-core desktop processor' (strictly speaking Avoton is a server part). Given that the Xeon line of Ivy Bridge-E CPUs can hit 10, 12 and 15-core counts as we have reviewed, it should have been possible for Intel to consider these core counts for the enthusiast platform. However Intel has no competition in this area to innovate, so while core counts may rise on the Xeon side of the equation, for the consumer line we will have to wait longer for anything more than 8 cores.
The shift to DDR4 memory has been expected for a number of quarters. Speculation initially revolved around DDR4 coming earlier than Haswell-E, but we have to consider the enterprise market on this one. As many Ivy Bridge-E users have lamented, staying with the X79 platform has put consumers on the back foot when it comes to connectivity compared to the 8-series platform. X79 is down on USB 3.0 ports, SATA 6 Gbps ports and no mention of Flex-IO. So with X99 and DDR4, given that we expect to keep this platform for at least Haswell-E and Broadwell-E (potentially 2.5 to 3 years), it comes in now in preparation for the future platforms. We have seen DDR4 modules being tested at various trade shows, and I would imagine that most of the major memory partners (especially the enthusiast lines) are currently preparing kits.
The X99 platform is almost a complete unknown at this point. Given that Intel state that Haswell-E is planned for 2H 2014, we have had no information. In order to remain as the top end platform in the chipset sense (and not fall behind like X79), I would imagine X99 to take many cues from Z87 and even from the 9-series motherboards we have seen at CeBIT. This should mean a full complement of SATA 6 Gbps ports and USB 3.0 ports, with support for M.2, although we have no confirmation. Similarly while I would expect Flex IO to be present, allowing manufacturers to vary the number of PCIe 2.0 lanes from the chipset in exchange for SATA 6 Gbps ports and USB 3.0 ports, we also have no confirmation. In the past there have been X79 products with SAS support, although these were extra parts of the chipset that were not part of the validation process. It would be interesting to see if any of that functionality makes its way in. Flex IO seems like the future of flexible chipset design, and it would be interesting to see if Intel thinks this way as well.
As mentioned, and in the slide, Haswell-E is due in the second half of 2014. We unfortunately have no extra information on that date, but it confirms 2014 rather than 2015 which had been speculated.