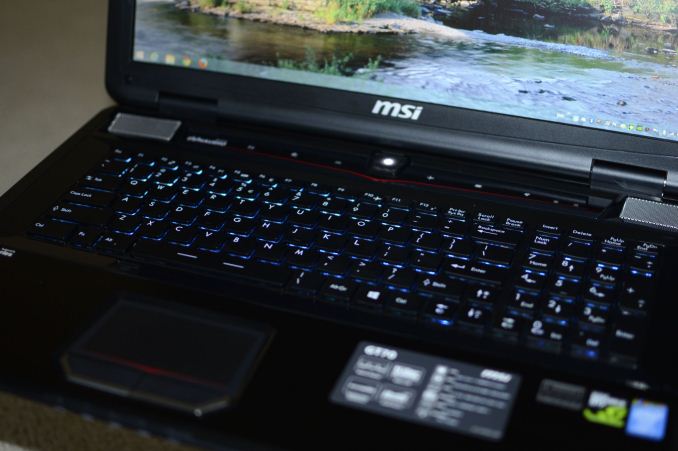 MSI's GT70, GTX 880M Update
For better or for worse, MSI has had the same core designs for several of their high-end laptops for at least a couple years now, specifically we're talking about the GT60 and GT70 series (and with a few minor differences in features, the GX60/GX70 AMD APU variants). There have been updates and tweaks to the internal components, but the chassis remain largely the same as before. The latest updates bring NVIDIA's new GTX 800M parts into the picture, and today we have the GT70 equipped with the top-of-the-line GTX 880M. Let's quickly look at the specs for the system we're testing/reviewing.
MSI GT70 Specifications
Processor
Intel Core i7-4800MQ
(4x2.7-3.7GHz + HTT, 22nm, 6MB L3, 47W)
Chipset
Intel HM87
Memory
1x4GB + 1x8GB DDR3-1600 (Maximum 32GB)
Graphics
NVIDIA GeForce GTX 880M 8GB GDDR5 256-bit xxx
(1536 CUDA cores, 954MHz + Boost/5GHz GDDR5)

Intel HD 4600 Graphics
(20 EUs, up to 1.3GHz)
Display
17.3" LED Matte 16:9 1080p
Chi Mei N173HGE-L11
Hard Drive(s)
HGST 1TB 7200-RPM HDD (HTS721010A9E630)
Optical Drive
TSSTCorp SN-506BB Blu-ray writer
Networking
Killer Networks E2200 PCIe Gigabit Ethernet
Killer Wireless-N 1202 dual-band 2x2 802.11a/b/g/n
Bluetooth 4.0
Audio
Realtek ALC892 HD audio (Sound Blaster Cinema)
2.1 speakers
4 x 1/8" audio jacks
Battery
9-cell, 87Wh
Front Side
-
Right Side
2x USB 2.0
Optical drive
Left Side
Line-out, Line-in, Mic, and Headphone jacks
3x USB 3.0
SD card reader
Exhaust
Back Side
Kensington lock
AC adapter
Ethernet
D-SUB (VGA)
Mini-DisplayPort
HDMI
Exhaust
Operating System
Windows 8.1 64-bit
Dimensions
16.9" x 11.3" x 2.2"
429.3mm x 287mm x 55.9mm
Weight
8.6 lbs.
3.9kg
Extras
Webcam
USB 3.0
Card reader
SoundBlaster Cinema audio
Killer Networks WiFi and wired networking
RGB backlit keyboard
Keyboard macro support
Warranty
2-year parts and labor
Pricing
$1,900
Other than the upgrade to the GTX 880M graphics card, the most noteworthy item in the above list is the lack of an SSD. That means general performance and responsiveness in many cases will be rather sluggish, but this is easily remedied by purchasing a model that includes some form of SSD storage (or adding your own). The impact on our performance benchmarks will be most apparent in PCMark, but for gaming purposes it won't really matter. Otherwise all of the key items remain the same as the previous model GT70. There are a few other oddities with this configuration as well, like the inclusion of a Blu-ray burner and the 12GB RAM in two of the four SO-DIMM slots (why not just use 2x8GB; are the cost savings of using one 4GB SO-DIMM really that great?), but there are other GT70 models.
There's a benefit to this particular configuration of course: the starting price is only $1900, so even after adding your own 256GB SSD you're still looking at a price of less than $2100. As an alternative, there's another GT70 that comes with a 1TB HDD with a 128GB SSD, Blu-ray reader, and drops the GPU to a GTX 870M for $1600, but obviously that's going to be a pretty big hit to gaming performance. Step up to 16GB RAM and add a 128GB SSD and the price jumps to $2200, so it's best to just stick with the base model and upgrade to an SSD on your own; just remember that the PCMark scores for our system are going to be lower than competing solutions. And one final interesting note is that the previous generation GT70 with a GTX 780M 4GB card is only $50 less than the new model; I'm not sure 8GB RAM on a GPU is really needed (and likely won't be during the lifetime of the GT70), but $50 more to improve performance and gain additional VRAM is certainly a worthwhile upgrade.