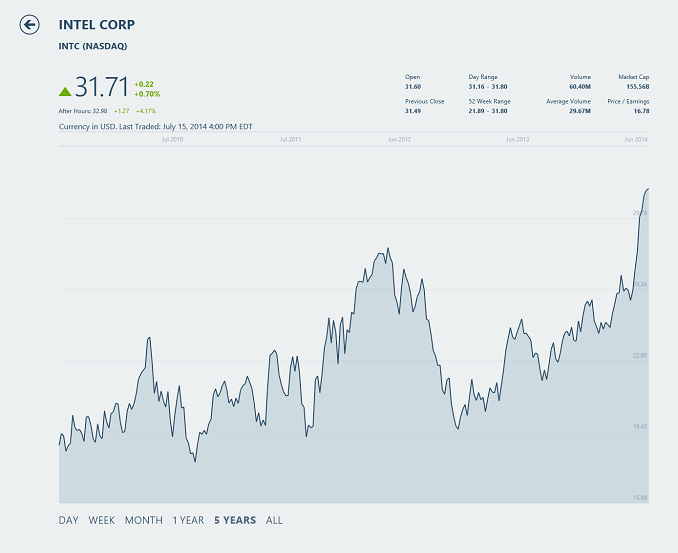 On July 15, Intel released their Q2 2014 Earnings report for the period ending June 28, 2014.
GAAP revenues for the quarter came in at $13.8B which is up almost a billion over Q1 2014, and also up a billion on Q2 2013 for a strong 8% increase.
Earnings Per Share was $0.55, up a substantial 41% year-over-year, and beating analysts' expectations of 52 cents per share.
Intel Q2 2014 Financial Results (GAAP)
Q2'2014
Q1'2014
Q2'2013
Revenue
$13.831B
$12.764B
$12.811
Operating Income
$3.844B
$2.533B
$2.719B
Net Income
$2.796B
$1.947B
$2.000B
Gross Margin
64.5%
59.7%
58.3%
PC Group Revenue
$8.7B
+9%
+6%
Data Center Group Revenue
$3.5B
+14%
+19%
Internet of Things Revenue
$539M
+12%
+24%
Mobile Group Revenue
$51M
-67%
-83%
Software and Services Revenue
$548M
-1%
+3%
All Other Revenue
$517M
-5%
+16%
The stagnant PC sector is finally showing some signs of life again after declining over the last several years. Intel's PC Client Group reported revenue of $8.7 billion, up 9% over last quarter and 6% year-over-year. Unit volumes of PC Client chips were up 12% over last quarter, and 9% from last year. The average selling prices (ASP) were down 3% from Q1 2014 and 4% from Q2 2013. Most of this can be attributed to a 7% drop in ASP for the notebook platform, where as desktop chips actually slightly increased ASP over Q2 2013.
Data Center revenue was up an even more impressive 19% over Q2 2013, and 14% over last quarter. Data Center volumes were up exactly the same as the PC Client volumes – 12% over the previous quarter and 9% over the previous year, but ASP for the Data Center platforms was up 3% over Q1 2014 and 11% over Q2 2014.
The recently formed "Internet of Things" group continued its strong growth, up again another 12% over last quarter and 24% year-over-year. This group includes embedded segments such as retail, transportation, and consumer focused things like home automation.
The one sector at Intel which continues to struggle is the Mobile and Communications group which was down 61% Q1 2014 versus Q1 2013, and once again in Q2 2014 it was down again 67% compared to Q1 and 83% year-over-year. The silver lining on this is the relatively small amount of revenue this is for Intel with this group only having $51 million in revenue, but in a world where the number of mobile devices is skyrocketing, Intel is struggling to capitalize on the new market. Intel is still not price competitive with the Bay Trail SoC business and are working on a low cost platform for Bay Trail. In the meantime, Intel is subsidizing the platform cost for the time being in order to not be shut out of this market. It's not something that would be sustainable forever, but it seems to be allowing them a toehold in the mobile market while they continue to push towards lower cost silicon for partners. We've seen a lot of mobile devices coming with Bay Trail in the last couple of months, including a $110 Toshiba tablet and this contra revenue is driving that, but hurting the short term results for the Mobile group.
The last sector at Intel to report was the Software and Services, coming in at $548 million in revenue which is pretty much flat quarter-over-quarter and year-over-year. This segment includes McAfee which was purchased by Intel in the not so distant past.
The forecast for next quarter and the rest of the year has been upgraded, with Q3 2014 being forecast for $14.4 billion plus or minus $500 million. The board has also approved an additional $20 billion in share repurchases, with an expectation of $4 billion in shares to be repurchased in Q3. Looking back historically, Intel is once again getting close to record revenue and incomes, having almost fully recovered to 2012 levels.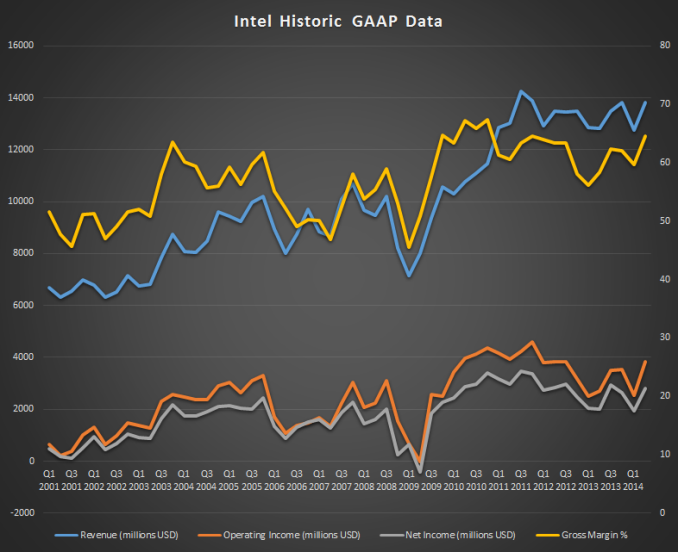 Broadwell is now expected during the holiday season 2014, which is certainly much later than hoped. Going back to 130 nm and coming forward until 32 nm, Intel has averaged 8.2 quarters between process nodes. They have been on 22 nm for nine quarters already, meaning the wait between 22 nm and 14 nm will be about 11 quarters which will be the longest time on a single process node since Intel began the tick tock strategy. Clearly there are some heavy engineering hurdles to overcome as we move towards smaller and smaller processes. We'll have to watch and see if this delays Skylake or if Broadwell has a shorter than expected lifespan. 10 nm is on the roadmap for 2016 which might be an aggressive timeline with the time 14 nm has taken.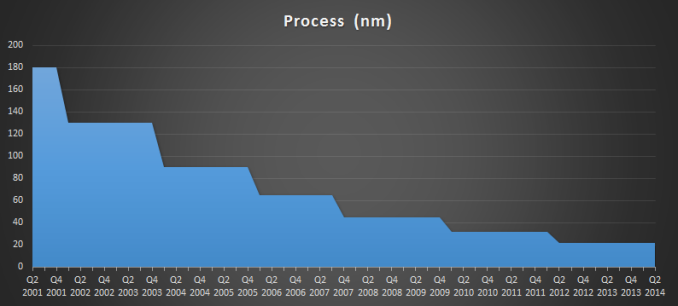 This was a great quarter for Intel, which is generally a bellwether for the rest of the PC industry. After several years of decline, things are looking more optimistic for the industry. Revenues from Intel were great, but historically they have always done well. The exciting takeaway from this earnings report is the increased volumes in both notebook and desktop sales. Whether this is a turnaround in the market, or just a small correction is tough to tell yet.
Source: Intel