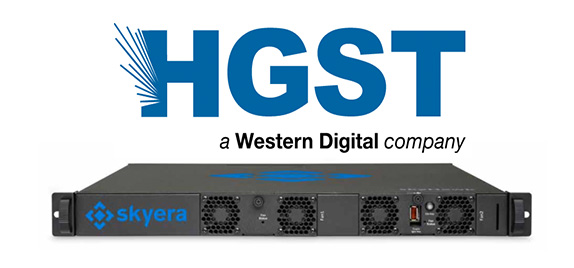 Western Digital, or its enterprise arm HGST to be exact, has today announced that it will be acquiring all-flash array provider Skyera. The terms of the transaction have not been disclosed, but it's an all-cash acquisition and Skyera will be fully integrated into HGST once the acquisition completes.
For me personally Skyera has been one of the most interesting flash array companies given its deep expertise of NAND and very high density solutions. I covered Skyera's skyHawk FS launch a bit over a month ago and also gave an overview of the company, but in short Skyera was founded by two of SandForce's key persons (it's a bit ironic that the two are now under Western Digital while SandForce is owned by its biggest rival Seagate) and earlier this year Frankie Roohparvar, the former VP and GM of Micron's OEM NAND business, stepped in as the CEO.
Unlike many flash array providers, Skyera designs the SSDs (or 'blades' as the company calls them) in-house. Micron, Toshiba and SK Hynix have all been investors in the company, which has given Skyera much deeper access to NAND than what normal customers get. As a result Skyera has been able to apply its proprietary technologies to increase NAND endurance. At this point it's unknown whether the NAND companies will continue to grant HGST the necessary NAND access, but I would believe so since that's ultimately Skyera's core advantage and the acquisition wouldn't make much sense without the NAND deals in place. I'll try to get more details on this, so stay tuned for an update.
The acquisition makes a lot of sense for Western Digital. The company has acquired a relatively strong SSD/flash portfolio (Virident, STEC and Velobit) over the past couple of years and expanding to array business is a logical move for vertical integration. While enterprise SSDs have fairly high profit margins to begin with, the premium in storage arrays tends to be quite insane (even +$20/GB is nothing out of the ordinary). Besides, Skyera's engineering knowhow in both controller/ASIC and NAND frontiers are certainly valuable to HGST's enterprise SSD business as well.
All in all, the tides in the storage array market are definitely changing. The likes of EMC and Dell have been dominating the market for a long time, but with many new array providers being backed up by SSD and NAND vendors (and perhaps being acquired eventually like Skyera in this case), there is potential for a revolution.
Source: Western Digital Press Release