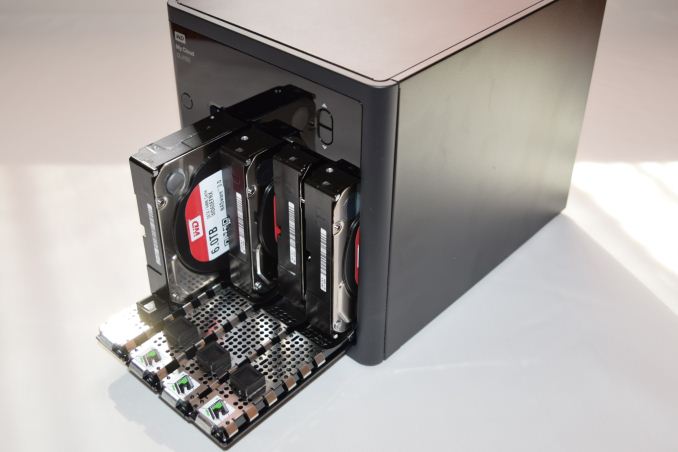 Introduction and Testbed Setup
Western Digital is a comparatively recent entrant to the fast-growing NAS market. Despite having had a Windows Storage Server-based product for business users for some time now, a custom embedded-Linux based SMB-targeted model was lacking. Avoiding Windows in the NAS helps bring down the cost of the unit and also makes the units easier to manage for small businesses without dedicated IT staff. Last week, they officially launched the My Cloud EX2100 (2-bay) and EX4100 (4-bay) NAS units to target this market.
The chassis design of the EX4100 is very similar to that of the EX4 that we reviewed last year. Despite a smaller height and larger width, the design of the drive bays and the I/O ports are essentially the same. There is no drive caddy (which means that only 3.5" drives are supported). There is a information screen in the front panel with up and down buttons to navigate the current status messages. The main difference between the EX4 and the DL4100 is the presence of a USB 3.0 port along with a one-touch copy button in the front panel. The gallery below takes us around the contents of the package and the chassis design. Our review unit came with 6 TB WD Red drives pre-installed and pre-configured. The unit uses a 90W (19V @ 4.74A) power adapter.
The specifications of the WD My Cloud DL4100 are provided in the table below
WD My Cloud DL4100 Specifications
Processor
Intel Atom C2338 (2C/2T Silvermont x86 @ 1.7 GHz)
RAM
2 GB
Drive Bays
4x 3.5" SATA II / III HDD / SSD (Hot-Swappable)
Network Links
2x 1 GbE
External I/O Peripherals
2x USB 3.0, 1x USB 2.0
Expansion Slots
N/A
VGA / Display Out
N/A
Full Specifications Link
WD My Cloud DL4100 Specifications
Price
USD 530
Note that the $530 pricing is for the diskless unit. The 8 TB version sells for $850, 16 TB for $1170 and 24 TB for $1529.
Western Digital provides power users with SSH access to the unit, and this gives us some more insight into the platform.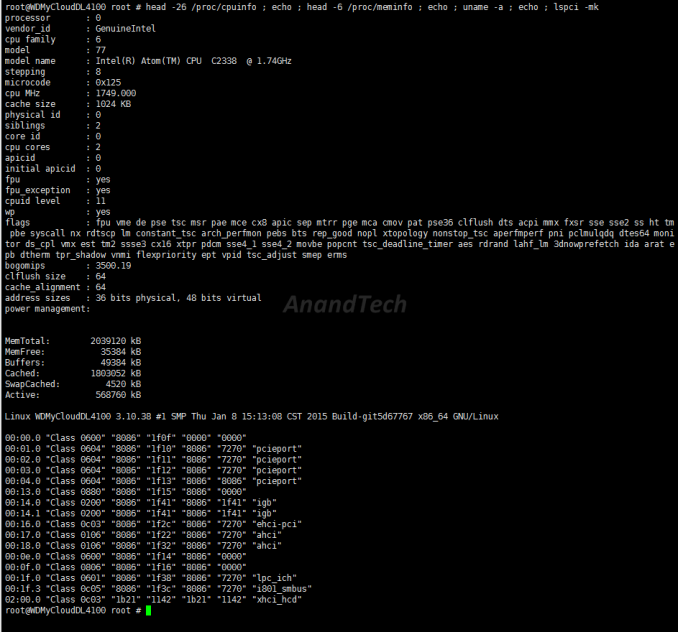 WD uses Linux kernel version 3.10.38 in their 64-bit OS build. Even though the unit comes only with 2 GB of RAM, users can install a DDR3L SO-DIMM in one of the empty slots to push it up to 6 GB of RAM. Since the Rangeley SoC (Atom C2338) doesn't have any integrated USB 3.0 ports, the board must definitely be sporting a PCIe - USB 3.0 bridge. The SoC has support for up to 4x 1GbE ports, but does need external PHYs. A pair of Marvell Alaska 88E1512 PHYs are on board for this purpose. A 2 GB Micron SLC NAND flash chip holds the OS of the unit.
In the rest of the review, we will take a look at the benchmark numbers for both single and multi-client scenarios across a number of different client platforms as well as access protocols. We have a separate section devoted to the performance of the NAS with encrypted shared folders. Prior to all that, we will take a look at our testbed setup and testing methodology.
Testbed Setup and Testing Methodology
The WD My Cloud DL4100 can take up to 4 drives. Users can opt for either JBOD, RAID 0, RAID 1, RAID 5, RAID 6 or RAID 10 configurations. We expect typical usage to be with a RAID-5 or RAID-6 volume. However, to keep things consistent across different NAS units, we benchmarked a RAID-5 volume (i.e, single disk redundancy mode). Four Western Digital WD4000FYYZ RE drives were used as the test disks, even though our review unit shipped with 6 TB WD Red drives. Our testbed configuration is outlined below.
AnandTech NAS Testbed Configuration
Motherboard
Asus Z9PE-D8 WS Dual LGA2011 SSI-EEB
CPU
2 x Intel Xeon E5-2630L
Coolers
2 x Dynatron R17
Memory
G.Skill RipjawsZ F3-12800CL10Q2-64GBZL (8x8GB) CAS 10-10-10-30
OS Drive
OCZ Technology Vertex 4 128GB
Secondary Drive
OCZ Technology Vertex 4 128GB
Tertiary Drive
OCZ Z-Drive R4 CM88 (1.6TB PCIe SSD)
Other Drives
12 x OCZ Technology Vertex 4 64GB (Offline in the Host OS)
Network Cards
6 x Intel ESA I-340 Quad-GbE Port Network Adapter
Chassis
SilverStoneTek Raven RV03
PSU
SilverStoneTek Strider Plus Gold Evolution 850W
OS
Windows Server 2008 R2
Network Switch
Netgear ProSafe GSM7352S-200
The above testbed runs 25 Windows 7 VMs simultaneously, each with a dedicated 1 Gbps network interface. This simulates a real-life workload of up to 25 clients for the NAS being evaluated. All the VMs connect to the network switch to which the NAS is also connected (with link aggregation, as applicable). The VMs generate the NAS traffic for performance evaluation.
Thank You!
We thank the following companies for helping us out with our NAS testbed: