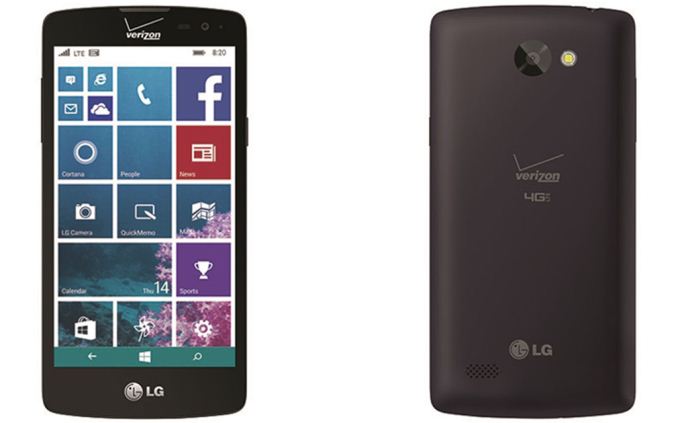 Today Verizon announced a new smartphone coming to their network, and it is the LG Lancet. LG originally did produce Windows Phone 7 devices, but left the market before Windows Phone 8 shipped. They are back, with a budget device for the Verizon network.
The LG Lancet is not very exciting hardware, but it does have a couple of things worth mentioning. The phone ships with the Qualcomm Snapdragon 410 SoC, which is a quad-core 1.2 GHz chip based on the Cortex A53 64 bit CPU. The 410 shows a modest performance gain over the outgoing Snapdragon 400, but as Brandon saw in the Moto E review, it seems to be fairly competitive in the power consumption department.
| | |
| --- | --- |
| | LG Lancet |
| SoC | MSM8916 1.2 GHz Snapdragon 410 |
| RAM/NAND | unknown RAM, 8 GB NAND + microSD |
| Display | 4.5" 854x480 IPS LCD |
| Network | CDMA LTE (Verizon) |
| Dimensions | 129.8 x 64.8 x 10.7 (mm) |
| Weight | 143 grams |
| Camera | 8MP rear camera with Flash, VGA FFC |
| Battery | 2100 mAh |
| OS | Windows Phone 8.1 |
| Price | $19.99 on 2 year, $5/month, or $120 outright |
Some specifications courtesy of Windows Central
The rest of the device continues with the budget nature for a North American smartphone experience. It is just a 4.5 inch display (although lots of people will prefer that) but with just an 854x480 resolution. The extra 54 pixels on the vertical will be for the onscreen buttons for this phone, so unlike some other devices with onscreen buttons you won't have to worry about them blocking the standard display real estate. The RAM is not listed, and the storage is only 8 GB with 4 GB available to the end user. It does support micro SD expansion though so you can add more space if necessary.
The rear camera is an 8 MP version and the front facing camera is only VGA, so imaging is not going to be a highlight of this device unless that rear camera is really something.
The only other thing to note is that this will be the first Windows Phone on Verizon to support HD Voice. HD Voice is a wonderful thing that really improves the call quality, but it suffers from a lack of compatibility and generally only works with two devices on the same carrier. Still, Verizon is the largest carrier in the USA so that's a big market.
The Lancet is available now on Verizon for $5 per month on Verizon Edge, or you can purchase it outright for $120. For those that prefer to purchase on the two year contract, it is current available for $19.99 on contract.
Source: Verizon