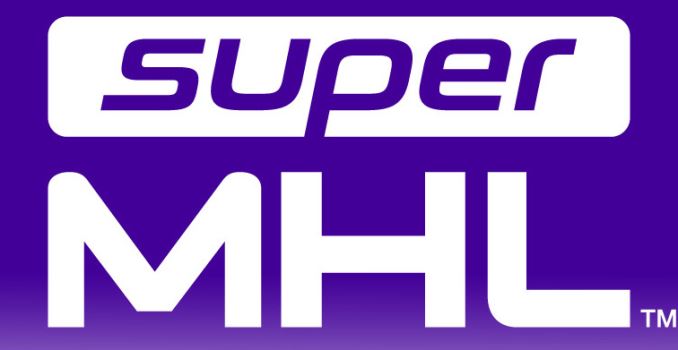 Earlier this year at CES, the MHL Consortium announced the latest version of the Mobile High-Definition Link (MHL) standard, superMHL. The latest iteration on MHL, superMHL was introduced to further ramp up the amount of bandwidth available to MHL devices along with also integrating some of the latest display technologies. At the time of superMHL's announcement the focus was on the high-end of the market – driving 8K TVs through the use of the 6 lane superMHL cable – however superMHL was designed to benefit the lower bandwidth segment of the market as well, and this is where Lattice Semiconductor is starting today, with the announcement of the first superMHL chips.
Being announced today by Lattice (née Silicon Image) are the first transmitter and the first receiver to support superMHL, the Sil9396 and Sil8630 respectively. These two chips are small, one-lane chips intended to allow superMHL usage with mobile and PC devices in order to drive displays at up to 4Kp60, and will be the first use for superMHL.
As previously announced alongside superMHL itself earlier this year, superMHL is available as a USB Type-C alt mode, and this is where Lattice is focusing their efforts for today's mobile-centric products. With Type-C expected to quickly take over the market on both mobile devices and laptop PCs, it's quickly become the port of choice for virtually every other standard that wants to move high speed data, and superMHL is no exception. What results is an impressive (and dizzying) array of connectivity options, as superMHL can interface with a number of different display types.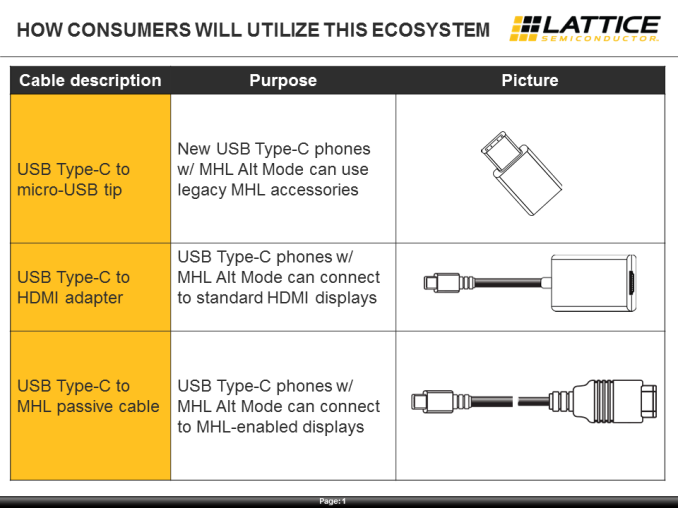 That said, the two mobile superMHL combinations that are most likely to actually be seen in the wild are Type-C to HDMI active and Type-C to MHL (i.e. HDMI passive). The difference between the two is that as with previous generations of MHL technology, superMHL can be carried into a TV that supports the protocol over an HDMI port, allowing the use of a straight-through passive cable. Otherwise superMHL can be actively converted via a chip such as the Sil9396 in an HDMI cable, allowing a superMHL device to interface with an HDMI-only display. In both cases superMHL offers the equivalent of HDMI 2.0, including HDCP 2.2 support and the annexes for improved color spaces and HDR.
What Lattice and the MHL Consortium is hoping to do right now in what is a crowded market for display connectivity standards is to have superMHL stand apart from the other standards by the combination of legacy MHL support, USB Type-C support, and the fact that it can work over a single high-speed lane. Legacy MHL support in this context is rather straightforward, as it means superMHL devices can directly transmit to existing MHL receivers by downgrading the protocol, retaining MHL's power changing abilities in the process. Otherwise HDMI of course can't be natively passed over Type-C, and DisplayPort requires multiple lanes for 4Kp60 – 4 for DP 1.2, and 2 for DP 1.3 if a display supports the reduced blanking timings. This leaves further lanes open for USB 3.x Superspeed data, meaning that superMHL can drive a 4Kp60 display and carry a full USB Superspeed data connection at the same time. Though as Superspeed requires 2 lanes per connection, we're not aware of any scenario for USB where a third lane is any better than having just two lanes, though superMHL would still leave the last lane open for something else.
USB Type-C Alt Mode Display Standard Comparison
superMHL
DisplayPort 1.3
Resoluion
4Kp60, 4:4:4 @ 24bit
4Kp60, 4:4:4 @ 24bit
Type-C Lanes Required
1
2
Image Compression
"Visually Lossless" (Lossy)
No Compression
TV Interface
superMHL-over-HDMI (Passive)
HDMI (Active Conversion)
HDMI (Active Conversion)
Power Charging
USB-PD or MHL (legacy)
USB-PD
Meanwhile, along with today's announcement of the first transmitter/receiver pair, we've also learned a few more technical details about the superMHL protocol. superMHL operates at 6Gbps per lane, using what Lattice calls "visually lossless" (i.e. mathematically lossy) compression in order to pack 4Kp60 into that limited amount of bandwidth. So for 4Kp60 we're looking at around 3:1 compression on the image side. DisplayPort 1.3 by contrast takes up an additional lane to deliver 4k60, but it doesn't require image compression. Alternatively compression is in the works via Display Stream Compression, but the DisplayPort 1.3 standard has not yet been updated to include it.
Finally, along with announcing their first superMHL transmitters/receivers today, Lattice is also announcing that engineering samples for the Sil8630 and Sil9396 are now available. It will still be some time before these chips will appear in retail products, but it means that OEMs can now being testing them and building designs that ingrate these chips.
Source: Lattice